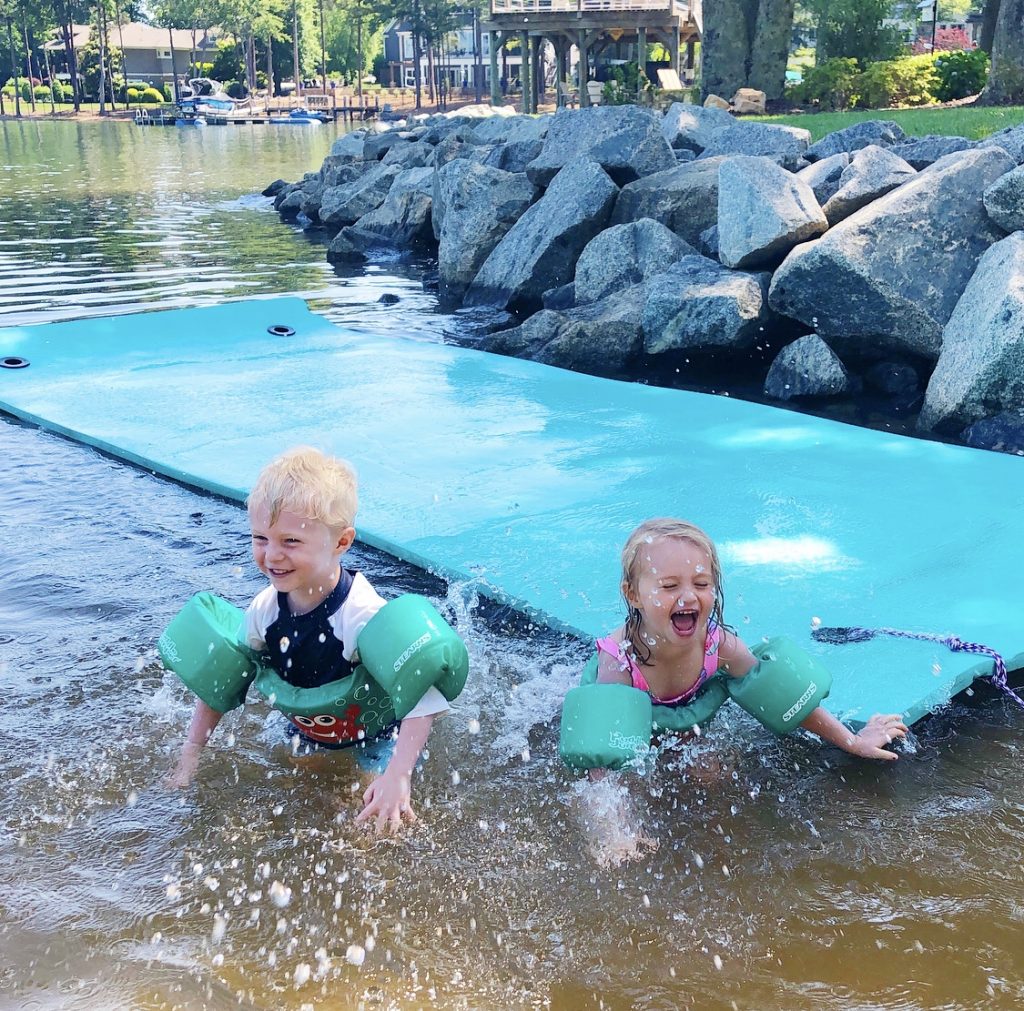 When we checked the weather late last week and saw that temperatures were supposed to hit 90 degrees and the skies were supposed to be sunny all weekend long, we made it a point to keep our calendar clear and plan for LOTS of time on the lake. Without a doubt, our favorite thing to do all summer long is spend time on Lake Norman and that's exactly what we did all weekend!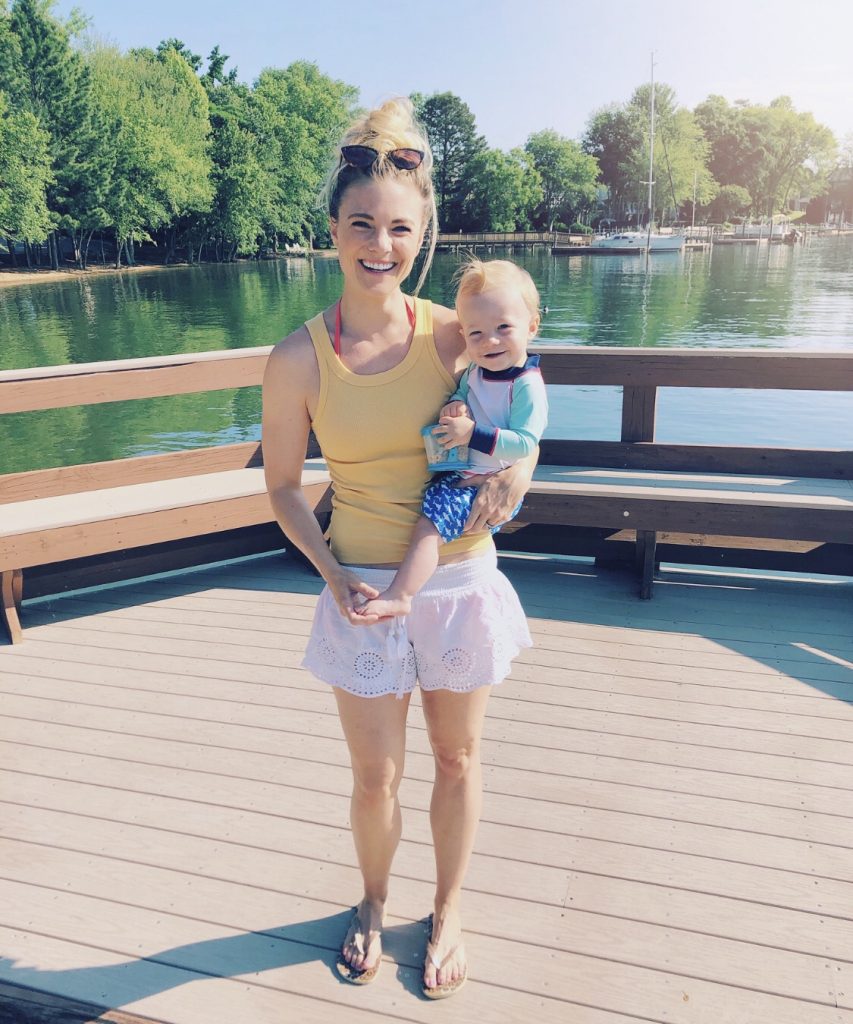 (Ryder turned 11 months old on Saturday!) 
Our friends Carrie and Nick planned to do the exact same thing with their kids all weekend and as we were chatting on Friday, we cooked up a loose agenda for Saturday that involved me, Ryan, the boys and Sadie boating over to Carrie's parents' place to spend the day swimming and playing in the water.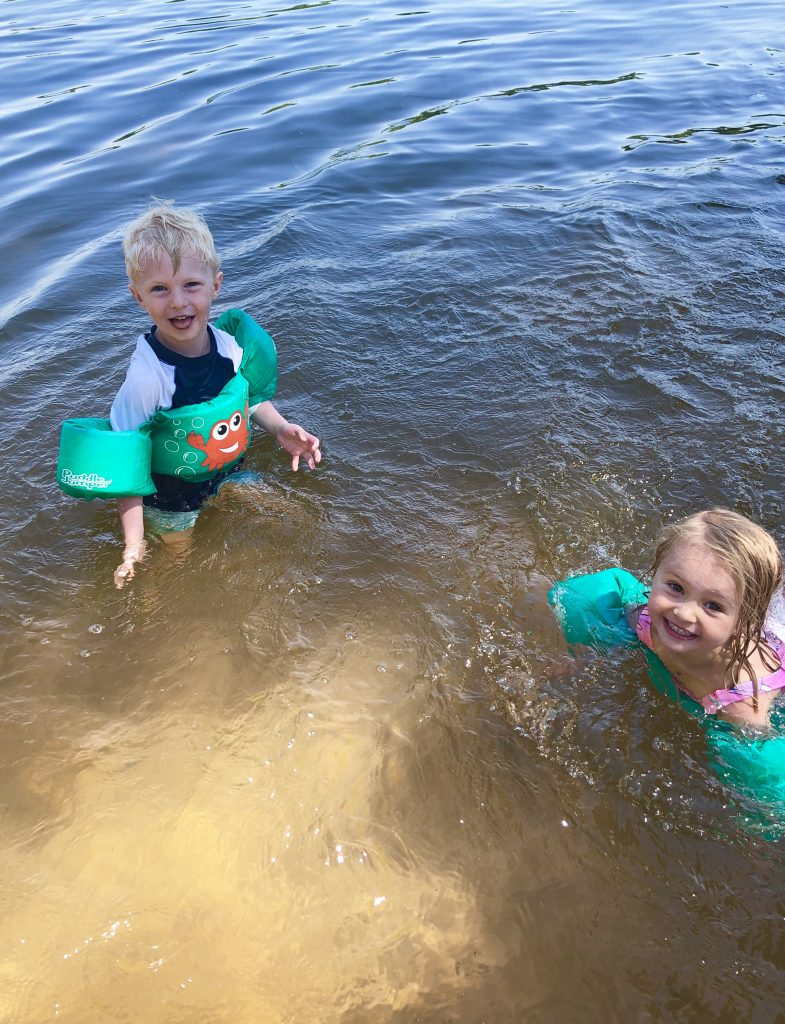 Chase and Lilly have known each other since they were around 6 months old and play so, so well together. They were in heaven as they jumped off the floating water pad, splashed in the water and floated around on rafts together.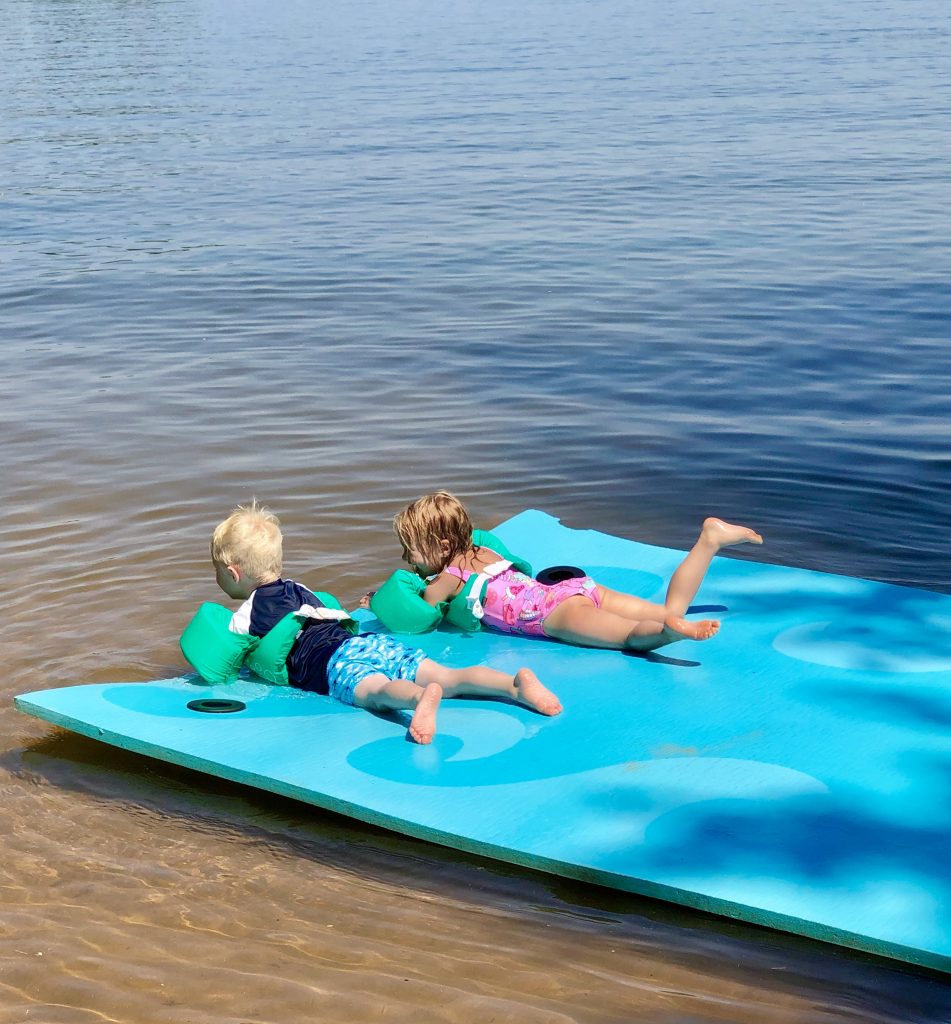 Our plans allowed us to spend a lot more time on the lake than we otherwise would've been able to on our boat because Ryder was able to take his morning nap inside (Carrie's parents' place is seriously IDEAL for kids) and then join in the water fun once he woke up.
One of the highlights of the day for Chase was riding on a jet ski with Ryan!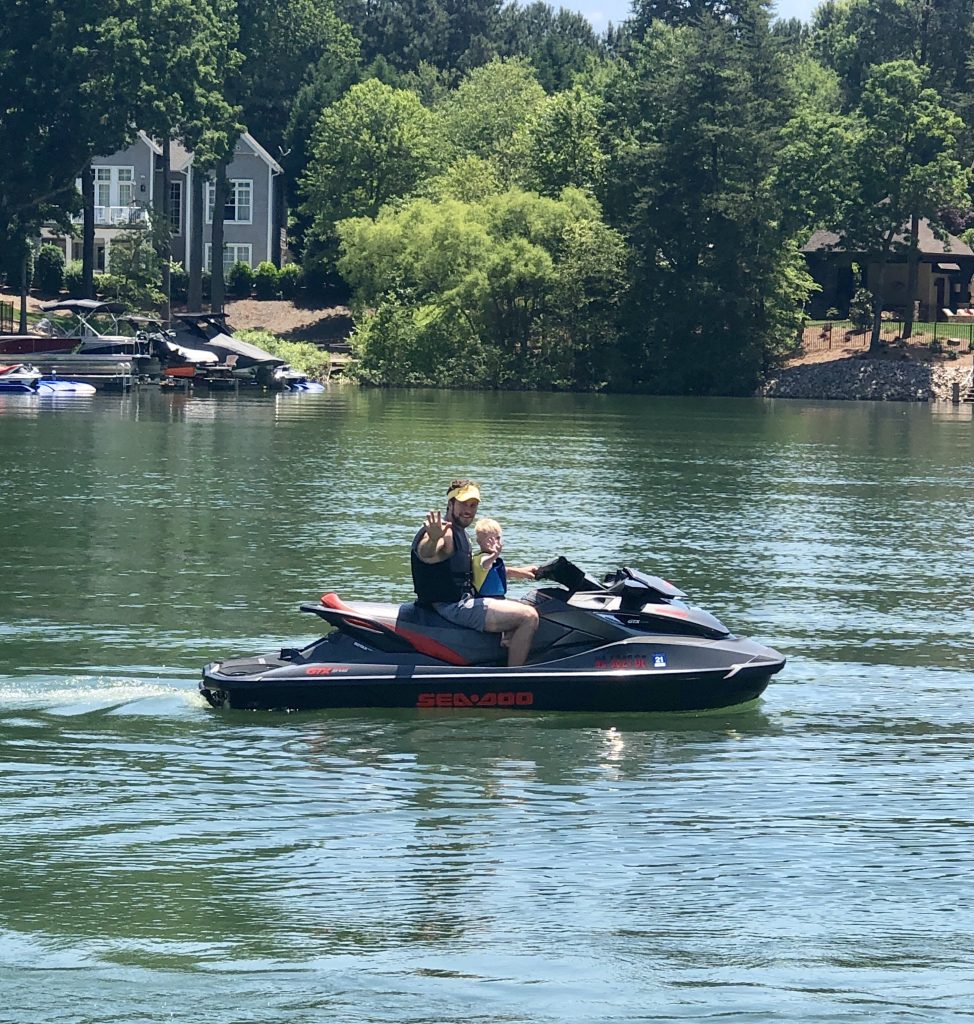 Ryan and Nick took Chase and Lilly out on the jet skis while Carrie and I stayed back with the little ones and they had a blast!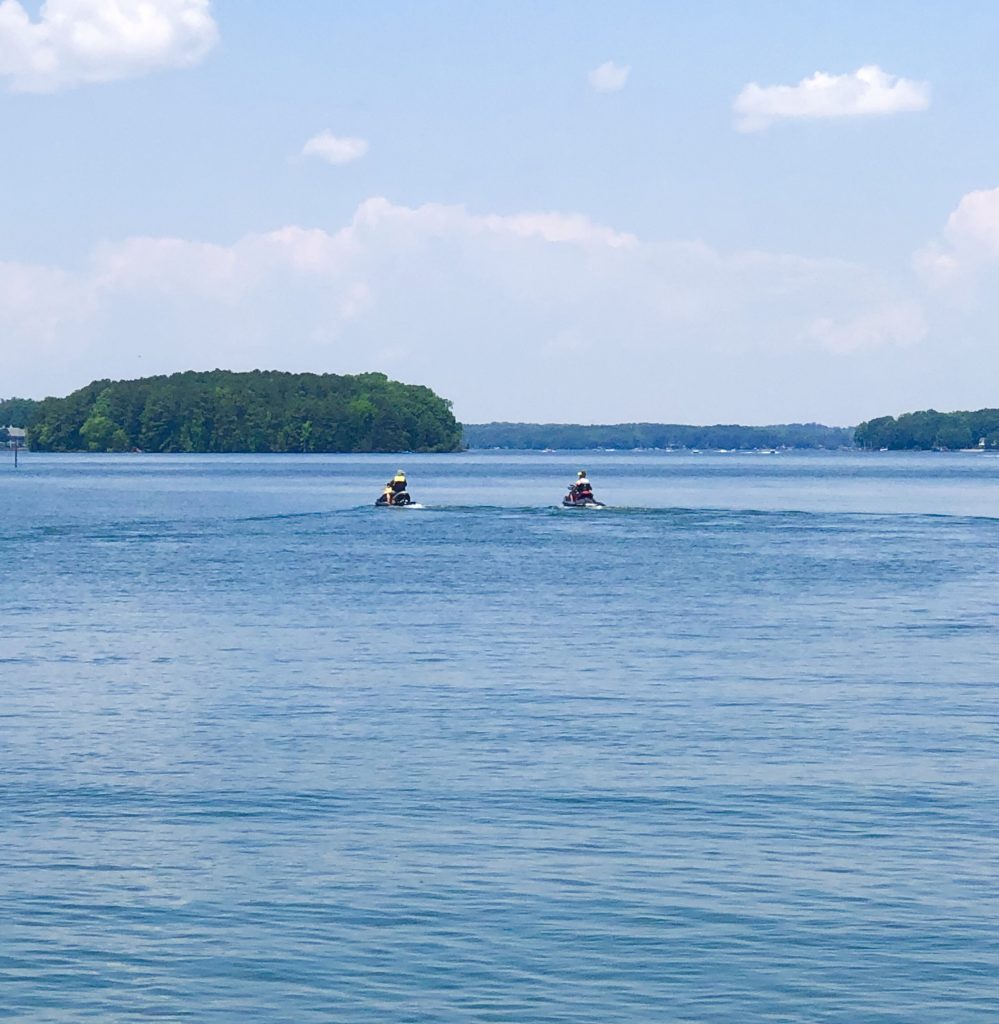 We rounded out our lake time with a little more swimming before fussiness kicked in and it was clear the kids needed a break.
We boated back home and settled the boys down for a nap before Ryan and I did a little more kitchen backsplash research! I owe a HUGE thanks to Heidi for recommending this website to me on my Friday blog post. It helped us get an idea as to what a new backsplash in our kitchen might look like with our current cabinets and granite color and was SO, so helpful!!
We made our way to Lowe's after the boys woke up to officially get the ball rolling on our latest household project.
Of course we had to stop to take some time to "race" the tractors at Lowe's with Chase which is probably in his top 5 favorite things to do in life at the moment.
We selected a white mosaic tile backsplash and brought some samples home to see how they might look in our kitchen.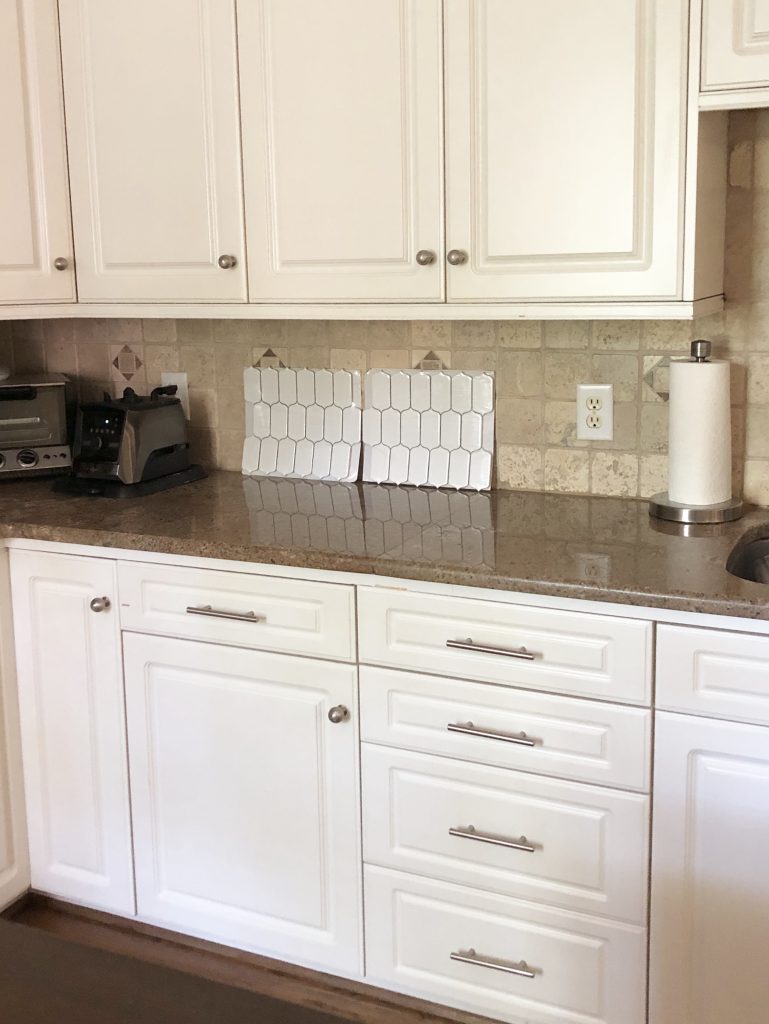 I'm a huge fan and am so, so psyched to get this project started! I'll be sure to give you guys updates along the way.
The rest of our Saturday included dinner at Ice House in Davidson followed by a stop at Whit's for frozen custard. We brought two quarts of custard home with us and the Samoas custard was out of this world good!!!
Sunday
Sunday morning began with more boating. We headed out soon after breakfast and less than two minutes into our boat ride something in the water caught my eye…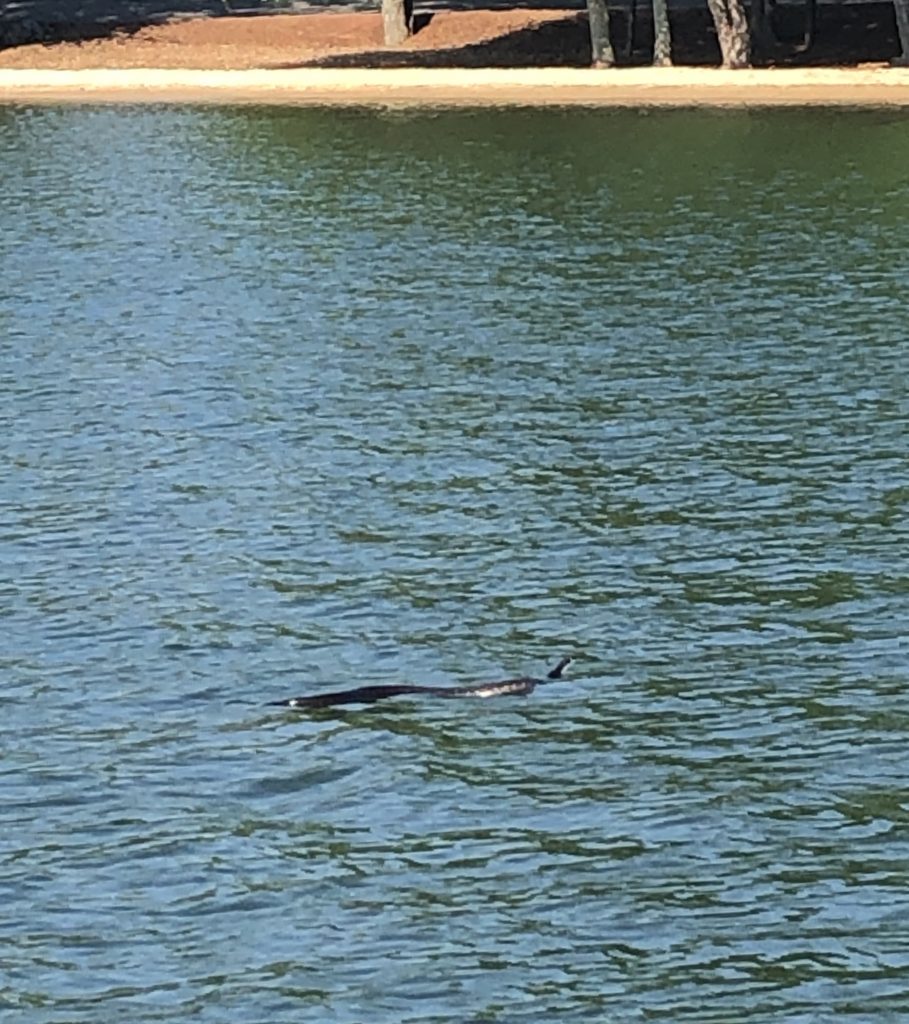 SNAKE!

At first I thought the snake was a turtle because I only saw the top of its head from a distance but when I saw something weird seem to follow the turtle's head, I put two and two together and realized it was a big snake. Eek!

I'm still unsure what kind of snake it was and I've looked at enough videos of snakes swimming in lakes to last me a lifetime so all I know is that it's a snake I hope I never see when we're swimming and playing in Lake Norman. (I posted the above picture on IG Stories and the majority of people said the snake is a water moccasin but one person said she shared the photo in a snake identification Facebook group and they said it's a rat snake and I'm hoping they're right!) We've been boating on Lake Norman for four years now and this is the first time we've seen a snake in the water, so I'm taking solace in the fact that Lake Norman is HUGE and the chances of running into that bad boy again are slim.

After the snake adventure, we boated around a bit more before making our way home in time for Ryder's nap. While he slept, Ryan and Chase tackled some yard work (well, Ryan did yard work while Chase dug in the dirt and looked for worms) and I ran a few solo errands which was fabulous. I felt ridiculously efficient compared to my usual errand-running pace with two kids in the mix!

We spent the rest of our Sunday close to home and sorted through some things to donate and cleaned up around the house before grilling out and watching Kung Fu Panda as a family. I was in bed before 10 p.m. which is just the way I like it!

As for the week ahead, it's Chase's last week of school before summer and his final week of soccer so we're wrapping up a few things around here. This also means we have a school party on the calendar which should be a lot of fun!

I hope you all have a fantastic week!

More of THIS all summer, please!