This morning, I had my radio debut!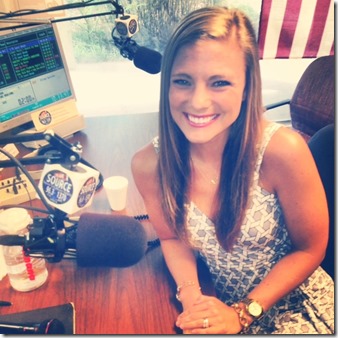 (Picture from Instagram! For those who asked about my maxi dress on Instagram, it's Tart and I bought it on super sale through RueLaLa. I couldn't find the print version online anywhere, but I did find it in black on Zappos.com. It's super comfy!)
Remember about a month ago when I had a photo shoot on a Saturday morning at the Golden Ocala Country Club? Well, the photo shoot was for the July issue of Ocala Magazine. Every year, the magazine selects 40 local leaders to showcase in their "40 Under 40" feature. I was totally shocked and very excited when I got the email informing me that I was on the list and feel honored to be featured in the magazine this month along with 39 other incredible community leaders.
Since many of the people who live in Ocala have lived in Ocala their entire life, I sometimes feel like a bit of an outsider. Ocala definitely has that small town feel where everyone seems to know each other and it seems like many of those who may go away to college often move back and pick up right where they left off. It can feel difficult to break into such a tight knit community sometimes, so I felt very honored that Ocala Magazine embraced me as someone who is very new to the area.
This morning, I was asked to come in for a radio interview along with three other people from the 40 Under 40 feature. I met up with Stacey Rollins, the director of Hilton Ocala's hospitality sales and Jaime and Simon Amir, twin brothers who own Christie Dental of Central Ocala, and we spoke with Kelli from Ocala Magazine on the air about what it meant to us to be part of the 40 Under 40 feature.
Kelli asked us all about our jobs and our community involvement. It was laidback and fun. We had a blast!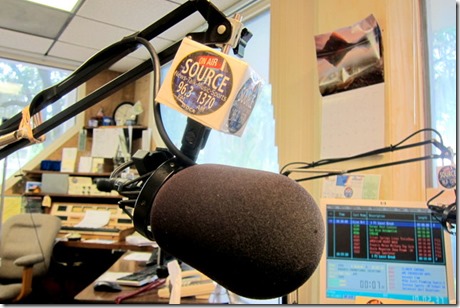 Oh! And I have something totally random that I wanted to blog about that popped into my head on the way to the radio station. If you are looking for a totally random gift idea for a female friend or family member in your life, I highly recommend the Ms. & Mrs. emergency kit! (I guess they are now Pinch Provisions emergency kits? Mine is a few years old and it looks like the brand has changed a bit.)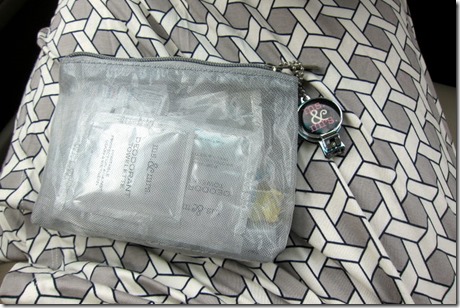 My mom put one of these emergency kits in my Christmas stocking a while ago and I threw it in the glove box of my car, figuring I wouldn't really use it all that much. Well, as it turns out, I have used it a bunch.
The kits are full of random things you may not have in your purse but you might need in a pinch like a brush, stain remover, nail file, deodorizing towelette, wet wipes, nail polish remover, a needle and thread, etc. When my mom first gave it to me, I thought I wouldn't really use, but it has saved me (and Ryan!) on a few occasions! This morning I used the nail polish remover pad to take off my chipped hot pink nail polish before I walked into the radio studio. It looked very unprofessional and I totally forgot to take it off last night, so I was very grateful I had that handy little kit stashed in my glove box!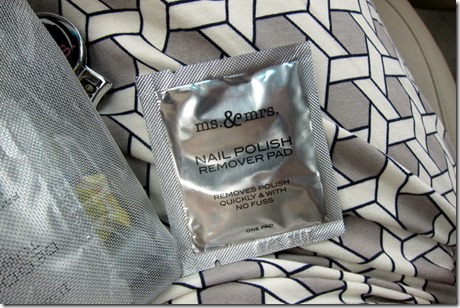 You could also assemble your own little "emergency kit" as a gift for a friend/family member. They might think it's kind of strange at first, but I have a feeling they will thank you later. I know this is a totally random tangent, but I just had to share!
Lunch
Moving on from emergency kits…
After our time on the radio, I met up with a friend and coworker for lunch at Earth Origins.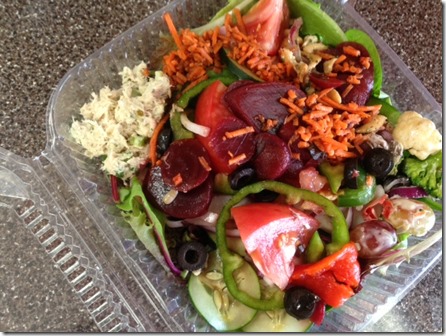 We all got the salad bar and I enjoyed every last bite!
Health Warrior Chia Bars Giveaway Winners
Congratulations to…
Michelle: "These look awesome! I would love to try the PB and chocolate :)"
Carah: "Coconut!!!"
Laura Mae: "I am WAY EXCITED to try the coconut!!!"
Tonya: "Either coconut or acai berry. They both sound awesome!"
Bobbi Julien: "I would love to try some of the Chia bars. I am allergic to gluten, dairy, and soy and am vegetarian by choice. It's very rare I find a snack that I can eat; that actually tastes good."
All of the winners have been emailed directly to avoid confusion since the comments were all so similar on this giveaway and many people entered with just their first name. I hope you love these chia bars! 
Question of the Afternoon
What is one gift you received in the past that you thought was a little random that you ended up using a lot or absolutely loving in the end?