Today was one of those Sundays where one breakfast simply won't do.
After my smoothie this morning, my friend Laurel came over for a while and filled me in on her engagement and we discussed wedding planning until she had to leave for Jacksonville. Once she left, Ryan and I were both feeling a little hungry, so breakfast number two happened!
Oatmeal whole wheat pancakes, baby.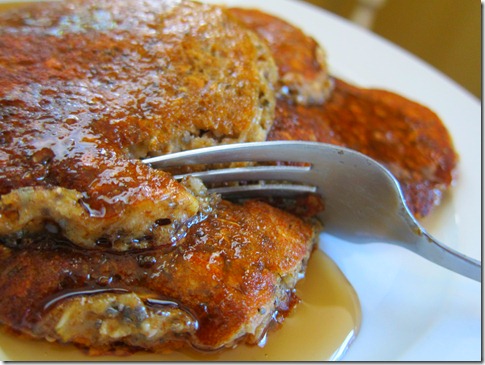 How good do those look?
I made the pancakes by playing around in the kitchen and experimenting a bit.
This is not the exact recipe since I just threw some stuff together, but the basic ingredients included:
1 c. old fashioned oats
1/3 c. whole wheat flour
2 tbsp. brown sugar
1 tbsp. chia seeds
1 tbsp. flax seeds (or another tbsp. of chia seeds – don't omit!)
1/2 tbsp. baking soda
2 tbsp. melted butter
1 c. milk
I mixed everything together with a hand mixer before cooking the pancakes on a hot griddle (sprayed with cooking spray) until they were brown.
After topping them off with syrup, it was pancake-eatin' time!
Oh man, these were good! They almost tasted like oatmeal cookie pancakes!
Gym Pics + Fro Yo Date
After breakfast round two, Ryan and I cleaned up around the apartment before heading out to our friend Ben's gym (the same gym where we held the Blogger Boot Camp!).
We didn't swing by Ben's gym to work out though. We were there on a mission. Ryan is in the process of creating a workout website detailing different workouts every day. He has the framework of the site in place, but needs photos and other aesthetic things completed before officially launching the site, so we snapped some pictures of him going through five of the different workout routines he created.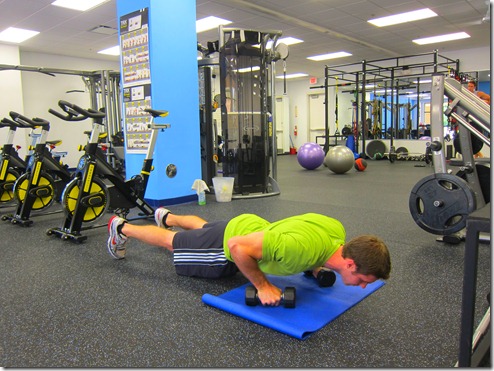 I love the premise of his site since I am constantly looking for new workout ideas and scanning the internet for websites with quality workouts. I think he still has a bunch of things he wants to hammer out before his site is up, but I'll be sure to keep you guys posted!
Since I was Ryan's designated photographer, he rewarded me with fro yo after we were done!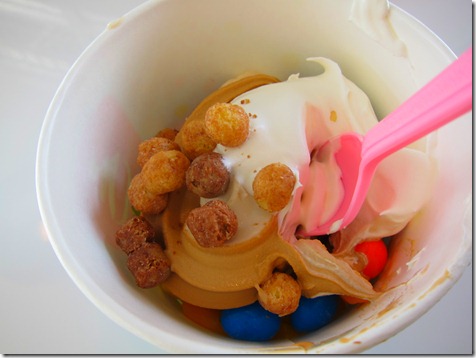 My cup included pralines 'n' cream and peanut butter frozen yogurt, topped with Reese's Pieces cereal, peanut butter M&Ms, whipped cream. Clearly I couldn't resist a few bites before snapping a picture.
After enjoying our respective cups of frozen yogurt, we walked to The Fresh Market, located nearby to pick up some grillin' goodies for this evening.
Once we arrived home, we curled up on the couch for a good hour to read Divergent together.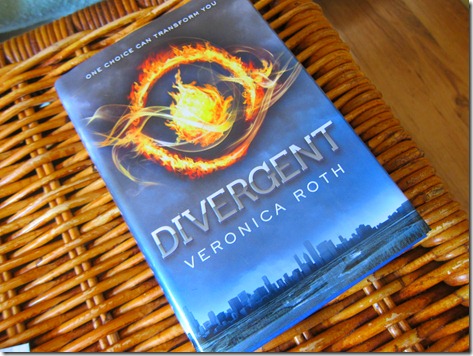 So far we are both loving it. It's a really quick read and we're almost exactly halfway done, so we're anxious to wrap it up soon!
And now it's BBQ time! Gotta go!
Happy almost Fourth of July!