This morning felt like a Sunday morning! We slept in, bummed around the apartment, made a big pancake breakfast and curled up on the couch sipping coffee for a good hour.
Okay, so I was the only one who sipped coffee. Ryan thinks it tastes horrible and is much more of a tea guy. Thankfully he doesn't mind the smell of it, because I can't get enough of our new Keurig and love the smell of the butter toffee coffee pods. Mmm.
Our pancake breakfast included the same oatmeal cookie pancakes that we loved so much yesterday.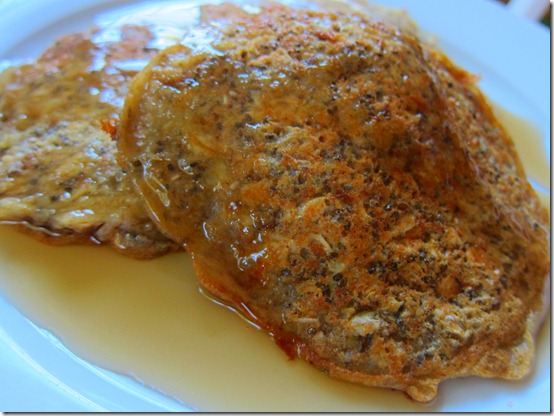 (Also, I measured the ingredients this time and updated the recipe from yesterday so it's more accurate now. Be aware that you need to use a hand mixer to make these and cannot skip the chia seeds because they help thicken the batter that would otherwise be too runny. They're definitely doughy pancakes!)
After breakfast, we let our food digest before hittin' the gym for BodyPump!
Our gym debuted the latest release this morning at 9:30 a.m. and I finally talked Ryan into joining me. I've been asking him to try BodyPump for more than a year and today he actually caved.
I think he really enjoyed the workout, but I thought it might be more beneficial for those of you out there unsure about BodyPump to read an actual review from a first-timer, so, in Ryan's words, here is a brief review of his first experience with BodyPump:
"BodyPump was a good workout, cardiovascularly challenging for a weights-based exercise routine and, most importantly, fun. I struggled a bit with my weight selection and the transitions between moves, being my first class, but I'm sure it would get easier if I did it more often. I was surprised (in a good way) to find that group exercise is a great motivator to push yourself above your normal limitations and get in a few extra reps. BodyPump is a strength endurance workout, which is a good change of pace from more common lifting workouts. Would I do it again? Yes. But probably not too often. I strongly believe in strength endurance training and normally split my workouts up to spend more time on a specific muscle group than BodyPump allows, but it was definitely a good workout."
And those are his thoughts!

As for me, I liked the new release a lot! The songs were upbeat and fast and the class absolutely flew by. I thought the squat and chest tracks were the hardest and the lunge and tricep tracks felt easier than normal to me.
Once we were done with BodyPump, we came home to a dog that needed some attention so we leashed up Sadie for a walk around the lake near our apartment.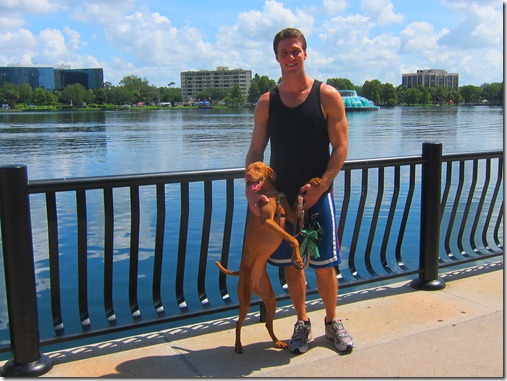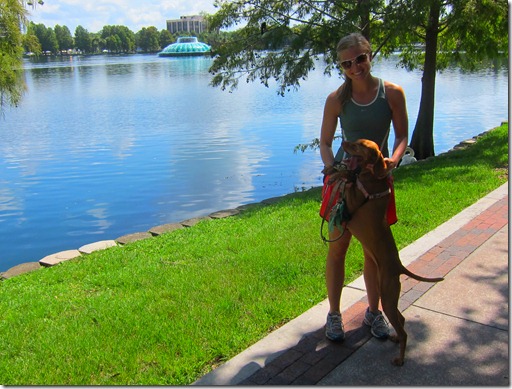 The annual downtown Orlando fireworks show takes place at Lake Eola this evening, so they were already starting to set up for the festivities this morning.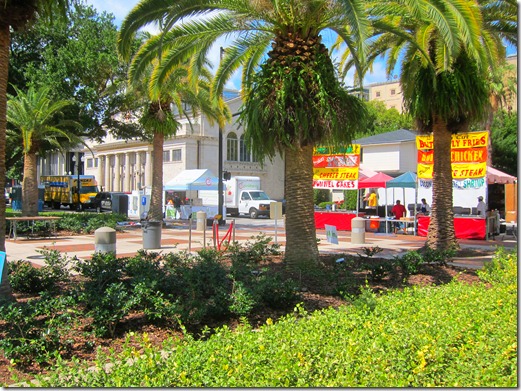 After our walk, we came home and went to the grocery store where Ryan said we had the "best bag lady ever." He's convinced she must be a Tetris wizard since she bagged up our groceries so well. I'm glad he appreciates the little things in life!
Now it's lunchtime, though I'm not that hungry since I feel like I ate half of a watermelon as I was slicing it up in the kitchen 20 minutes ago. It was perfectly sweet and so holiday-appropriate that I just couldn't stop!
Hope you guys are enjoying a fantastic Fourth of July… or a simply wonderful Monday for the readers out there who aren't from the U.S.!