I'm convinced that Sunday mornings are meant for eating big, comforting breakfasts in your pajamas.
I love sleeping in on Sundays, stumbling downstairs and into the kitchen with the intent of making a delicious meal to enjoy with loved ones.
This morning Ryan and I had a craving for pancakes, so I took my laptop into the kitchen and perused the internet for a yummy recipe. I wanted to keep things relatively healthy and figured making pancakes with oatmeal would be a great way to add wholesome fiber to our morning meal. Since I didn't have the ingredients on hand for my high-protein healthy oatmeal pancakes, I had to start from square one.
After stumbling upon a recipe for oatmeal pancakes on Smitten Kitchen, I figured I could change things up a bit and make my own version.
In the end, we both had a large plate full of thin, dense pancakes that tasted amazing!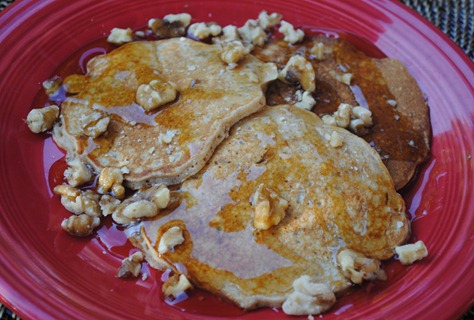 I topped the pancakes with chopped walnuts for some healthy fats and syrup for a little sweetness and moisture.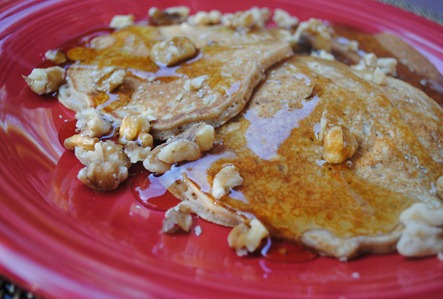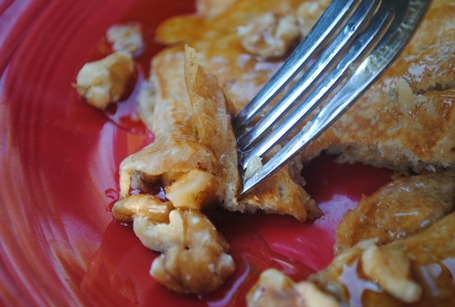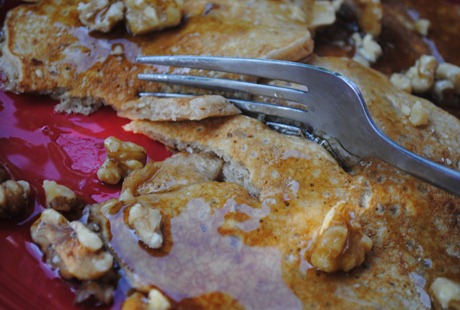 The perfect Sunday breakfast!
Oatmeal Pancakes (Adapted from Smitten Kitchen)
Serves 2 – 3
Ingredients:
1/2 c. + 1/3 c. all-purpose flour
1 tbsp. sugar
1 tsp. baking soda
1/4 tsp. salt
1/2 tsp. cinnamon
1 1/2 tbsp. melted butter
3/4 c. milk
1/3 c. old fashioned oatmeal, cooked (I measured 1/3 c. oats before cooking. After cooking the oats, I had slightly more than 1/3 c. cooked oats.)
1/4 c. raw oats
1 tbsp. honey
1 large egg
Directions:
Whisk the dry ingredients (flour, sugar, baking soda, salt and cinnamon) together in a large bowl. In a smaller bowl, whisk the butter, milk, cooked oatmeal, raw oats, honey and egg together until thoroughly combined. Stir the wet ingredients into the dry ingredients.
Cook pancakes on a hot griddle sprayed with cooking spray (or butter) or in a skillet coated with cooking spray (or butter) for 2 –3 minutes on one side before flipping and cooking the other side. The pancakes cook very quickly, so keep an eye on them! 
Top with nuts, syrup, fruit, chocolate chips, powdered sugar or desired toppings and enjoy!