When the alarm went off this morning, I was not in the mood to get out of our comfy bed. Usually when the alarm beeps, Ryan leaves the lights in our bedroom off and heads into the bathroom while I remain in bed for a good five minutes. I like to wake up a little slower.
Today, however, Ryan flipped the light on when the alarm went off. I was confused and tired. I was not in the mood to get out of our comfy bed and probably would've tried to sleep for a little while longer if it weren't for that pesky blazin' light!
The light got me out of bed and into the gym at my usual time… and I'm glad it did. Whenever I sleep in, even if it's just for an extra 30 minutes or so, I feel more sluggish because I never really get back into a deep sleep.
Ryan and I headed to the gym and slowly but surely I snapped out of it and ended up having a pretty good workout!
I began my workout with a 35-minute treadmill interval workout that looked like this:
| | | |
| --- | --- | --- |
| Minutes | Incline | Speed |
| 0 – 5 | 8.0 | 4.0 |
| 5 – 25 | 1.0 | Alternating 4.5 for one minute, followed by 8.0 for one minute |
| 25 – 30 | 8.0 | 4.0 |
For the number hungry kiddos out there, here are the stats: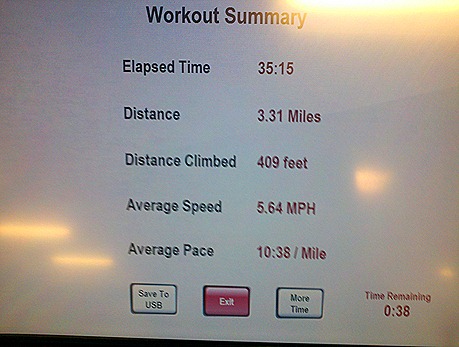 Following my treadmill interval workout, I rounded out my workout with five minutes on the stair master before finishing with 10 minutes on the elliptical.
Walk
After the gym, Ryan and I came home to take the little lady on her morning walk.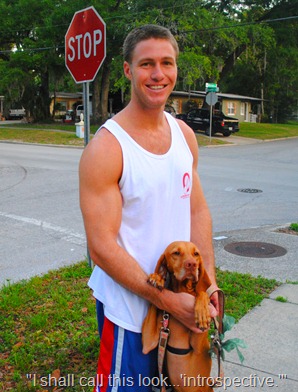 Sadie was being extra sweet this morning!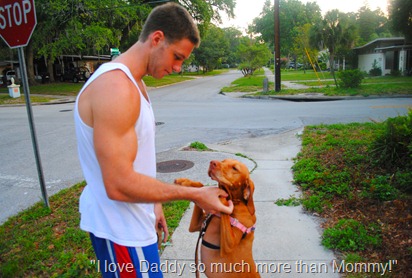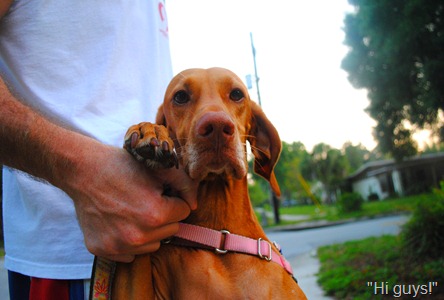 Though the walk itself was good, when we arrived back home, the real excitement began!
As Ryan went to unlock our front door, a big lizard fell onto his neck! He wiggled around, totally freaked out, until I stopped laughing for long enough to tell him it was just a lizard.
I'm pretty sure he'll be on edge all day now.

Breakfast
Breakfast was less exciting than the lizard debacle, but it still got my taste buds hoppin'.
Over the weekend I made a batch of peanut butter energy bites and finished off a small jar of peanut butter.
Last time I blogged about giving Sadie my empty peanut butter jars, many of you almost fell off your rocker in a fury telling me I had to use empty peanut butter jars as a vessel for oatmeal.
Point taken. Check it oooout: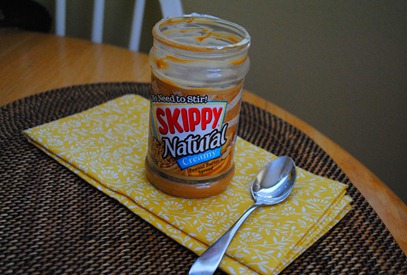 My first ever oats in a jar!
I made my oats on the stovetop using 1/4 cup steel cut oats and 1 1/2 cups of milk.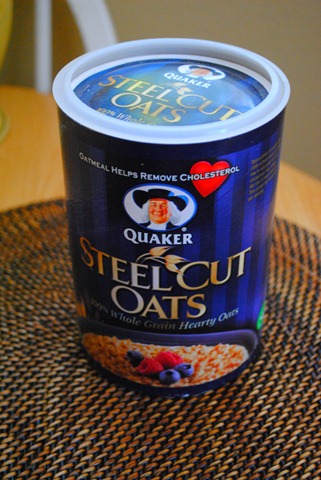 Once the oats were done cooking, I stirred in half of a scoop of chocolate protein powder and a tablespoon of my favorite cocoa powder before pouring the oats into a nearly empty jar of Skippy natural creamy peanut butter.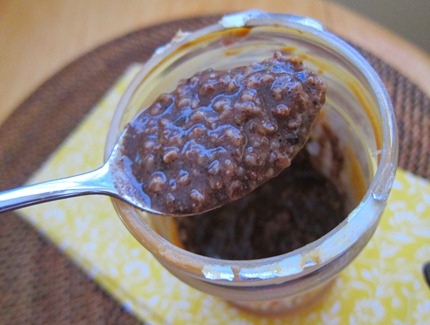 Oh my heavens, this was so, so good. Why I've waited this long to put hot oats into my empty peanut butter jars, I'll never know.
This particular combination tasted like peanut butter cup oats. The last bites were the absolute best, because of the thick layer of peanut butter remaining on the bottom of the jar. Phenomenal.
Bad news for Sadie: She may never get another empty jar of peanut butter again.