Welcome to our temporary home!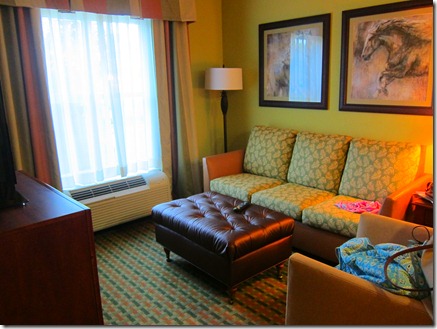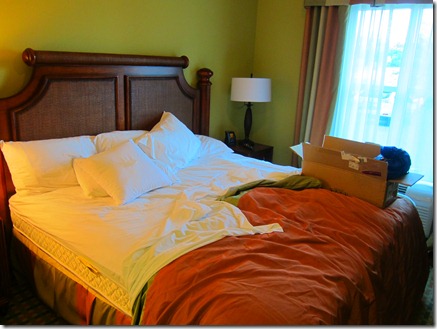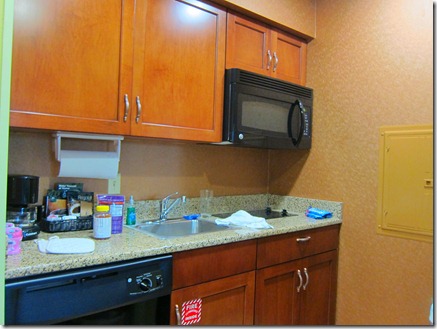 Ryan's new company booked us a room at a nearby extended stay hotel where we've set up camp until we find a home to rent in the area.
The hotel is very nice and roomy. I think we'll be just fine!
The downside?
They don't allow this little girl…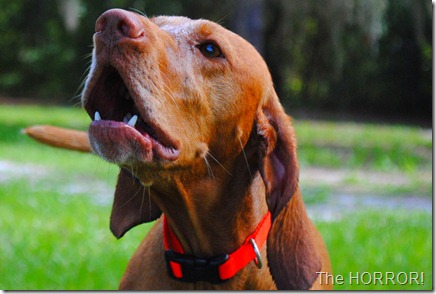 Sadie is currently staying at my parents' house where my mom, dad and sister are keeping a loving eye on her.
Ryan and I also decided it would be best for me to go back and forth from Ocala to St. Pete in the upcoming weeks to do my part as a doggy mama since we don't feel like it's fair to just dump Sadie on my family (even though they LOVE her), so I'll be doing a lot of traveling.
This will be a good chance for me to spend some quality time with my family and Ryan and I plan to be responsible dog parents and spend most of the upcoming weekends with Sadie somehow, whether it be in St. Pete with my family, Sarasota with his family, etc.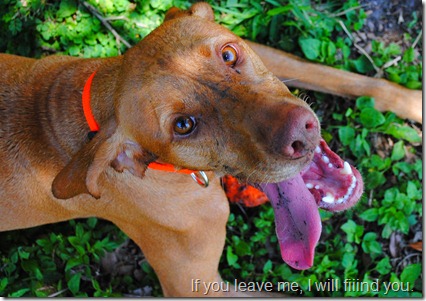 Workout
When we received our 6 a.m. wakeup call, Ryan and I quickly changed into our gym apparel and walked a few feet to the hotel's fitness center.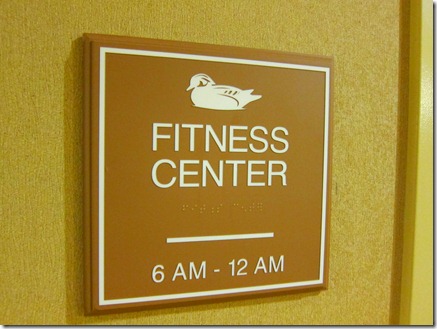 Talk about convenient!
We scoped out the gym last night, so we knew it had adequate cardio machines and a wrack of free weights. I figured I could do a total-body weights workout of some sort without much trouble.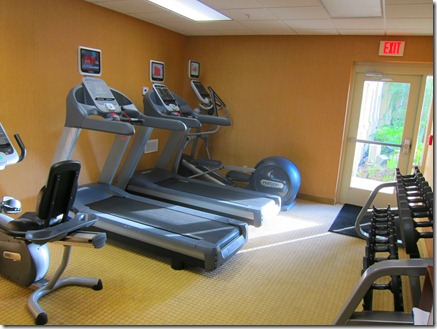 I began my workout with five minutes of incline walking before hopping on the elliptical for 20 minutes.
I then completed this strength-training workout:
| | | | |
| --- | --- | --- | --- |
| Exercise | Weights | Reps | Sets |
| Bicep curls | 15 lbs. | 15 | 3 |
| Side shoulder raises | 10 lbs. | 15 | 3 |
| Deadlifts | 30 lbs. | 15 | 3 |
| Tricep extensions | 20 lbs. (total) | 15 | 3 |
| Alternating lunges | 15 lbs. | 15 | 1 |
| Hamstring ball curls | Bodyweight | 20 | 3 |
| Pushups (on my knees) | Bodyweight | 15 | 3 |
| Wall sits | Bodyweight | 30 sec. | 3 |
| Various crunches on exercise ball | Bodyweight | 50 | 3 |
I missed some of the machines I use to do some leg exercises, but this workout got the job done!
Breakfast
Breakfast today was awfully convenient as well thanks to a complimentary buffet at the hotel.
I filled my plate with a hardboiled egg white (hardboiled egg yolks are dry and nasty!), whole wheat toast, a banana, scrambled eggs with Swiss cheese and a container of peanut butter that I used as a dip for my toast. (And my finger. Let's be real.)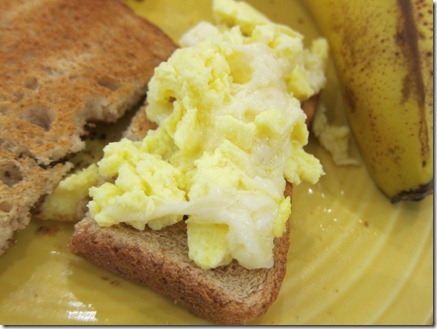 The Swiss cheese scrambled eggs were my favorite! They were ridiculously cheesy. I refilled my plate with another small serving before heading back to the room with Ryan.
Now I am seriously PUMPED to get back into work mode. I felt so frazzled with the move last week and stressed out over the chaos occurring in my inbox. Time to tackle the beast!
The Great Fundraising Act

If you are active in the blog community, you've likely heard Susan's story. Susan is the amazing healthy living blogger behind the blog The Great Balancing Act, a personal trainer and a phenomenal woman. She was recently diagnosed with Hodgkin's Lymphoma and has incurred monthly medical bills of $5,000.
The amazing Janetha organized a fundraising auction to raise money to help Susan with these expenses. Companies and bloggers have donated goods to the auction which you may check out here.
I am donating a batch of homemade peanut butter granola (which I plan to send along with some other goodies!), which you may see here. All you have to do to place a bid is comment in the comment box with the amount of your bid. A detailed explanation of the rules and logistics of the auction may be seen on The Great Fundraising Act page. 
If you don't want to bid on anything, you may also simply make a monetary donation.
I hope you all win something awesome and I thank you in advance for contributing to this phenomenal auction, which is live from 8 a.m. (EST) to 11 p.m. (EST). Of course all proceeds will go directly to Susan.
I'm off to get mah bid on!