Morning
I'm pretty sure Ryan and I were both asleep by 9:30 p.m. on Monday night so thankfully my early-morning alarm didn't feel too brutal on Tuesday. I kicked off the day with the usual routine: Coffee with collagen and frothy coconut milk + My latest devotional + Work until the boys woke up!
Chase was up first yesterday and the two of us eased into the morning with a few books in his room before we heard Ryder making noise on the monitor. Chase loves getting Ryder up in the morning and after his naps and I will often keep the monitor on the two of them and let Chase climb in Ryder's crib for some "brother time." Ryder seems to love it, too, and yesterday their time together gave me the chance to get dressed for the day without two kiddos running around. A win for all!
Once I was dressed, I scooped the boys up and we headed downstairs for breakfast.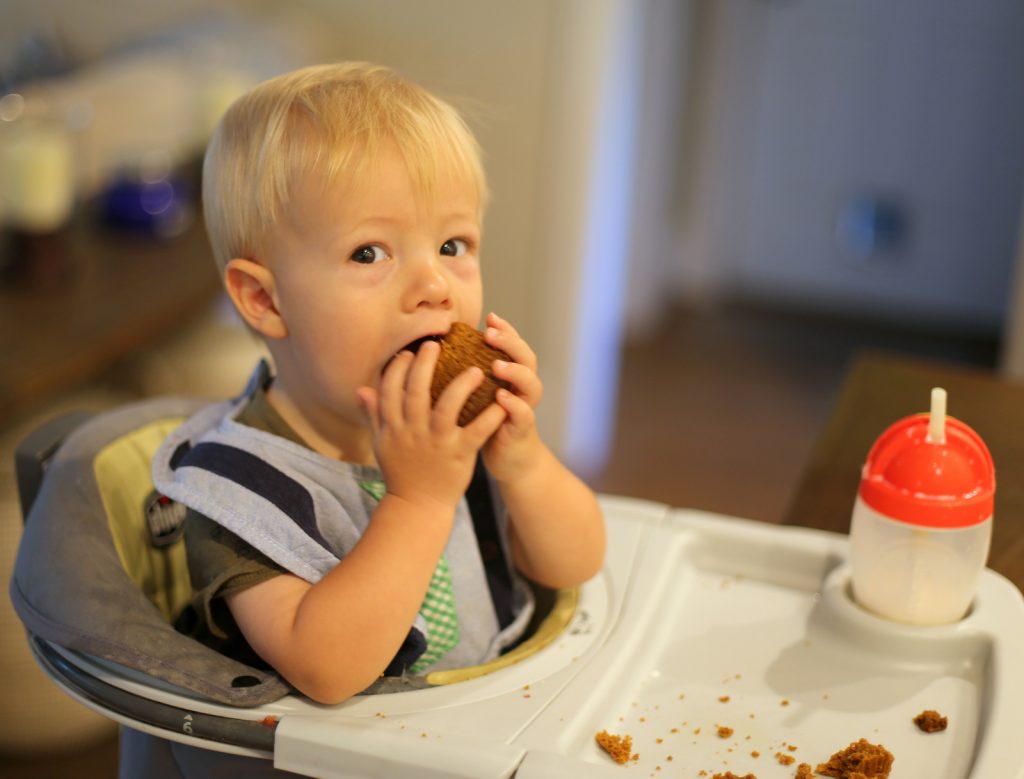 If I thought I was a muffin-making machine after I had Chase, now that Ryder is just as muffin-obsessed as his big brother, I feel like I'm making muffins non-stop around here. I made myself a smoothie while the boys ate sweet potato muffins and clementines before Mike arrived.
We hired Mike, the same contractor we used for our kitchen refresh, to build us a small screened-in porch and it looks amazing! He's adding skylights this week and finishing up the ceiling and I cannot wait until it's all done and we can spend lots of time in our new space.
Eventually, it was time to head out and we made our way to the YMCA. I intentionally skipped Burn Boot Camp yesterday because it was a core workout and I've been experiencing some really odd pain on the left side of my waist/core/upper hips. It feels almost like a brush burn on the outside but tender bruising on the inside and the pain is located pretty much exactly where I perch Ryder whenever I carry him. Has this ever happened to any of you guys out there? It's pretty uncomfortable (especially at nighttime) and I'm not sure if I should just wait it out or see someone about it. It's been going on for about a week now and I've been trying to carry Ryder on the opposite side hoping for a reprieve but am not sure what else to do. Gotta love motherhood injuries.
Anyway, back to my workout! Once we arrived at the Y, I dropped the boys off at childcare and completed an incline walking workout while I caught up on Bachelor in Paradise like the classy lady I am. I followed my incline walking with a short upper body circuit and called it a day.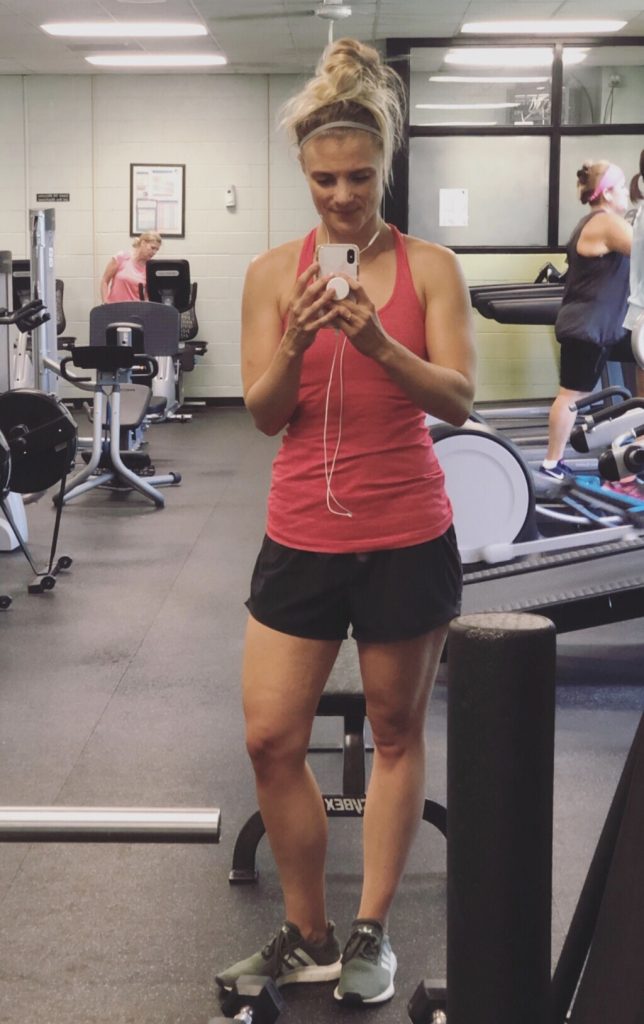 In and out of the gym in less than 45 minutes!
After picking up the boys, I ate an RXBar in the car and we drove straight to their ISR lessons. Yesterday was probably the best day we've had so far!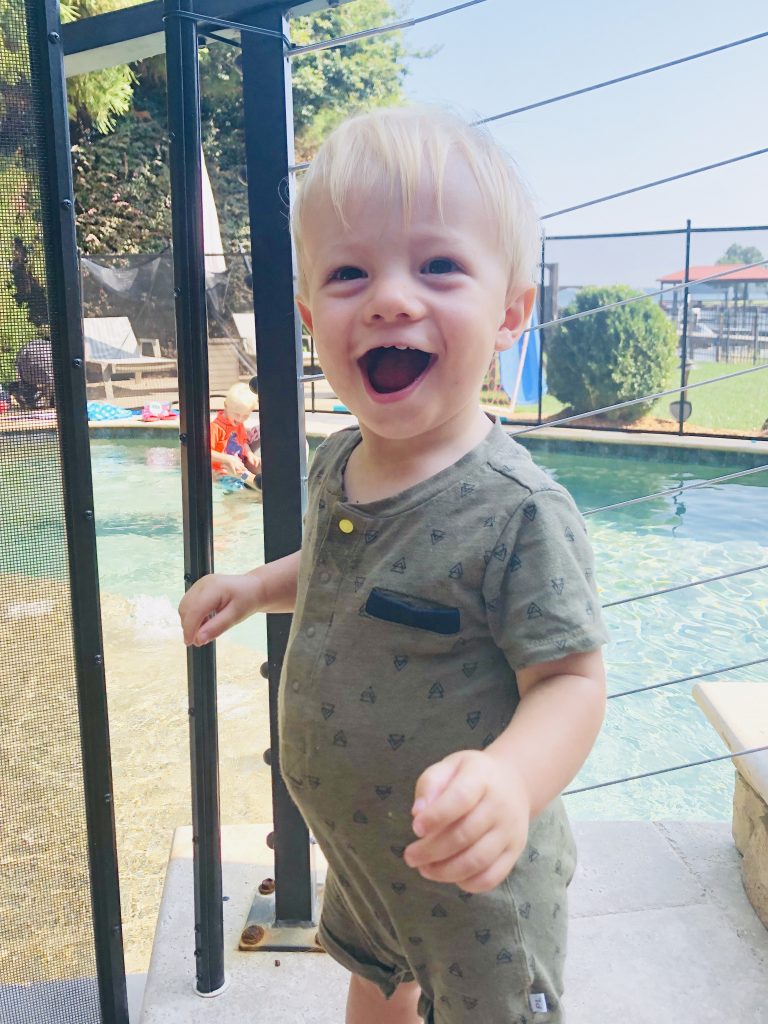 Chase managed to float with only the assistance of his instructor's hand on the back of his head (huge progress for him) and Ryder splashed and clapped for himself anytime he did basically anything at all. (Gotta celebrate yourself, right? When do we stop doing this!?)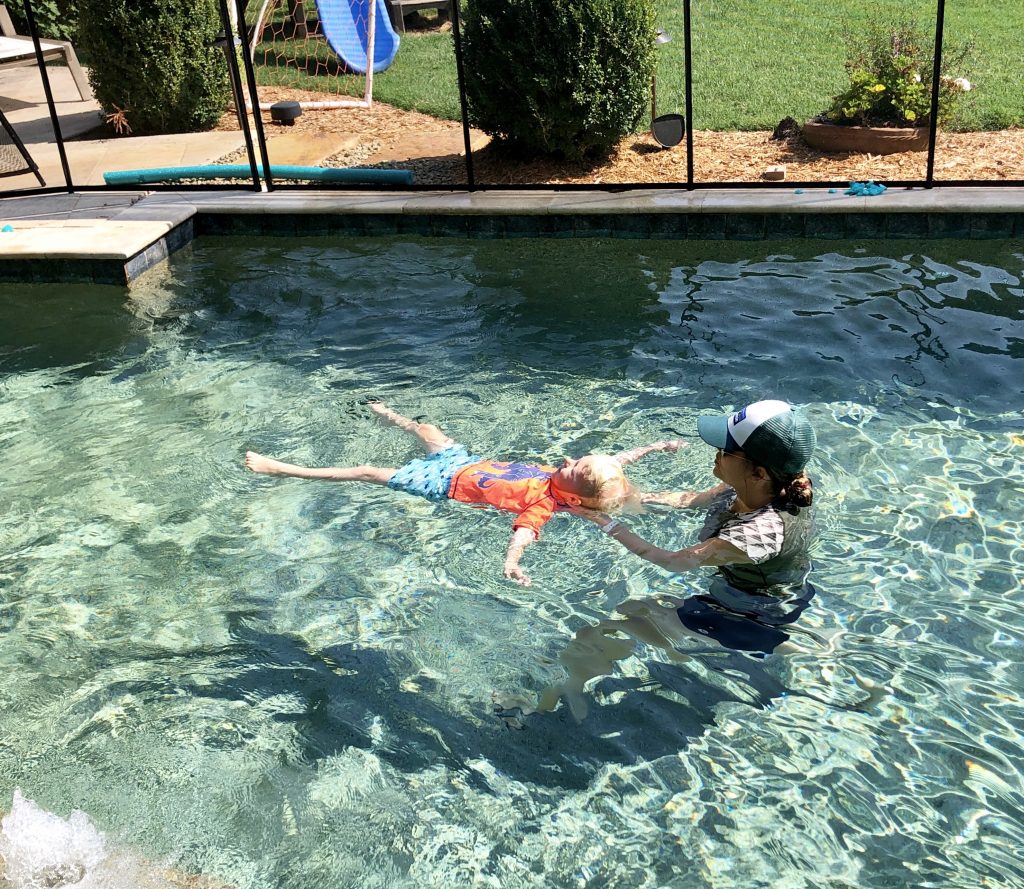 I will absolutely update you guys with our ISR progress and provide a full recap of our experience but in the interim I don't want to paint a picture that's inaccurate because while our boys are adjusting very well to ISR, it can be really, really hard, too. Ryder cried through his entire lesson on Friday which isn't uncommon at all for babies and kids doing ISR. Thankfully the tears haven't been too dramatic for the boys (yet?) and I think this may have to do with their ages and how they both handle water. Ryder LOVES water and isn't in the "stranger danger" phase of life yet, so I feel like we're in a sweet spot for him. I think Chase would've had a MUCH harder time with ISR at a younger age since he never liked water on his face/head as a baby and has always been really cautious. He benefits from talking through everything and I think beginning ISR at age 4 helped him feel more secure since he can understand what's going on and why he's learning certain skills.
Afternoon
After ISR, we drove to a local park to meet up with my friend Lauren and her kids, Chase's BFF Claire and JJ. It was Lauren's due date for baby #3 yesterday so we're all getting really excited to meet her littlest little one soon!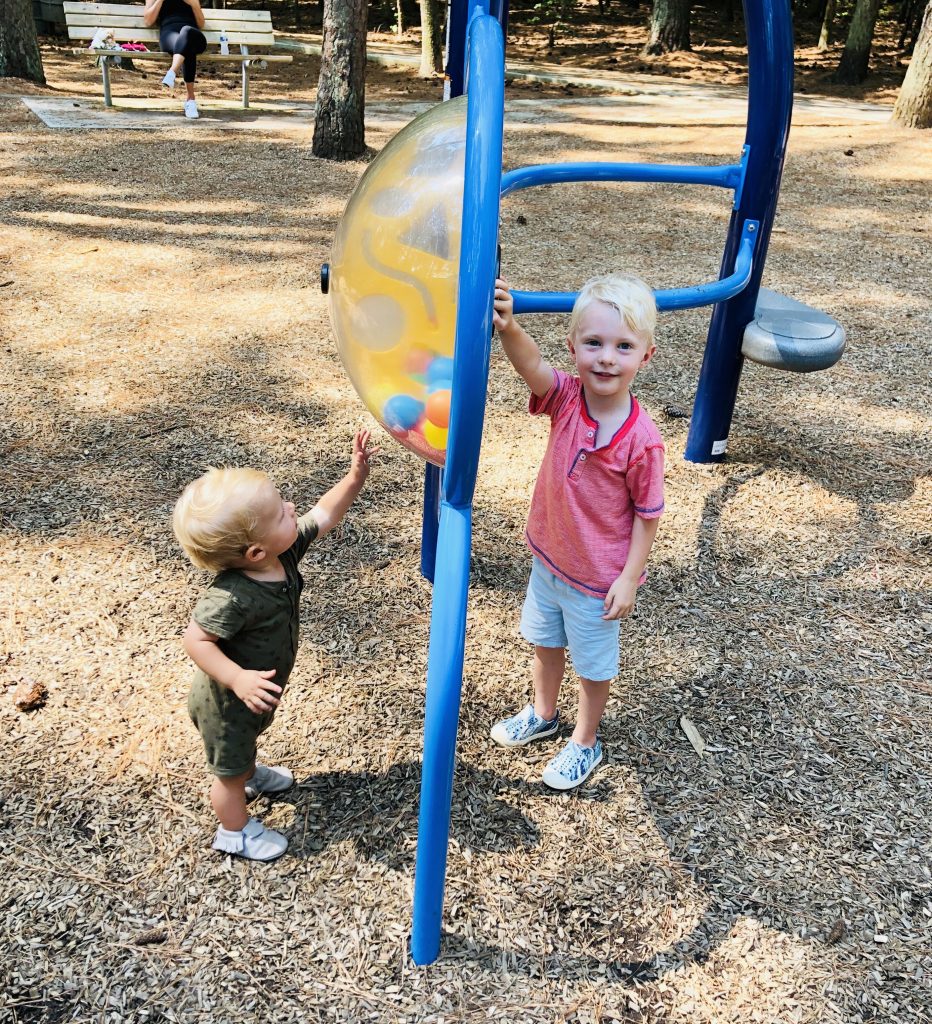 It was H-O-T outside yesterday but we thankfully chose a shady park so the kids could run around and have fun without getting too overheated! Eventually we made it back home for lunch and I fed the boys before managing to get both of them down for a nap. Woop!
While they napped, I checked in with Mike and then made myself lunch to enjoy while I worked on the computer. I heated up a Daily Harvest Brussels sprouts + tahini harvest bowl and added leftover shredded chicken, frozen cauliflower rice and frozen edamame to beef it up a bit. I also added a little drizzle of some of my favorite creamy tahini dressing to the bowl and it was so delicious and very filling.
Once the boys were awake, we played at home for the rest of the afternoon. I recently checked out a library book that's filled with a bunch of bug-related activity and craft ideas and it's been awesome for inspiring some fun crafts at home!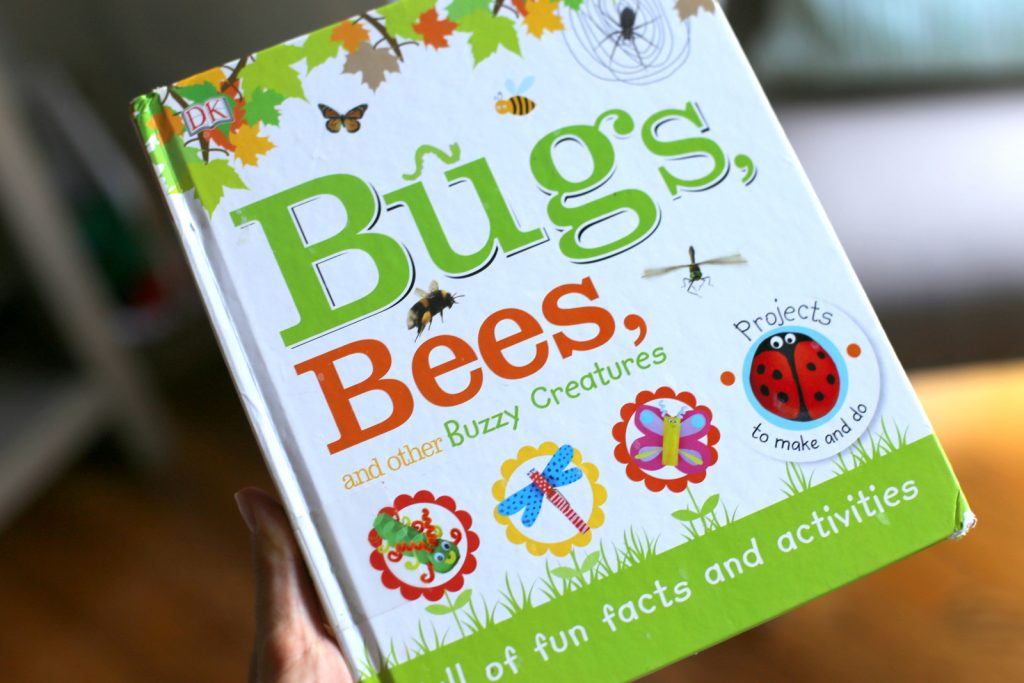 Chase loved painting ladybug rocks on Monday and requested that same craft project again yesterday so we painted rocks for a bit while Ryder had free reign of the toys.
Evening
After craft time, while the boys entertained each other, I threw together a simple dinner which looked like pesto pasta!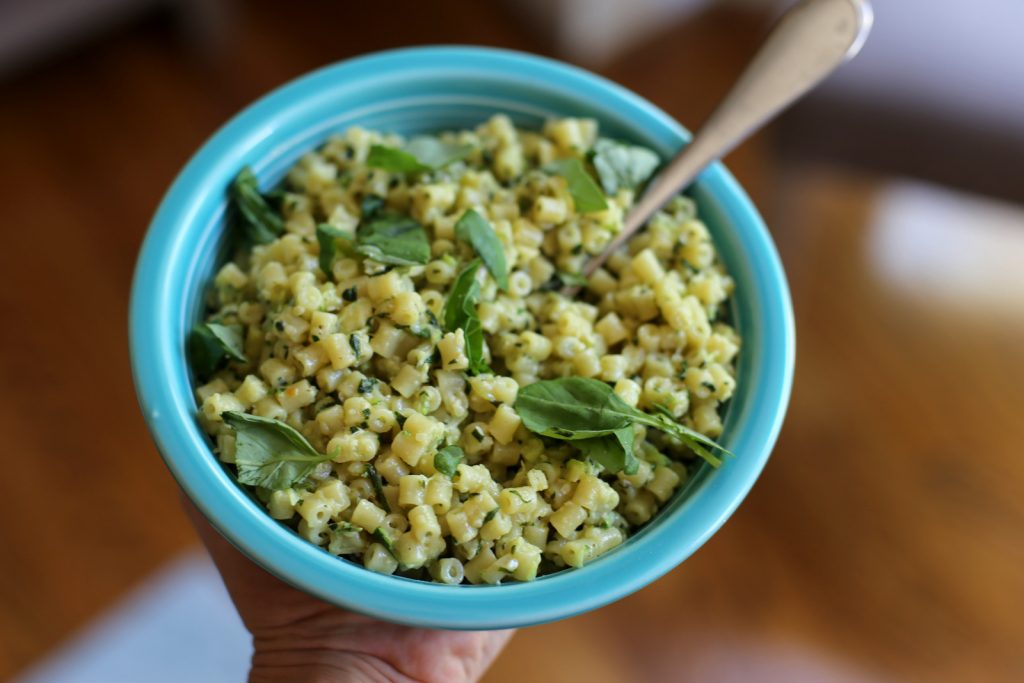 I used ditalini pasta to make it easy for Ryder to eat and made the pesto with a combination of hemp seeds, nutritional yeast, olive oil, lemon juice, garlic and basil. (I actually got the recipe from the Plant Based Juniors ebook I previously mentioned that I especially loved for recipes for Ryder when we were first introducing solids.) We all dug into dinner when Ryan arrived home from work and then the boys played superheros for a bit while I mixed up the ingredients for a coconut oil and peanut butter chocolate bark!
Once Chase realized what I was doing, he asked to help and suggested adding sprinkles!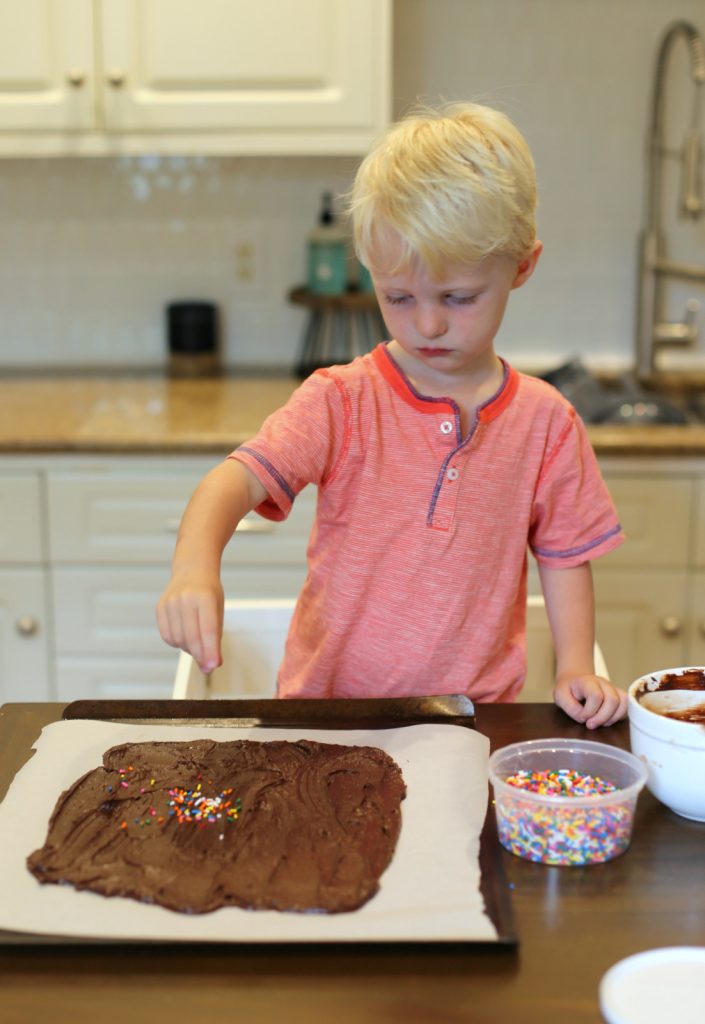 I need to measure out the ingredients of this bark next time to share with you guys because it was so, so good. I LOVED hint of peanut butter in the chocolate and the whole family enjoyed this simple dessert.

Eventually we got the boys in bed and then Ryan and I stayed up for a bit chatting until we read in bed before falling asleep. I finished reading It All Comes Back to You by Beth Duke (interesting and sweet if not a little cheesy) last night and began reading Ordinary Grace by William Kent Krueger which pulled me in immediately.

Plans for the day include more of the same around here — ISR, hopefully a workout and possibly some park or splash pad fun. Hope you all have a great Wednesday!

Good morning! Happy Wednesday to you! All is well over here. We're truckin' along through one of our final weeks of summer and today I wanted to share another day-in-the-life post recapping our day yesterday.