yesterday
. Sadie went to the bathroom safely
on a leash
before dawn and all was well. Thank goodness!
Ryan and I then headed to the gym to knock out our workouts for the day.
We started with 20 minutes on the elliptical before I completed a total-body weights workout.
| | | |
| --- | --- | --- |
| Exercise | Reps | Sets |
| Single-leg split squat with exercise ball | 15 each leg | 3 |
| Tricep pulldowns | 15 | 3 |
| Bicep curls | 3 min. straight | 1 |
| Leg extensions | 15 | 3 |
| Deadlifts | 15 | 3 |
| Dips | 15 | 3 |
| Various shoulder raises | 3 min. straight | 1 |
| Ab work on exercise ball | 50 various crunches | 2 |
| Plank | 1 min. | 1 |
I was a big fan of this combination of exercises. If Ryan didn't need to leave the gym to have time to shower before work, I would've squeezed a chest and back exercise in there as well.
Breakfast
On our way home from the gym, I convinced Ryan to make a quick detour to Wal-Mart to grab some frozen strawberries and milk for smoothies for breakfast.
Once we got home, my cravings shifted and I wanted a savory breakfast.
I swear anytime I feel like I have to eat something, I don't want it anymore. I think I felt like I had to make a smoothie since I convinced Ryan to make a pit stop for the berries at Wal-Mart (the store that Ryan calls the "eighth circle of hell"), so of course my taste buds wanted something savory when it actually came time for breakfast.
Fortunately Ryan didn't seem to care when I started cooking up some eggs (probably because I made him breakfast, too!).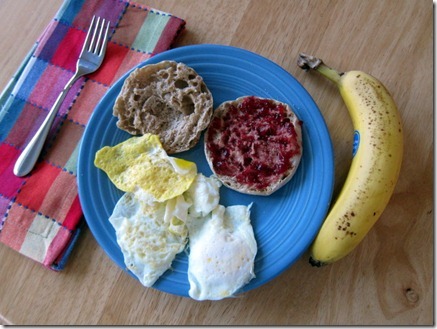 I made myself two fried eggs (one dippy egg, one not-so-dippy because I cracked the yolk) and enjoyed them with a toasted whole wheat English muffin and a banana.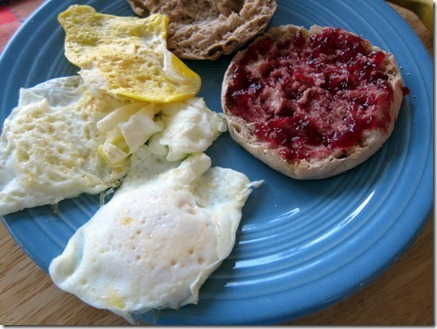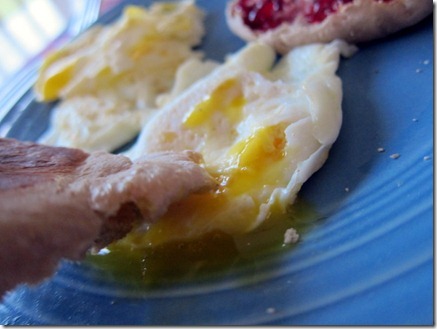 A protein and fiber-packed breakfast. Oh yes!
PBF Book Club
A couple of weeks ago many of you expressed interest in a PBF book club. I'm so excited to kick it off today!
The club will work like this:
We will select a book together from three different choices (survey style – see below)
We will have one month to read the book
After the month is up, I will dedicate a blog post to a review of the book and feature a bunch of questions about the book that we can all discuss in the comments section of the post
Sound good? Bueno!
Now it's time to choose the first PBF book club novel!
Here are your choices (taken from your recommendations on the PBF Facebook page yesterday)…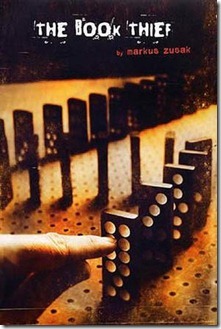 Set during World War II in Germany, Markus Zusak's groundbreaking new novel is the story of Liesel Meminger, a foster girl living outside of Munich. Liesel scratches out a meager existence for herself by stealing when she encounters something she can't resist–books. With the help of her accordion-playing foster father, she learns to read and shares her stolen books with her neighbors during bombing raids as well as with the Jewish man hidden in her basement before he is marched to Dachau.This is an unforgettable story about the ability of books to feed the soul.
Room: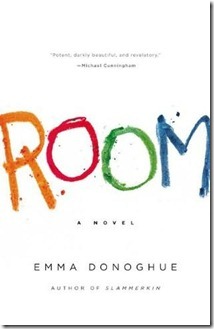 To five-year-old Jack, Room is the entire world. It is where he was born and grew up; it's where he lives with his Ma as they learn and read and eat and sleep and play. At night, his Ma shuts him safely in the wardrobe, where he is meant to be asleep when Old Nick visits. Room is home to Jack, but to Ma, it is the prison where Old Nick has held her captive for seven years. Through determination, ingenuity, and fierce motherly love, Ma has created a life for Jack. But she knows it's not enough…not for her or for him. She devises a bold escape plan, one that relies on her young son's bravery and a lot of luck. What she does not realize is just how unprepared she is for the plan to actually work. Told entirely in the language of the energetic, pragmatic five-year-old Jack, Room is a celebration of resilience and the limitless bond between parent and child, a brilliantly executed novel about what it means to journey from one world to another.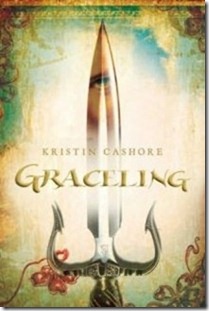 Katsa has been able to kill a man with her bare hands since she was eight—she's a Graceling, one of the rare people in her land born with an extreme skill. As niece of the king, she should be able to live a life of privilege, but Graced as she is with killing, she is forced to work as the king's thug. When she first meets Prince Po, Graced with combat skills, Katsa has no hint of how her life is about to change. She never expects to become Po's friend. She never expects to learn a new truth about her own Grace—or about a terrible secret that lies hidden far away . . . a secret that could destroy all seven kingdoms with words alone.With elegant, evocative prose and a cast of unforgettable characters, debut author Kristin Cashore creates a mesmerizing world, a death-defying adventure, and a heart-racing romance that will consume you, hold you captive, and leave you wanting more.

Please vote for the book you would be most interested in reading. You may vote more than once if you are interested in more than one of the above novels.

[polldaddy poll=5466756]

I will announce the chosen book on Friday morning.

Today started off about a billion times better than