Saturday
Saturday morning was a little random. Ryder was up really early (he's currently cutting a molar) and needed a nap around 8:30 a.m. Ryan offered to hang behind with the baby monitor and play with Chase so I could head out on a solo walk with Sadie.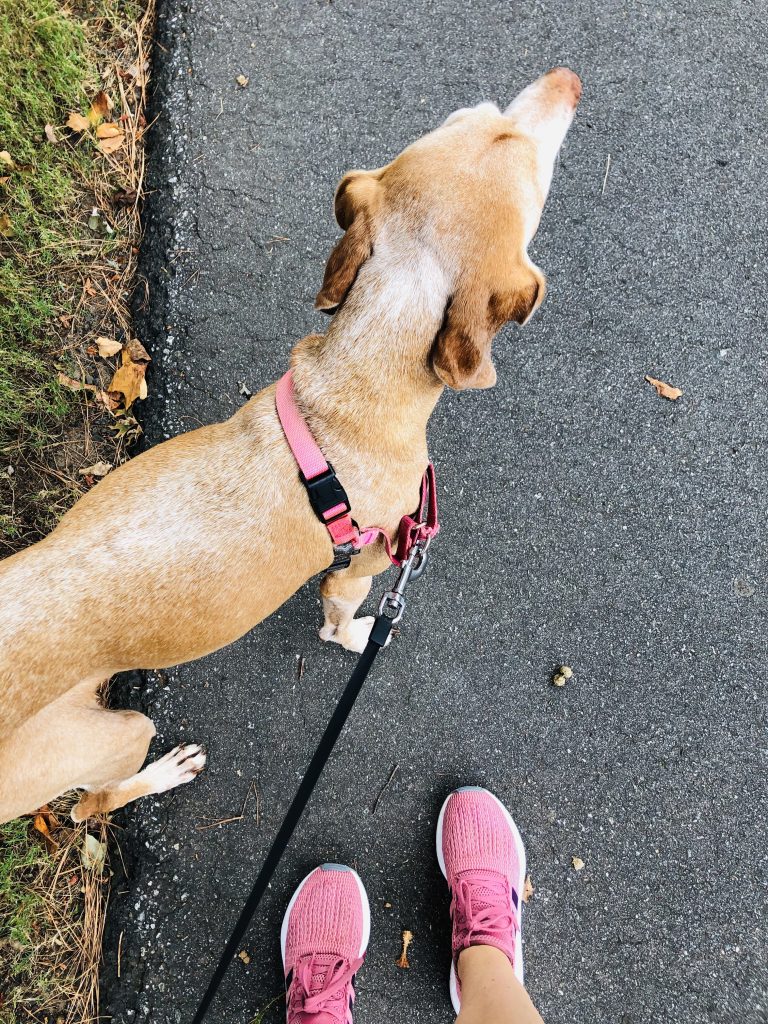 My walks with Sadie usually involve a double stroller and two crazy kids so walking three miles and listening to podcasts with my favorite furry lady felt like such a treat. I swear solo walks with Sadie are good for her but even better for me.
I listened to two podcasts (anyone else love listening to them at 1.5x speed?) and thought the latest Coffee & Kettlebells episode featuring tips for raising confident kids was a great one. (Fun fact: I was actually the first interview on Morgan's podcast when I was pregnant with Ryder! If you'd like to listen to my episode, you may find it here.)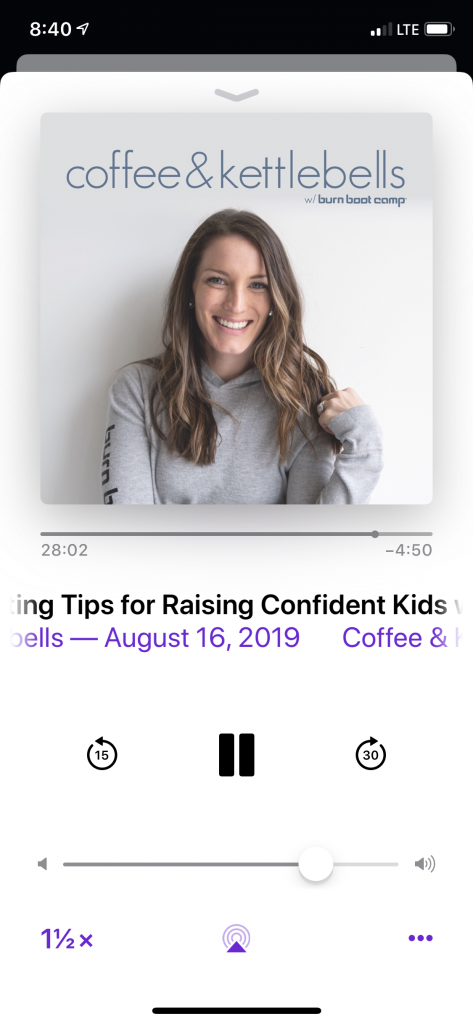 By the time I made it home, Ryder was just waking up from his short morning nap and we were ready for some fun! All Chase wants to do right now is practice swimming (he made major progress during ISR last week and can now swim underwater toward us) and all so we headed off to the YMCA to splash around!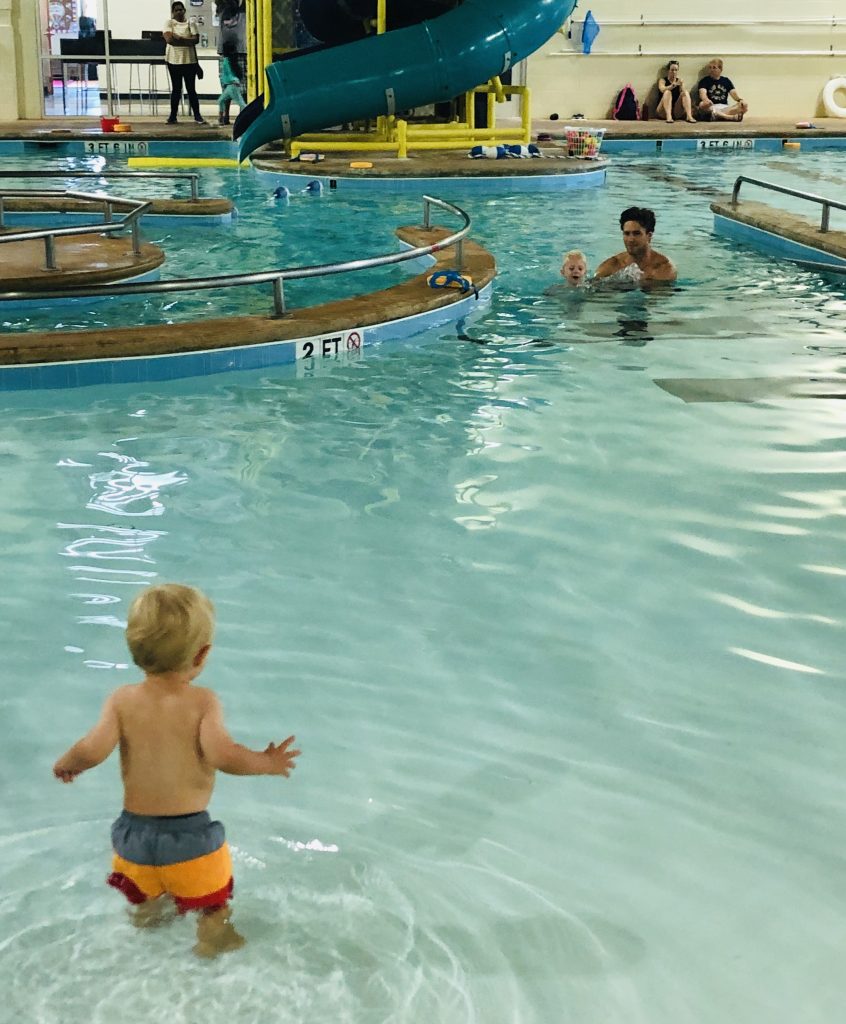 The boys were loving life in the water and we had a lot of fun watching them have a blast. One of the biggest perks about pool time for the boys is the stellar naps that usually follow. The boys both took solid two-hour naps when we arrived home which gave me and Ryan the chance to tackle household chores without distractions.
By the time the boys were up, we were ready to get outside and let Chase drive his Jeep to the park near our house while I pushed Ryder in the jogging stroller and Ryan walked Sadie.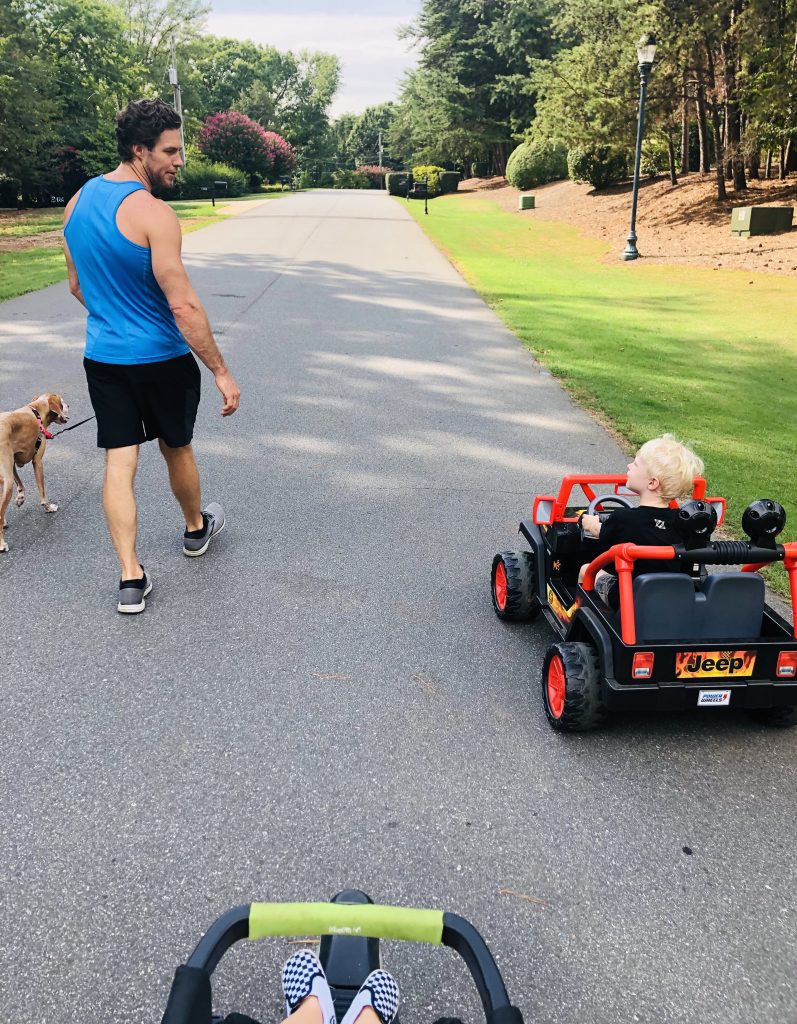 We were quite the gang!
When we arrived at park, the boys ran around until we heard the clap of thunder and figured we should hurry back home to avoid getting caught in a rain storm.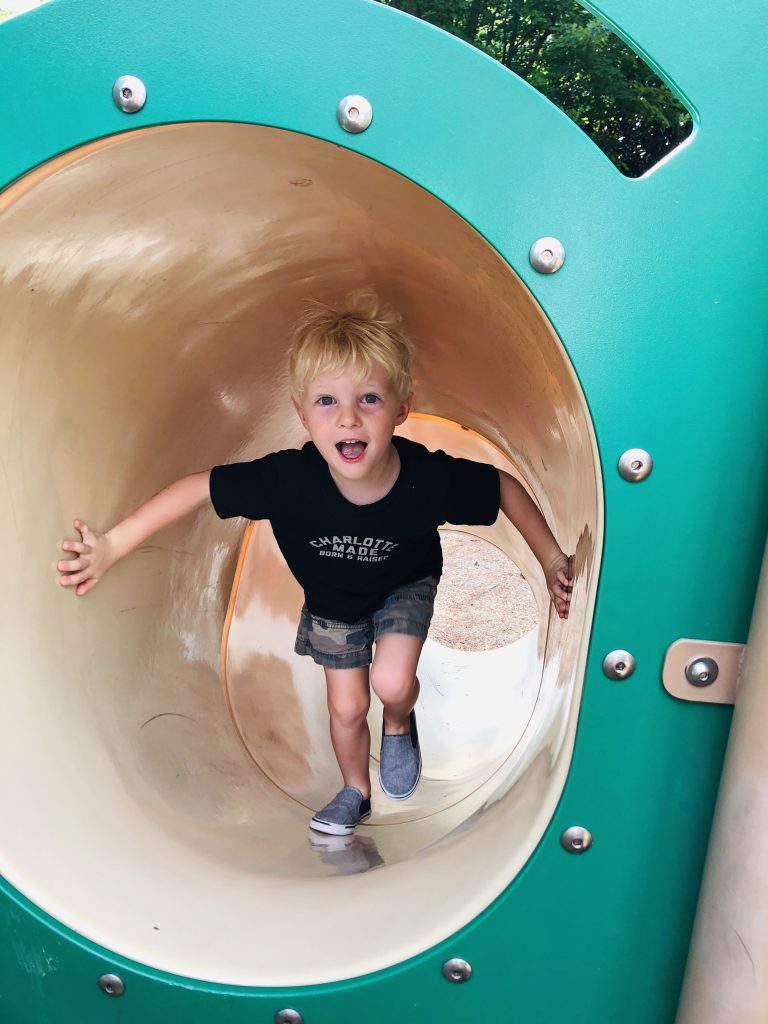 Somehow the storm seemed to surround our house but the rain avoided us and we were able to grill out for dinner which was a treat. We spent the rest of the night playing with the boys before tucking them into bed nice and early. Ryan and I usually read at night and don't watch TV too often but since we both recently finished our books we opted to watch The Office on Netflix together and laughed out loud a number of times. Have you guys heard the rumors that Netflix will no longer be streaming The Office soon? Say it isn't so!! I swear The Office and Friends are pretty much the only two shows I watch on repeat whenever I want to zone out and watch mindless TV.
Sunday
Sunday morning began with streaming our local church service before heading off to My Gym with the boys! Our friends Steve and Laura brought their kids as well and we loved catching up with them while watching the kids work on their gymnastics skills. We made it home in time for Ryder to take a nap (he's still waffling between one and two naps a day and I'm just rolling with it) and then I had a little work to do for an upcoming Instagram collaboration. Ryan and Chase read books and played together until Ryder was up and we all headed out.
Our Sunday afternoon plans took us to Lake Norman where we boated around, swam at a little local beach and threw sticks for Sadie.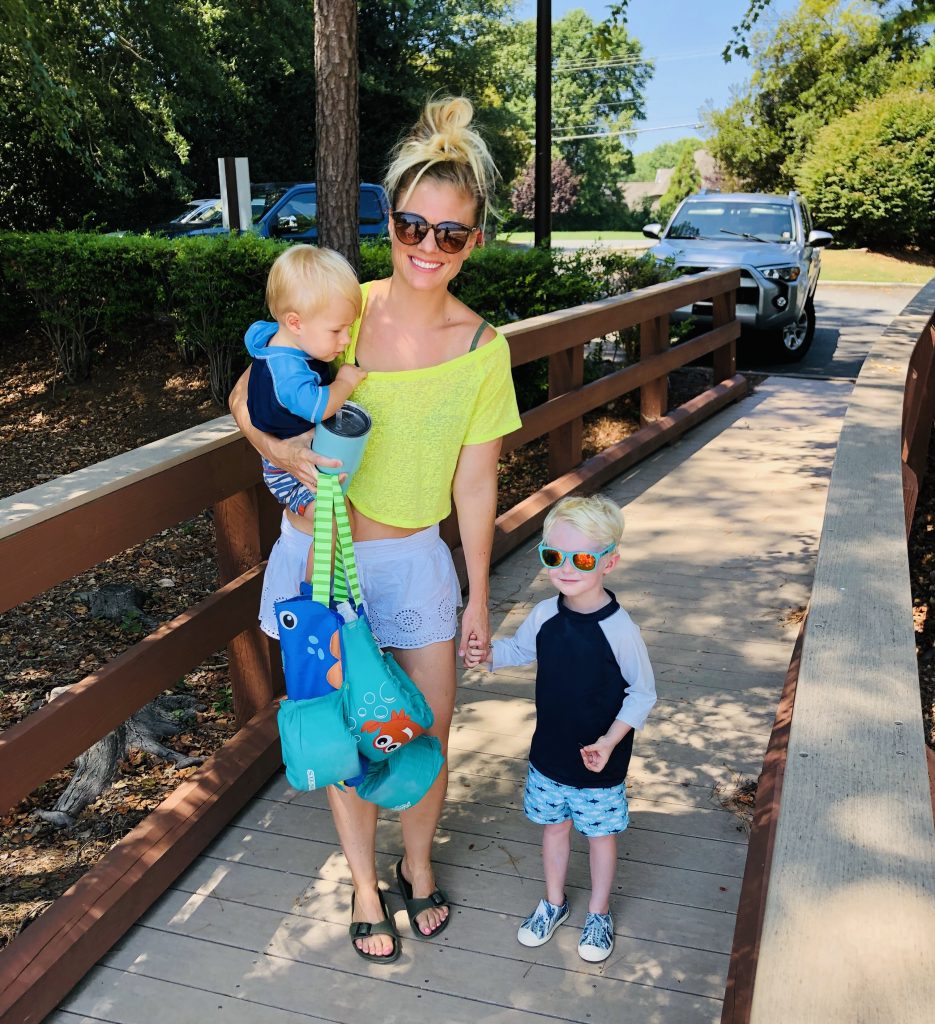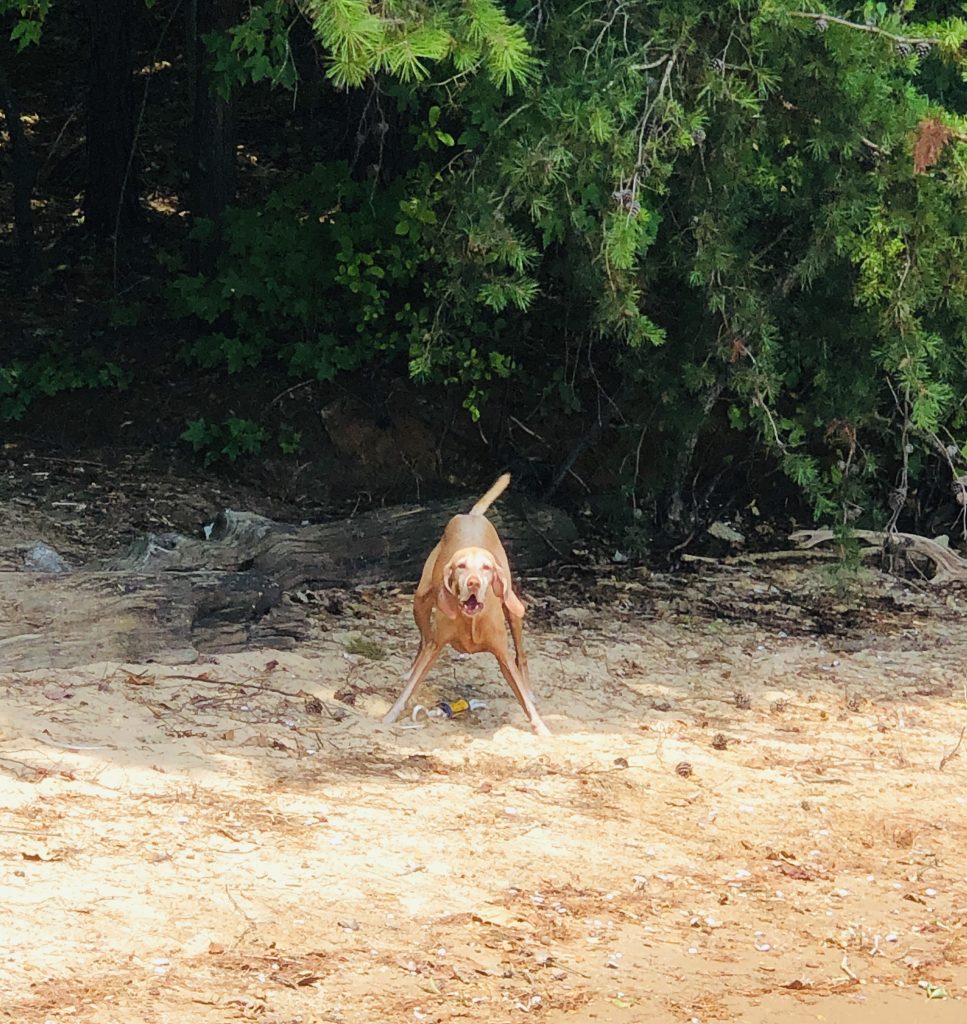 Summer days on the lake are my favorite!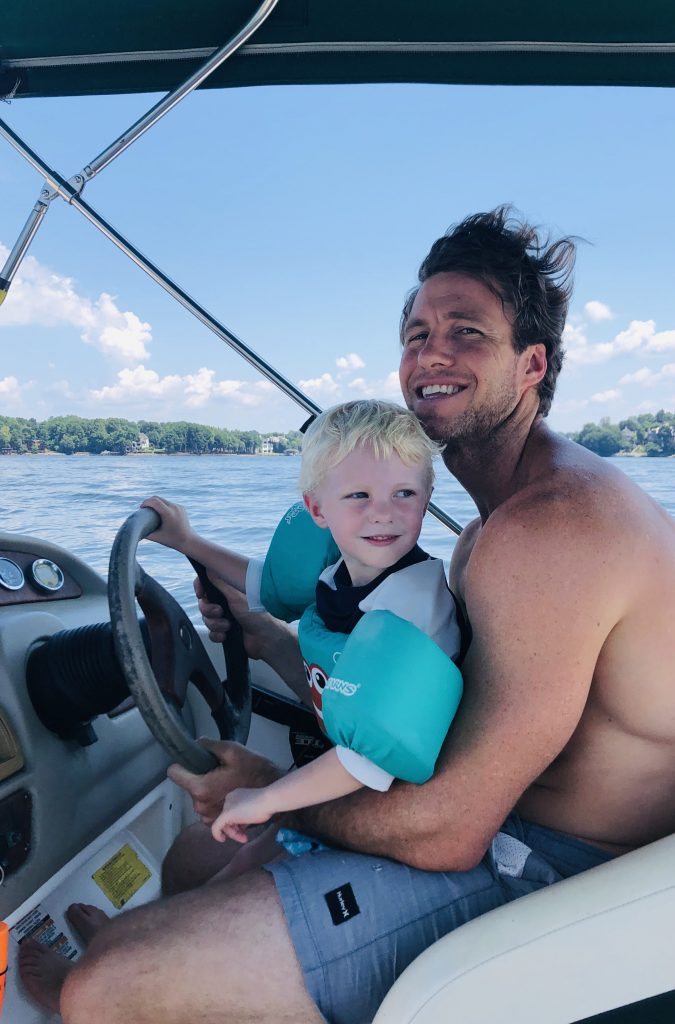 Neither Chase nor Ryder have ever been "sleep anywhere" kids and generally only fall asleep in their cribs or car seats during long drives but something about the boat ride home after a day of playing in the sun and the water often has one or both of them dozing in my arms. You better believe I soak it up.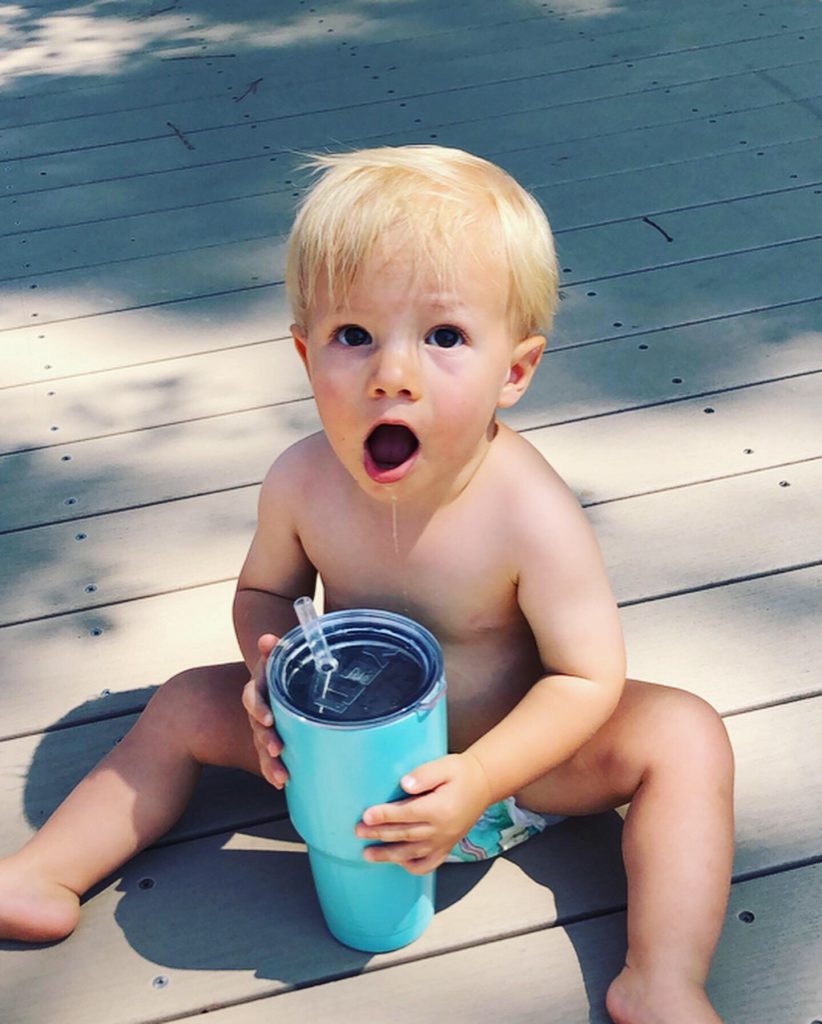 (Ryder turned 14 months old yesterday!) 

We made it back home in the late afternoon and Ryder went down for a short afternoon nap while Chase joined me on a quick grocery store run. Once we made it home, we were all ready to change into our pajamas, dig into some dinner and relax around the house until it was time for bed.

The week ahead should be a good one for our crew! We'll be filling our days with ISR and more summertime shenanigans and then my parents arrive on Thursday night and we're all taking off on a little weekend adventure together.

I hope you all have a fantastic week and thanks so much for making PBF a part of your day today!

Hi friends and Happy Monday to some of my favorite people! How are you guys doing today? I'm glad you're here and hope you are checking in today after a good weekend. Our weekend fun kicked off on Friday with lots of pool playtime with friends followed by a family movie night! We watched Finding Nemo, made homemade pizza and ate ice cream and it was lovely. A nice and relaxing way to round out the week.