Hey, hey! Happy Friday!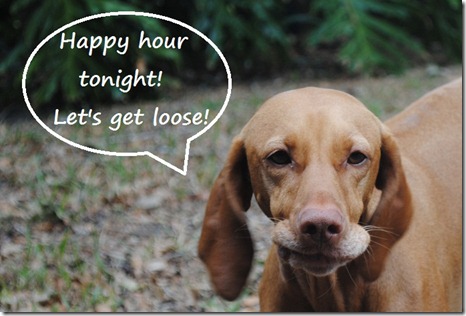 Sadie looks ready to party! Actually, she looks like she may already be a little tipsy. Fermented chicken breast can do that to ya.
Workout + Prom
Today's workout was a Friday specialty! Okay, not really – I just did an upper body strength workout – but Friday mornings at the gym are my favorite because it's less crowded and people are generally smiley and pumped for the weekend.
I think I had three different people make some kind of comment to me about the weekend. One woman said that it's prom for her son on Saturday. Ohhh, memories. (Side note: Does it seem really early for prom to anyone else?)
I remember always looking forward to school dances, though now I look at the pictures and think, "What was I thinking!?"
Who else remembers when hair styles like this were super cool: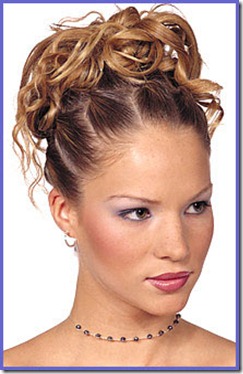 Why, oh why, did we think it was a good idea to make our hair into some kind of a grid that exploded with curls that were crunchy with hairspray?
Why?
I actually just went through old photos trying to find some from my high school prom or homecoming dances, but I think they're all at my parents house. That's probably a blessing in disguise to spare me some humiliation.
Breakfast
Today's breakfast was another good one!
I ate two whole wheat waffles topped with a mixture of cottage cheese and ricotta cheese, a sliced pear and a sprinkle of pumpkin pie spice.
Every time I sit down to eat this breakfast, Ryan always comments that it looks so good. He's a little wary of the cottage cheese and ricotta cheese topping, but maybe one day he'll give it a go! He wasn't so sure about my beloved egg, jelly and cheese breakfast sandwich and now he always makes his egg sandwiches with jelly!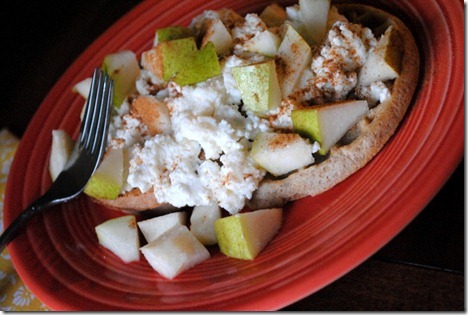 I have another super-long freelance article that needs attention, so I'm off to get writing!
Questions of the Morning
Does anyone else remember prom hairdos like the one I posted above? Please tell me Palatine, Illinois wasn't the only place that embraced such a glamorous look.
Any crazy memories from high school dances you'd like to share?