Today's blog post dives into some of my recent eats in the form of the number three: Three breakfasts, three lunches, three dinners and three snacks! Thank you to The Laughing Cow for sponsoring this post!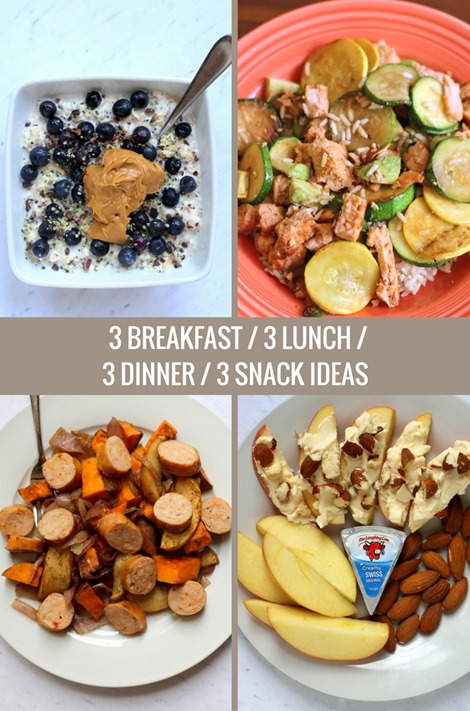 Every once in a while I remember to whip out my camera and capture some of my daily eats to share on the blog. (Instagram Stories has been GREAT for motivating me to give you guys a glimpse into some of my meals again in real-time!) I actually managed to snap pictures of a decent number of the breakfasts, lunches, dinners and snacks I ate last week to highlight on the blog today in a roundup post of some of my recent eats!
Let's dive right into the delicious eats, shall we?
Three Breakfasts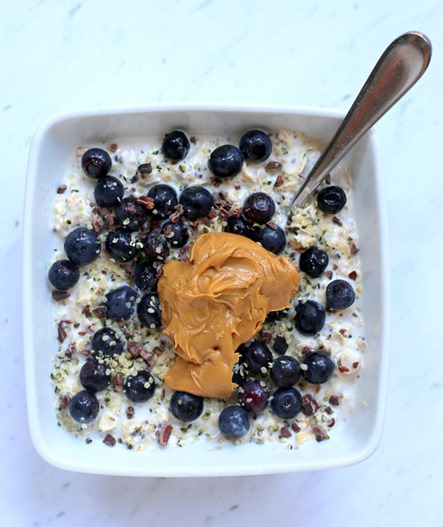 I took a bit of an overnight oats hiatus in the winter months but now that warmer weather is back, beginning the day with a cold and creamy (and filling!) bowl of overnight oats sounds awfully appealing and I've been eating overnight oats on repeat again. This creation included old fashioned oats, light coconut milk (from a can), Greek yogurt, chia seeds and a small drizzle of honey. I prepped the oats the night before and topped them with a dollop of peanut butter, fresh blueberries, hemp seeds and cacao nibs before digging in the next morning!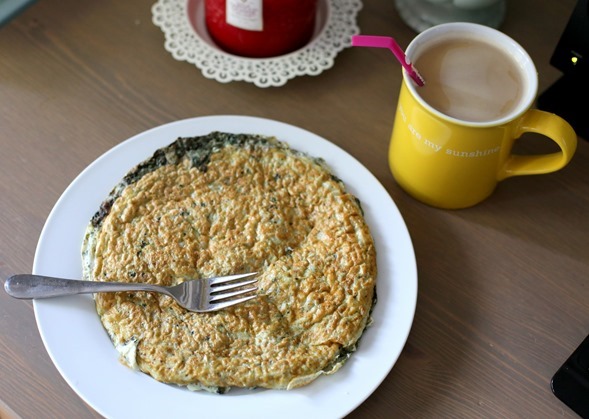 I shared this recipe years ago on the blog (hello, 2014!) and it's still a staple for me. I love the way it doesn't require protein powder, a blender or food processor and is packed with protein thanks to egg whites. (I use a carton of egg whites to make this pancake which makes the recipe even easier.) The ingredients are super clean and the recipe is pretty forgiving if you want to add anything to it! I will often toss in cacao nibs or sliced almonds and then top it with fresh berries or a smear of nut butter. I also love this pancake as an afternoon snack!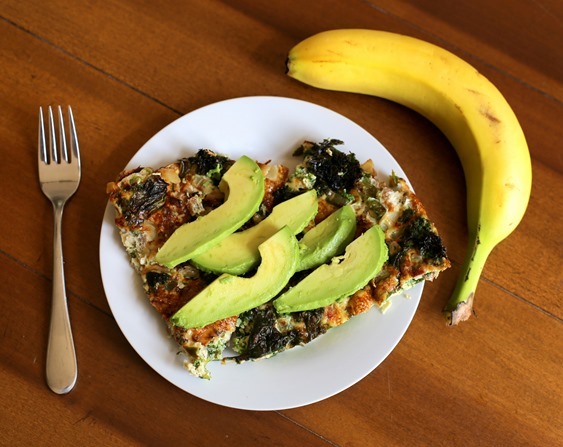 My passion for frittatas is STRONG, you guys. I make a frittata every single week (sometimes twice a week) because it makes breakfast so darn easy. To prevent frittatas from tasting rubbery and watery the next day, I line a Tupperware container with paper towels to soak up some of the liquid that I inevitably find at the bottom of the container and slightly overcook the frittata. It makes the frittata hold together much better and taste great the next day. No weird texture issues over here!
Three Snacks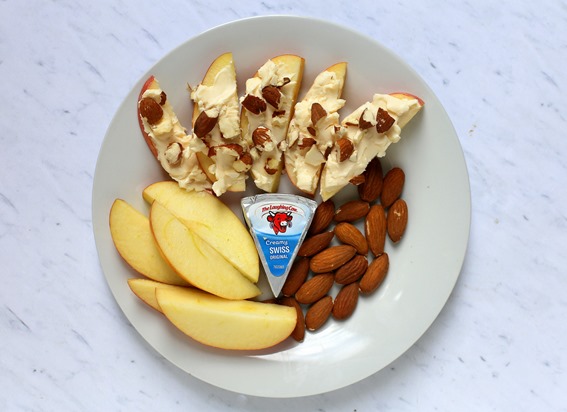 There's something about The Laughing Cow spreadable cheese wedges that will always remind me of college and my first job after I graduated. I could not get enough of the cheese and it's been a go-to for me for years when I want a creamy, savory snack like I did last Thursday! The texture freak in me loves spreading the cheese onto something crispy and refreshing! There's something so darn tasty about pairing cold, crisp apple slices with the savory flavor of The Laughing Cow Creamy Swiss Cheese wedges and crunchy almonds. I love this combination so much and will also swap the apples for peaches and pears and the almonds for salted pistachios (a definite fav!) and macadamia nuts and can't get enough. I love the versatility of this yummy snack option, especially since The Laughing Cow makes tons of different flavors the compliment a variety of foods!
Homemade Chocolate Protein Bar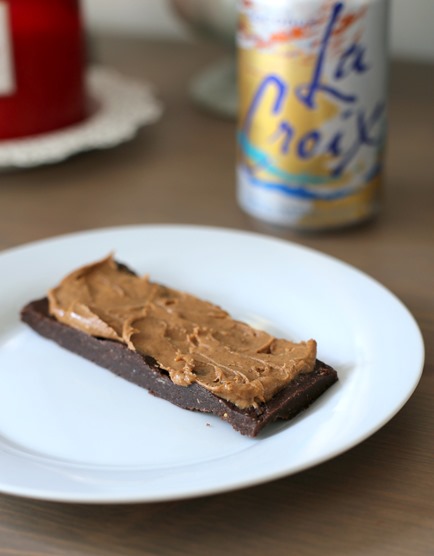 I need your help with this one! I am trying to make a no-bake protein bar but every time I try they kind of taste like I'm biting into protein powder which isn't ideal. Any tips for creating homemade protein bars with protein powder!? Thankfully I do like the flavors of the protein powders I purchase and so my latest attempt didn't go to waste. This combination included SFH chocolate protein powder, dates, roasted peanuts, coconut oil and a pinch of salt.
Yogurt with Trail Mix and Honey
Yogurt has been a go-to snack for me for years. I think it's often because my sweet tooth rears its head in the afternoon so a bowl of Greek yogurt topped with a sweet drizzle of honey and a handful of trail mix or hemp seed granola almost always sounds appealing!
Three Lunches
Black Bean and Brown Rice Salad with Shrimp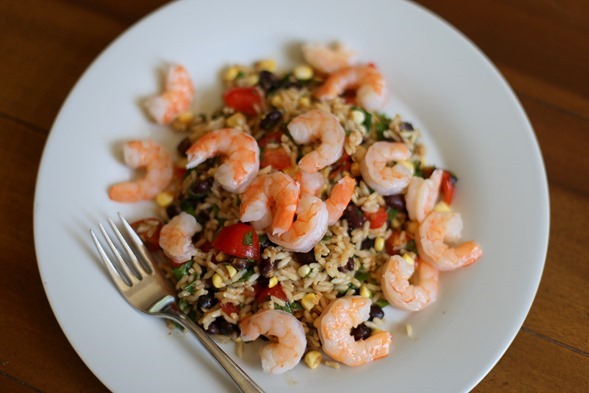 This lunch was an easy one to assemble last week! When I prepared a batch of my Black Bean and Brown Rice Salad for the cookout we had with Carrie and Dru and their boys during their visit, I doubled the recipe so Ryan and I could have the salad on hand to enjoy for lunches/dinners the following week. I topped my salad with some shrimp and it was such a tasty midday meal!
Wild Caught Salmon Burgers, Sautéed Veggies and Brown Rice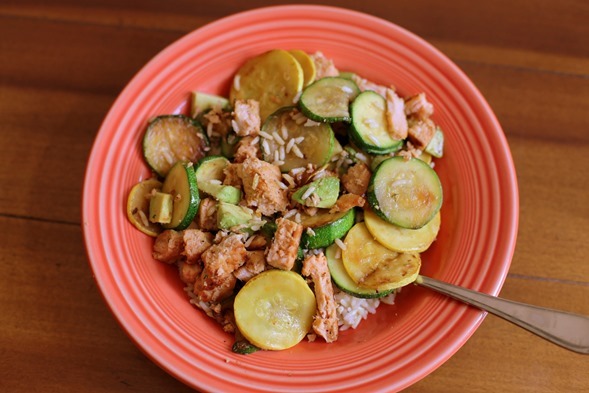 I've been on a HUGE salmon burger kick lately ever since I discovered Wild Caught Teriyaki Salmon Burgers at ALDI for super cheap. They're incredibly flavorful and I simply cook them in a bit of coconut oil on the stovetop along with whatever veggies I'm feelin' at the the moment. I then chop up the burgers and put them on top of a bed of brown rice or quinoa, along with the sautéed vegetables and some avocado. It's such a satisfying lunch!
Chicken Sausage Cabbage Soup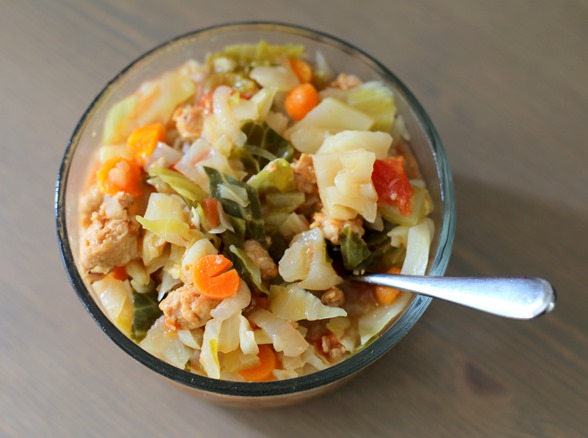 I made this recipe on a whim a month or so ago when I crossed my fingers and hoped I could find a tasty recipe that called for ingredients I already had on hand in my pantry. I am a huge fan of cabbage and the recipe was an easy one to make that tasted fantastic as leftovers as well so I made it again last week! Since leftovers for lunch are one of my go-tos on busy weekdays, the ability to simply reheat a bowl of this soup for lunch the next day made digging into a healthy lunch oh so convenient! I paired it with an apple and some nuts on the side for a little more staying power.
Three Dinners
Whole Wheat Spaghetti with Venison Meat Sauce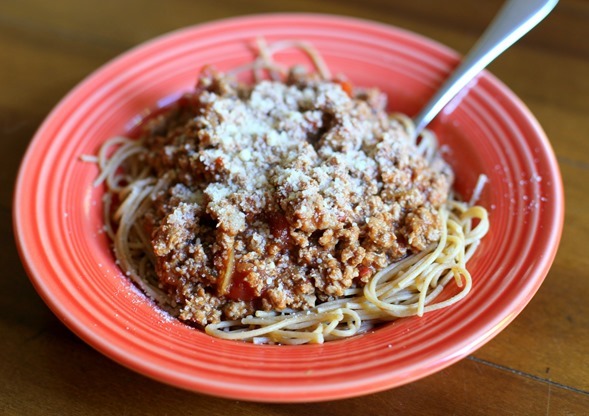 Some nights there is nothing I want more for dinner than a big bowl of pasta! I am probably going to horrify those of you who make your own pasta sauce with this dinner but I added ground venison to a jar of organic marinara sauce and tossed in some spices and called it a meal! We topped everything with Parmesan cheese before digging in. Chase actually surprised us and loved the ground venison meat sauce as well!
Slow-Cooker Chicken Tikka Masala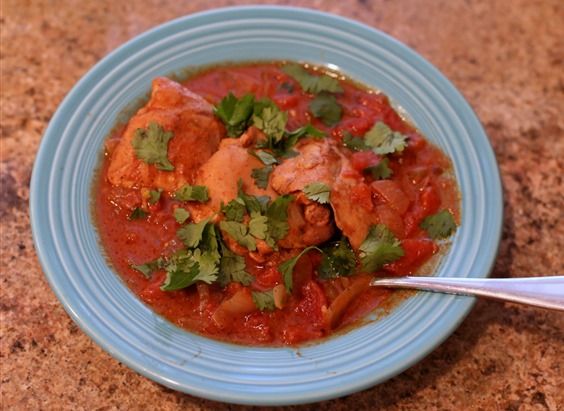 It's a little too hot to bust out the slow cooker regularly around here but a cloudy day last week made a warm and comforting meal seem extra appealing. I followed a recipe I found on The Kitchn's website but modified it slightly to make it even easier. I didn't chop the chicken thighs, used ginger paste in place of fresh ginger and added all of the ingredients to the slow cooker at the very beginning and it turned out great! Keep this one on your radar!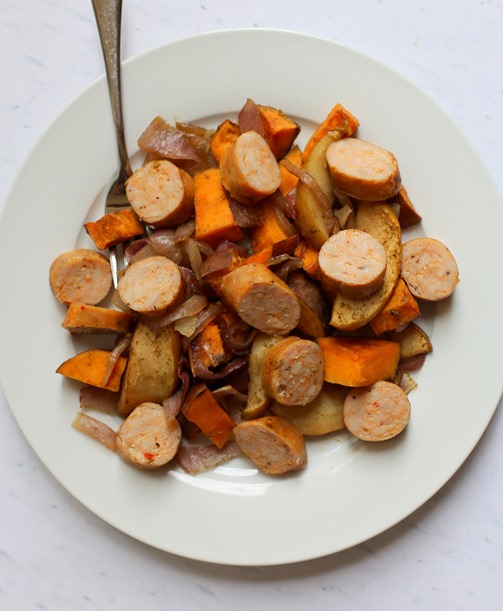 I'm almost embarrassed by how often we make this dish in our house. Can't stop, won't stop! We just love the combination of sweet and savory flavors and since it's a hit with the whole family, it's an almost-weekly staple. I've changed it up a few times and used peach slices in place of the apples and white potatoes in place of the sweet potatoes and we still loved it. You can also add chopped kale or spinach to the dish for the last few minutes it's in the oven so the greens have time to wilt a bit if you're looking for a way to add even more veggies to the dish.
Question of the Day
What are some of your go-to snacks lately?