overnight oats
,
protein pancakes
(<—my favorite protein pancake recipe) and Greek yogurt bowls, I'm fully embracing scrambled eggs, frittatas and omelets right now. I love the way egg scrambles allow me to incorporate lots of vegetables into my morning meal. It feels like a small victory to get a full serving of vegetables in my belly before 7 a.m.!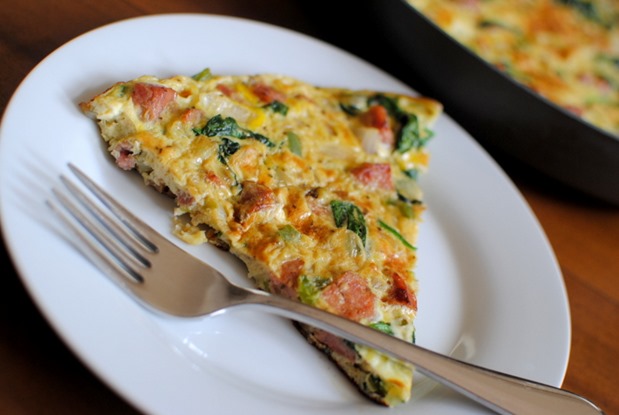 Whenever Ryan and I go out for breakfast, I typically order an egg-based breakfast, so why don't I make eggs at home all that often? The prep work! Even though eggs cook in a flash, chopping veggies is a pain, but I've been making more of an effort to prep veggies on Sunday nights which has made a big difference. Grab-and-go cooking is the way to go for me right now!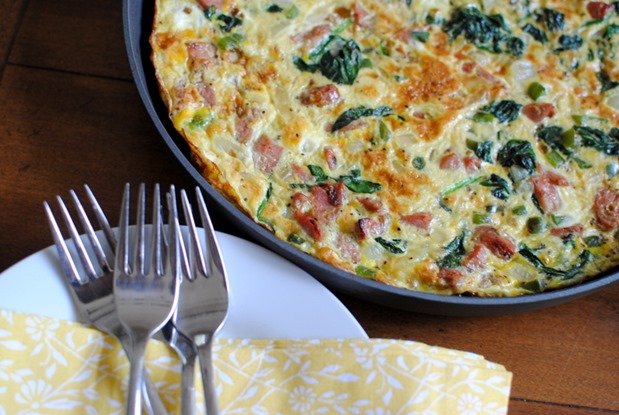 Even better than having chopped veggies on hand in the fridge in the morning is having a full breakfast ready to be reheated. And that's where frittatas and egg muffins come in handy! (Expect an egg muffin recipe in the future!) This frittata is packed with flavor and vegetables and, when served with freshly sliced avocado and a side of healthy breakfast sweet potatoes, keeps me full for hours. And for those of you who may be gluten-free or following a Paleo or Whole30 diet, this recipe falls under that umbrella, too!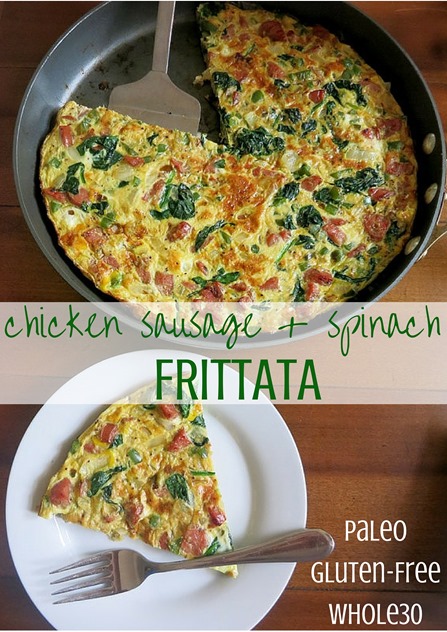 Chicken Sausage and Spinach Frittata
Makes six slices
Ingredients
1 tablespoon olive oil
1/2 sweet onion, diced
1 small green pepper, diced
2 large chicken sausage links, chopped (I love Aidell's apple chicken sausage, but use your favorite kind!)
2 large heaping handfuls fresh spinach (about 4 cups)
3 eggs
4 egg whites (I used 3/4 cup egg whites from a carton)
1/2 teaspoon salt
1/4 teaspoon freshly ground black pepper
Directions
Set oven to broil on high.
Heat olive oil over medium heat in a large, oven-safe skillet. Sautee onion and green pepper until softened (about 3-5 minutes).
As onion and pepper cook, combine eggs, egg whites, salt and pepper in a medium bowl, stirring to combine.
Add the chicken to peppers and onion and cook for an additional 2 minutes. Add spinach and cook until wilted, about 1 minute.
Add eggs to skillet and lightly stir. Allow eggs to set (do not stir!) until sides are firm and middle still appears slightly wet, about 4 – 5 minutes.
Transfer pan to the oven and broil for 3 – 5 minutes, until top of frittata begins to brown slightly.
Slice and serve.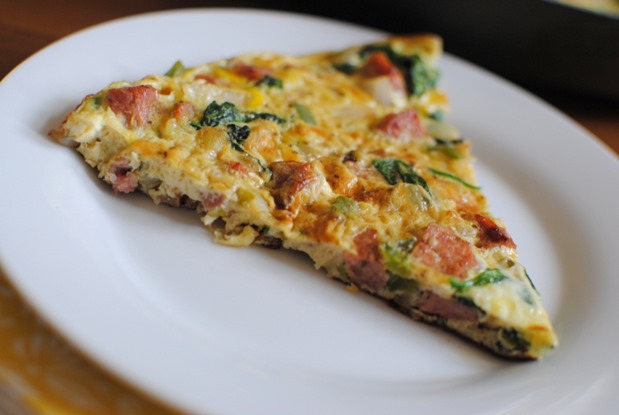 Enjoy!

Over the course of the past two weeks, I've been on a big-time savory kick for breakfast. As someone who often gravitates toward sweeter breakfasts like