Yesterday ended on one heck of a fun note. Not only did my sister come in town for the night, but Sadie got to try out her brand new kiddie pool!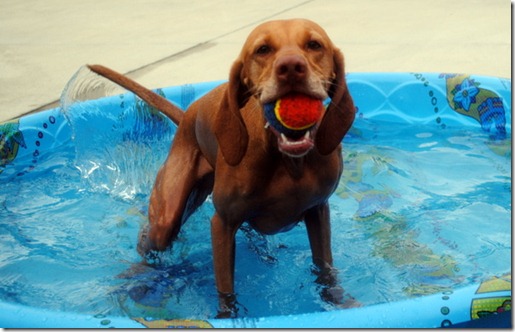 She had the best time!
We weren't sure Sadie would even get in her new pool because she's really funky about the pool at my parents' house and our new outdoor pool, but apparently a kiddie pool is much more enticing.
She would jump in the pool and lay down to cool off after getting hot from several rounds of fetch.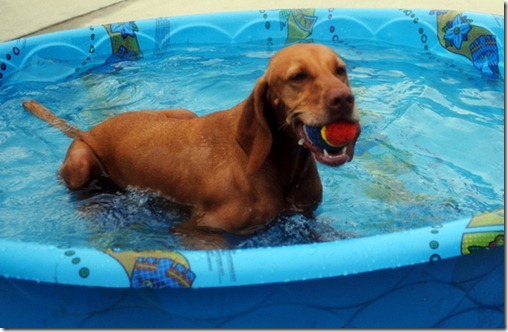 And yes, Sadie pees in the pool.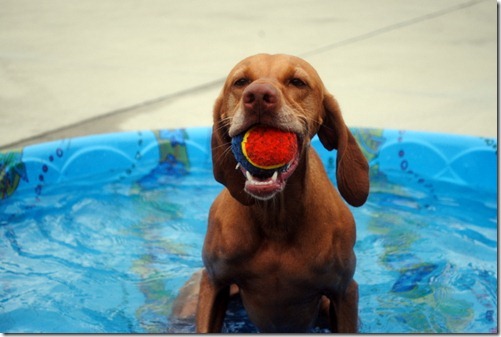 Don't try to pretend like you didn't when you were her age.

Dinner
Pool playtime lasted right up until my sister arrived in town from her weekend in Gainesville and it was time for dinner.
We copied our flatbread pizza idea from two weeks ago and made top-your-own flatbread pizzas for dinner using FlatOut flatbreads as the crust.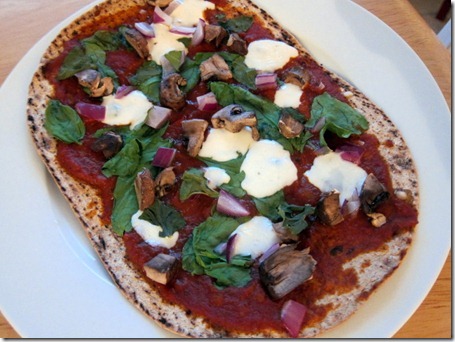 I went a more traditional route and steered clear of BBQ chicken pizza this time, instead favoring typical pizza toppings including fresh mozzarella, spinach, basil, red onion and portobello mushrooms.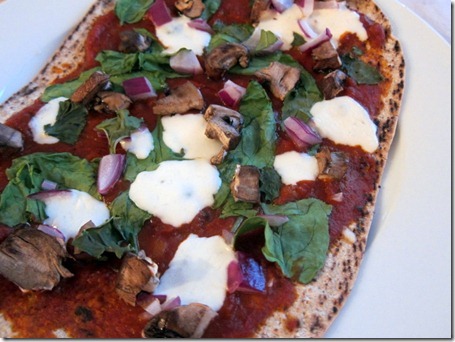 Delish!
We spent the rest of the night sorting through more moving boxes, lounging and eating freshly baked oatmeal cookies.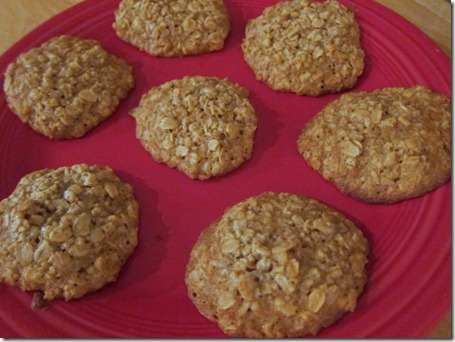 I made the cookies a lot like my brown sugar wheat germ cookies, but incorporated oats into the batter as well.
Today
Today Ryan and I awoke bright and early to sneak in a workout before the craziness of the day set in.
We headed to the gym and began our workout with 20 minutes on the elliptical before splitting up to complete our separate strength training workouts.
My workout included three sets of 15 repetitions of several different supersets:
Superset One: Step ups, Front shoulder raises
Leg extensions
Superset Two: Deadlifts, Upright row
Bicep curls
Superset Three: Chest press, Tricep dips
Tricep pulldowns
Superset Four: Exercise ball crunches (50), Overhead press
Breakfast
Once we arrived home from the gym, we (with the help of Sadie) tackled my sister to wake her up for breakfast.
Egg, cheese and jelly bagelwiches for all!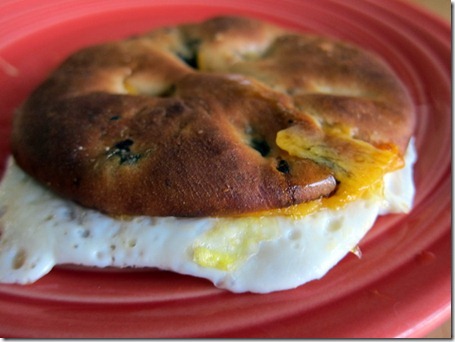 Now it's time to head out for a family walk with Sadie.
Happy Labor Day, friends!