My first solo Meals On Wheels route went really well today.
Just before 11 a.m., I loaded up my car with a bag of hot meals and a cooler filled with extras before heading out to visit the nine stops on my route.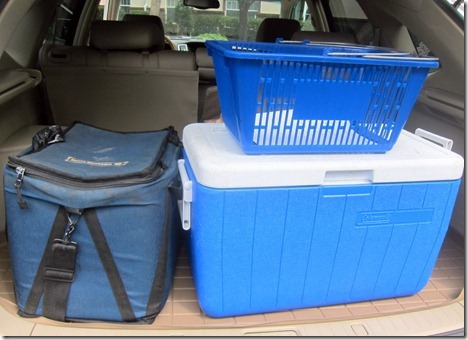 I found every house or apartment without much trouble. The very last meal I delivered was to the husband who lost his wife last week. He had two family members visiting, so I slipped quietly in and out since he was sleeping, but I'm so glad he has support around him. 
Lunch
When I was done with my route, I swung by the grocery store before heading home to assemble lunch.
Lunch began with a light smoothie to take the edge off.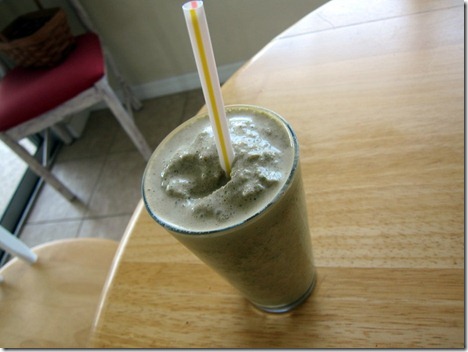 In the blender:
1 handful frozen strawberries
1 heaping scoop Optimum Nutrition 100% Whey chocolate protein powder
1 handful fresh spinach
Enough almond milk to get everything moving
It was nice and light and perfect to sip on while I assembled the rest of my lunch, but definitely not as tasty as my typical smoothies that are a bit more substantial. 
For my main meal, I combined a bunch of my grocery store purchases into one big salad.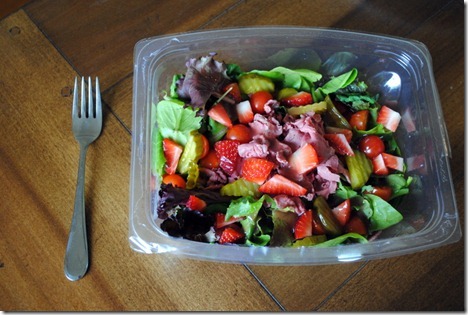 In the mix:
Roast beef
Strawberries
Tomatoes
Pickles
Spring mix
Pomegranate dressing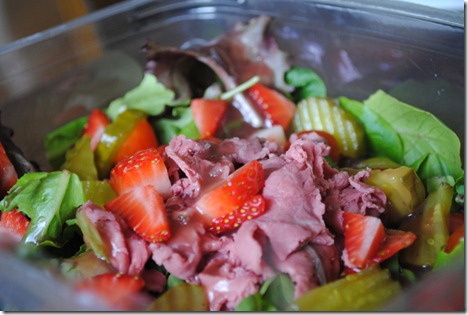 You better believe I ate it out of the lettuce tub to prevent additional dirty dishes.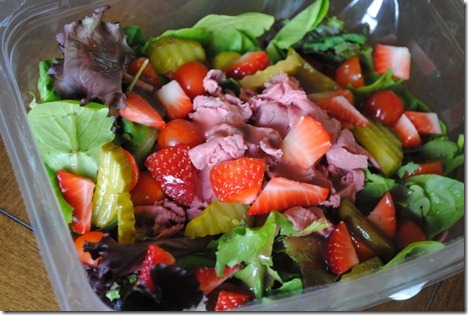 Not only did it taste great, but I loved all the vibrant colors in this salad. Pretty food!
Fitting Blogging into Your Life Survey
Bloggers! If you have a minute, my friend Michelle is presenting with Jackie and Christine all about fitting blogging into your life at the Central Florida Blogger and Social Media Conference in September.
If you have a moment, they would really appreciate your participation in this survey. They are looking for feedback about time management, automated tools and social networking. (It took me three minutes to fill out!) If you have a chance to fill it out, I know it would really help them with their presentation. Thank you!