Until then, I wanted to share my weekly roundup of favorites with you guys. As always, please feel free to chime in and let me know what you're loving this week!
I hope you all enjoy the weekend!
Thing I'm Loving Friday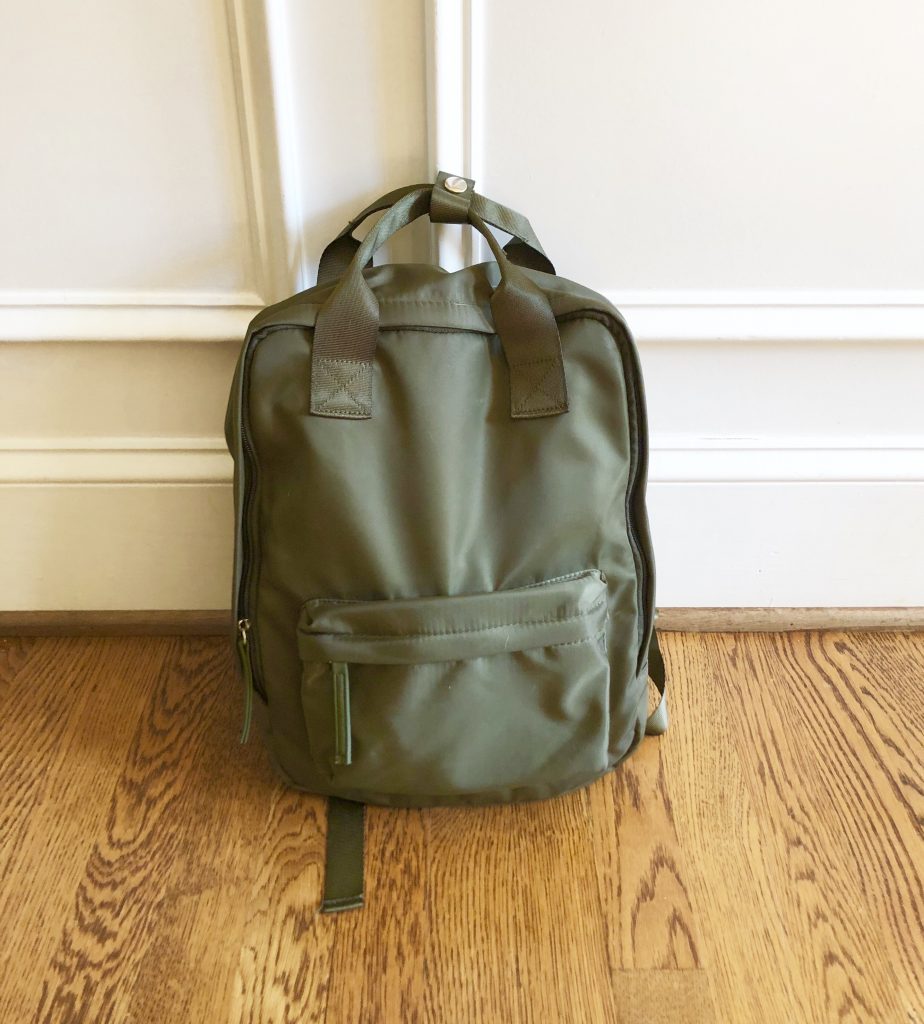 I have an odd obsession with olive green. In my mind, it's a neutral that's not really a neutral in that it goes with just about everything but it's not in the white/black/beige/gray family. I couldn't resist this $14 backpack when I saw it at Walmart a month or so ago and it's one of those inexpensive purchases that ended up feeling like a major steal! The quality of the backpack is great and it's big enough to hold everything I need. I took it on our zoo trip last weekend and it easily held all of our snacks, diaper supplies, my wallet, phone, a burp cloth, some random baby toys, a pacifier and all that good stuff.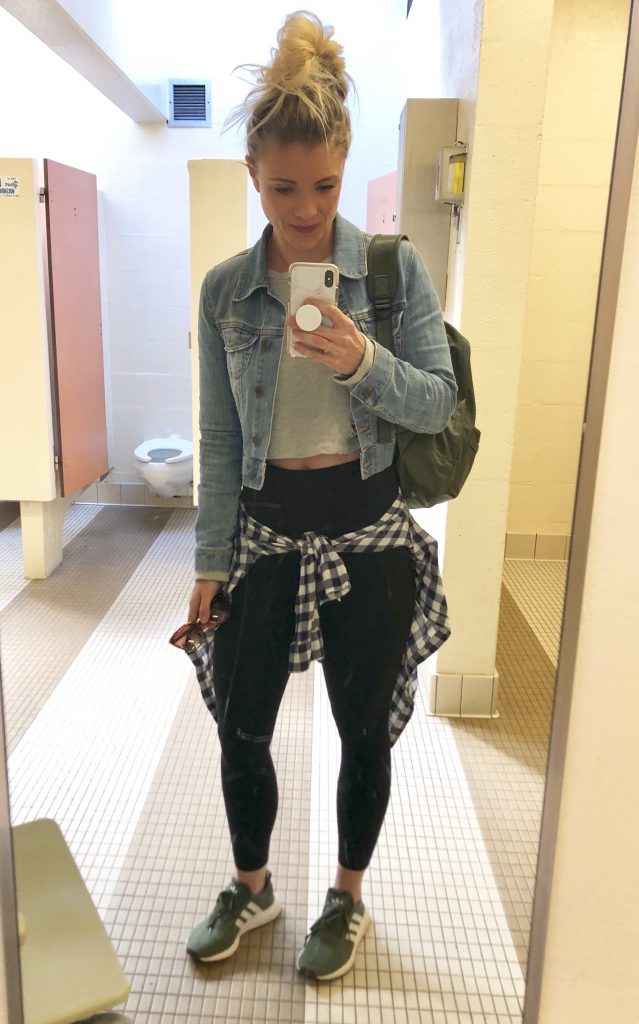 Ryan actually commented on it saying he liked that it was a backpack he could carry as well without it looking overly feminine, so it's a score for the whole family! And if olive green isn't your thing, the backpack comes in a myriad of colors and patterns. I love the black striped version, mint striped version and the blush pink and mustard yellow as well!
(P.S. For those asking via IG Stories & blog comments, here's a breakdown of my zoo outfit –> Cropped distressed sweatshirt: Audrey 3+1  — no longer available but this $15 version is very similar / Leggings: Fabletics Powerhold High-Waisted 7/8 / Shoes: Adidas Swift Run Sneakers / Plaid Top: Rosio via Zulily / Denim Jacket: Old Navy)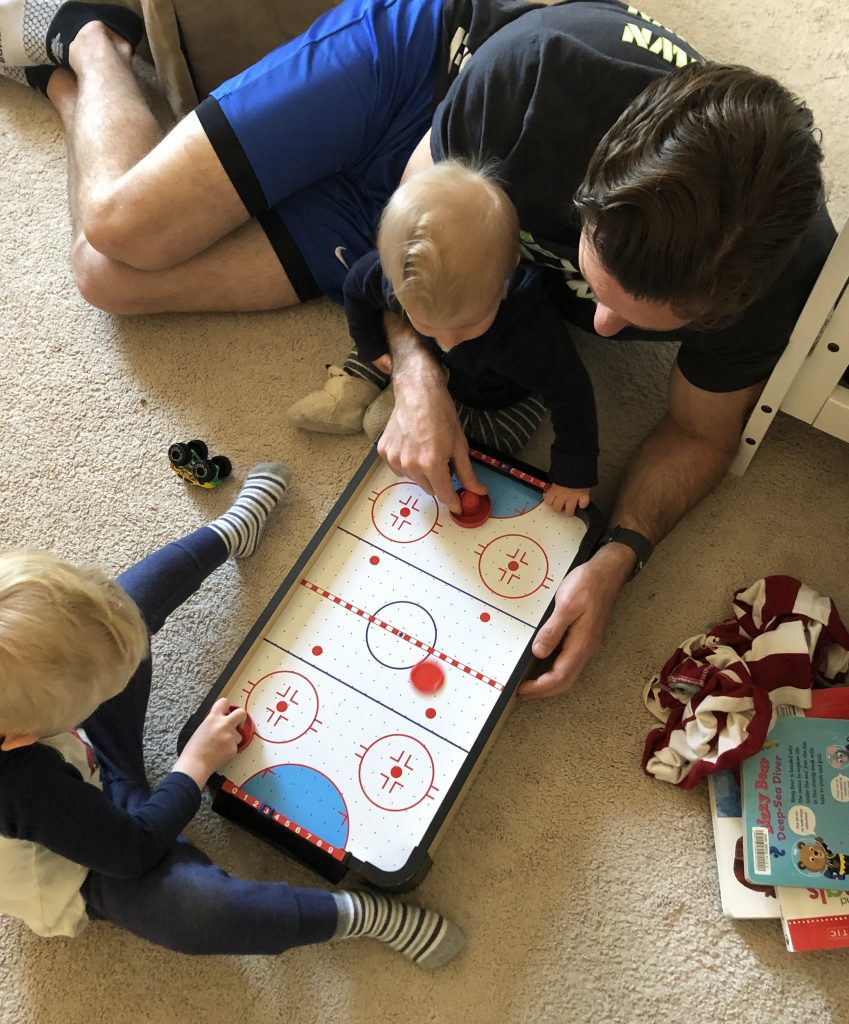 Santa (aka Ryan) bought this mini air hockey table for Chase for Christmas and it's one of those random gifts that surprised us by being a big-time hit. Chase loves it and is getting surprisingly good at it already! He loves challenging us to games and I have visions of Chase and Ryder playing together in the future one day, too. I just wanted to share this here in case you're on the lookout for a different kind of Easter or birthday surprise for a little one in your life!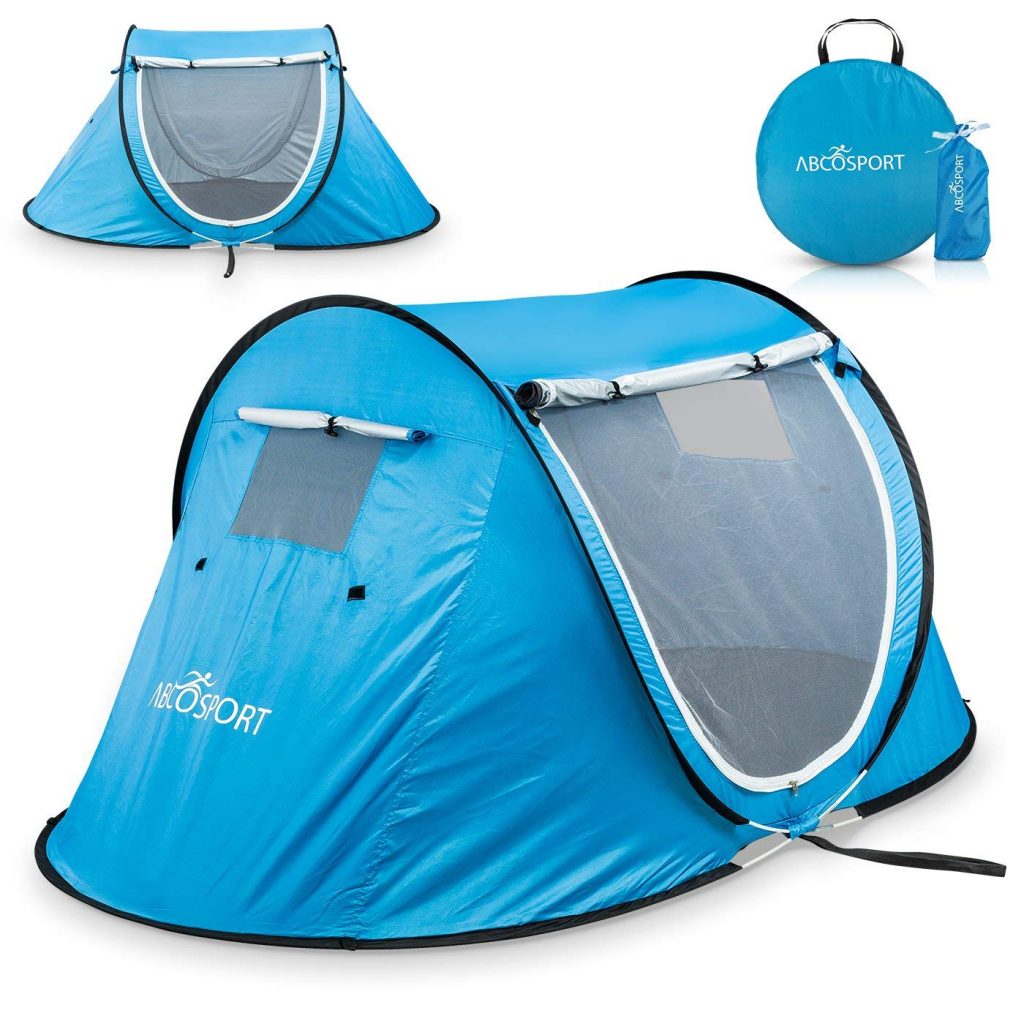 I need your help with this one! Ryan and I recently booked a trip to Hilton Head Island for spring break with my in-laws and I'm anticipating a lot of time at the beach! I'm not sure whether or not this is wishful thinking, but I'd love to get Ryder to nap on the beach and I've been researching pop-up beach tents since they seem like the most amazing way to maximize beach time with little ones. Well, my quick research led me to about a billion different options and now I'm officially overwhelmed. Do any of you guys out there have one you love? Are we better served getting a big one that can provide shade for the whole family or a smaller one just for Ryder? There are too many options and now I feel frozen! Help! Also, am I crazy to even think a 9 month old might nap at the beach?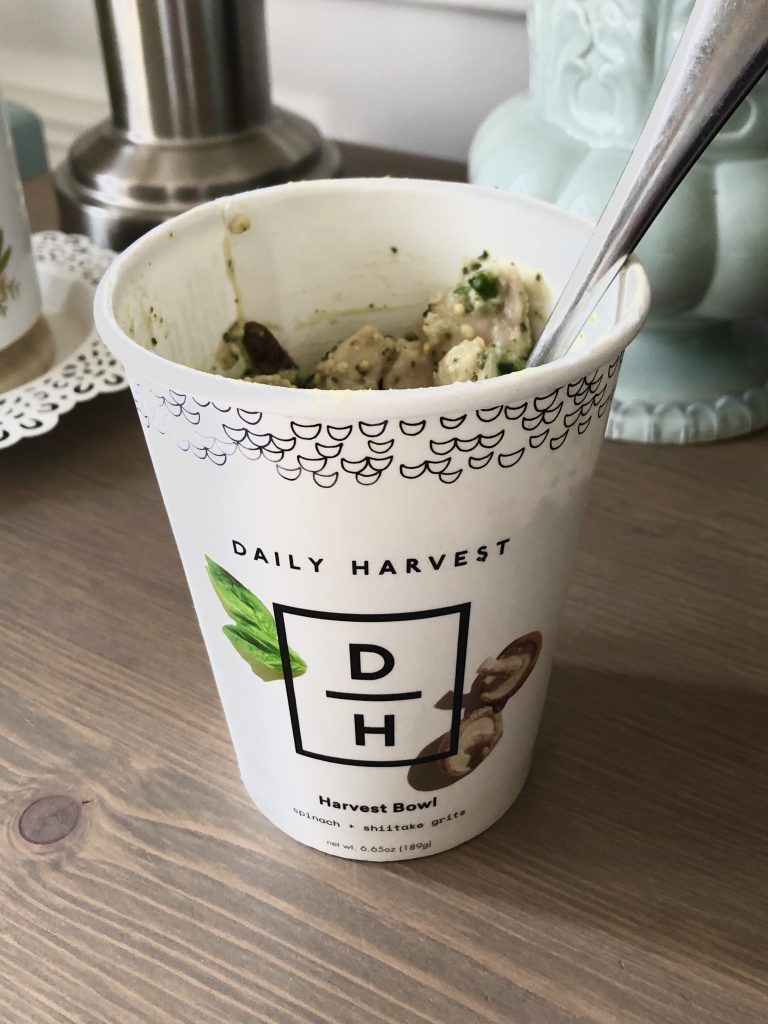 I officially have a new favorite harvest bowl from Daily Harvest! The Spinach Shiitake Grits Harvest Bowl blew me away this week! It's rich and creamy and made with millet, a tiny gluten-free seed that's rich in magnesium. The cheesy flavor comes from nutritional yeast (high in vitamin B-12!) and cashew butter mixed with garlic and olive oil and I just wish they sold the faux-cheese sauce in jars because I would be the first in line to buy it! Come to think of it, I wish Daily Harvest would just go ahead and publish a cookbook with all of their harvest bowl recipes because I love them so much and would love the ability to make big batches for our family. As always, I added a few of my own ingredients to the harvest bowl to give it more staying power (in this case I added chopped green beans, chicken thighs and cashews) and it was so ridiculously delicious. Let's just say it will be a must-add to all of my future Daily Harvest orders! As always, if you want to give Daily Harvest a try for yourself, you can use my affiliate code pbfingers to get three free cups on your next order. Yum!!!
I just wanted to share a little bit about an upcoming event in the Lake Norman area for my local readers that's taking place to raise money for the YMCA's Send-a-Kid to Camp Scholarship Fund in honor of a precious little girl. On May 5, 2017, Easton Mills, an adorable two-year-old girl, passed away suddenly from a rare brain tumor. Easton absolutely loved the YMCA and would bounce into the Y every morning with a perfectly placed bow in her hair and an infectious smile on her face. Her family and her YMCA family were shocked by her passing. The Easton Mills Memorial Challenge honors Easton's legacy and helps other children by raising money for the Send-a-Kid to Camp Scholarship Fund, created to send kids to the YMCA and provide them with a place where they can be themselves, cultivate lasting friendships and learn from positive role models. The Easton Mills Memorial Challenge is a four-part workout challenge designed for participants with varying levels of fitness and finds the right balance of competition and community. The event takes place from 8 a.m. to noon on April 27 at the Lake Norman YMCA and anyone interested may register here.
Food: 100 Healthy Smoothie Recipes / Creamy Vegan Broccoli Cauliflower Soup
Fitness: 50-10 Workout / 5 Workout Finishers / 15 Minute At Home Power Yoga
Old Navy Spring/Summer Apparel: When I was taking full advantage of the super sale on Old Navy t-shirts for Chase for the summer (lots of tees and polos for only $4!) and a few warmer weather finds for Ryder, I couldn't resist adding a few things to my cart for my niece (oh my gosh have you seen Old Navy's baby girl bubble rompers!?) and also added this chambray romper (in tall since most rompers end up being way too short on me because of my long torso), this black jumpsuit (great for dressing up or down) and these comfy joggers to my cart and have high hopes for all of them!
Paleo Coconut Crisps (I made another batch of these this week and brought them to a friend's house for a play date and between three of my girlfriends and myself, we had no problem inhaling the whole batch in one sitting. So good!)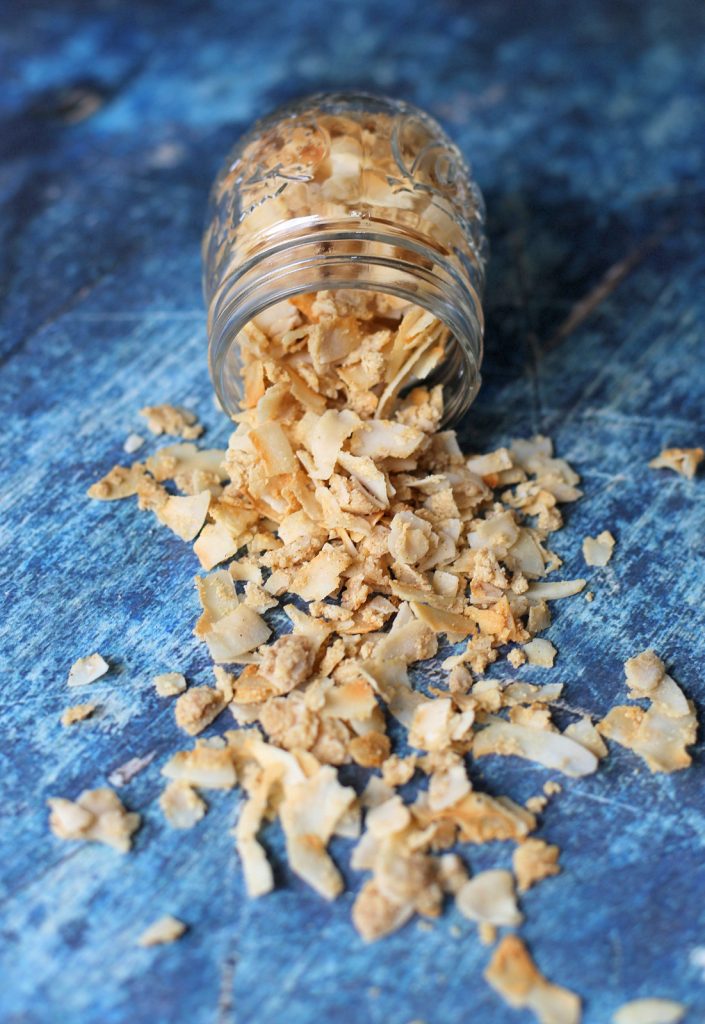 Do Anywhere Workout (A great one to keep on hand for anyone who might want to work up a sweat during spring break travels!)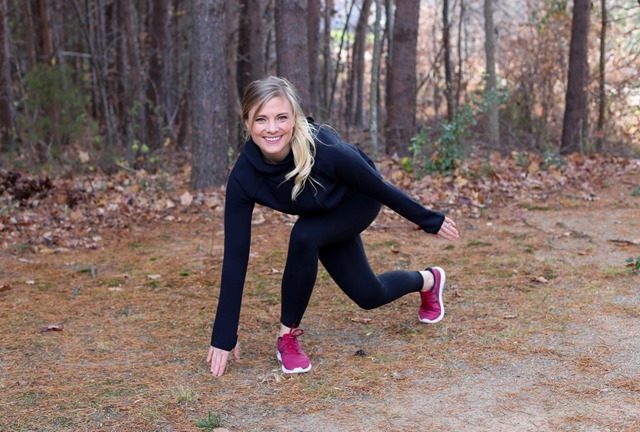 Question of the Day
What is one thing you're loving this week? 

Hey friends! It definitely feels like a happy Friday over here because my parents are spending the weekend with us! To say Chase was excited when I told him Mae and Pop would be visiting again is a serious understatement and we're looking forward to lots of quality time with some of my very favorite people in the world! We have a few ideas for family fun this weekend — maybe go karting and pizza? — but we'll see where the weekend takes us!