One way to put a little extra pep in your step in the morning is to schedule an evening flight to one of the most exciting and dynamic cities in the world! I'm off to New York City late this evening, but since my flight isn't until after dinnertime, I have plenty of time to have a somewhat normal work day.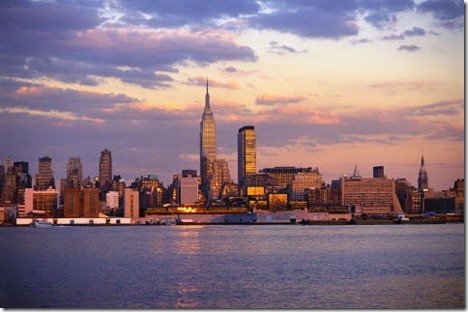 Which also means that I had time to get in a good workout this morning.
Workout
My workout began with 20 minutes on the elliptical beside Ryan. We were both feeling extra chatty this morning which made the time fly by. On some mornings I will grab a magazine and he'll watch ESPN and we'll say all of five things to each other because we're still waking up, but today we had a lot to say… including yet again noticing Adele blaring on the radio two times within the 45 minutes we were at the gym. They're going to ruin "Set Fire to the Rain" for me soon enough and I absolutely love that song.
After ellipticizing (it's a word, don't worry about it), it was time for an upper body workout.
I loosely followed my arms 'n' abs workout from Tuesday without quite the same intensity since I have plans to take a new-to-me exercise class in New York tomorrow with my friends and don't want to be too sore going into it.  
Breakfast
This morning I wasn't sure what I wanted for breakfast. I was feeling quite indecisive and opted for an egg, cheese and raspberry jelly bagelwich.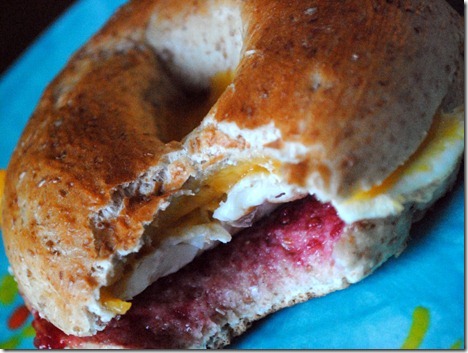 Some of you have asked about what kind of bagels I prefer to use. I'm not picky in the least and typically buy whatever is on sale, whether it be bakery bagels from Publix, Alternative Bagels or Thomas' bagels. I just try to buy whole wheat bagels and am pretty easy to please.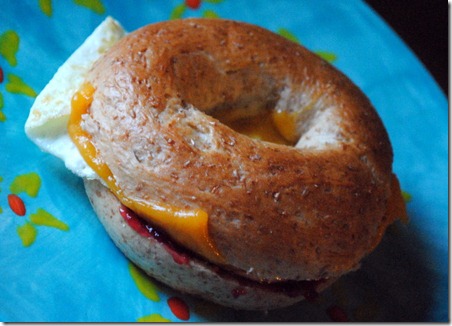 Along with my egg sandwich, I also had a small bowl of cashews for some healthy fats.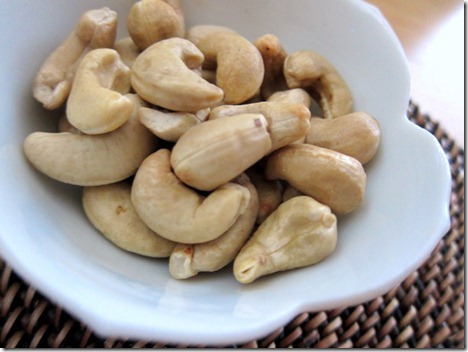 Tights or No Tights?
Yesterday I took to Twitter to ask some packing advice. I have a dress to wear on Saturday night in New York City and wasn't sure whether or not women in New York wore tights underneath dresses or were hardcore and simply braved the cold with bare legs.
I felt like a dork asking such a simple question, but in Florida, tights-free legs are basically acceptable year-round since it never gets that cold.
Just about 90 percent of the responses encouraged me to wear tights unless I want my legs to turn into frozen blocks and fall off within 10 minutes.
My favorite response came from Ashley…

Ha!
I know it sounds completely silly and frivolous, but as a Floridian, it's kind of hard to decide what to pack to wear in frigid temperatures while still looking semi-dressy for a fun night out.
When I hear that it's going to be 30 degrees in Florida, I am completely bundled up in everything I own, but I'd look like some kind of a bag lady if I dressed that way in New York among the people who are used to the cold.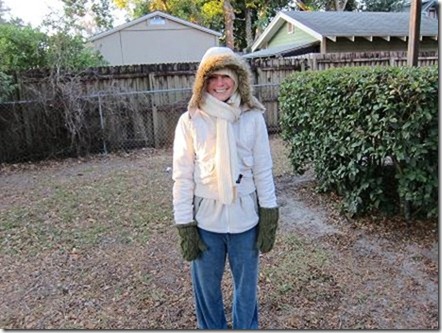 That's cute downtown attire, no? (Let's not forget that I was wearing that ridiculous outfit when I was unexpectedly interviewed on the news. Awesome.)
My bag is 80 percent packed, so I only have a few last-minute things to add before heading out!