Hey friends! How are you doing? Today is a big day over here because we have Meet the Teacher Day at Chase's preschool this morning. We've been working with him so he knows his teachers' names but he always seems to forget the "Miss" before Debbie and I'm having visions of my two-year-old strolling in, waving a casual hello and saying, "Hey Deb!" to his teacher this morning. Hopefully the "Miss" will come with a little work!
But before I get too ahead of myself, I wanted to share a recap of our day yesterday!
Morning + Breakfast
Tuesday morning kicked off bright and early with coffee!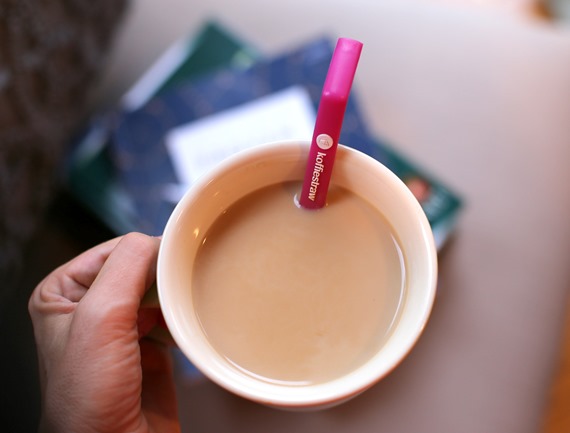 On Monday evening, I got together with my small group and realized we're on our very last lesson from our current study! I figured I'd read the lesson while our small group was on the top of my mind on Tuesday morning, so I swapped my current devotional for our final study lesson to kick off the day.
Before Chase was up for the morning, I put the finishing touches on yesterday's cold brew protein smoothie blog post while I ate an egg white oatmeal protein pancake with cacao nibs, slivered almonds, spirulina (hence the green) and MCT oil for breakfast.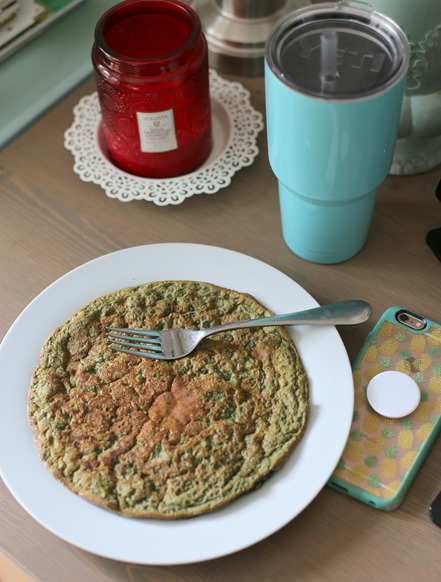 My father-in-law joined me for a cup of coffee once he was up for the day and shortly after he was awake, Chase started making noises and joined the two of us for some Paleo blender muffins and morning playtime at home.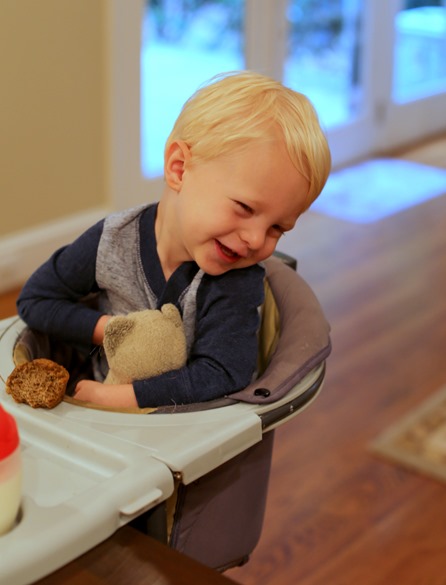 And just to keep it real, here's the picture I snapped less than 2.5 seconds after the sweet smiley one: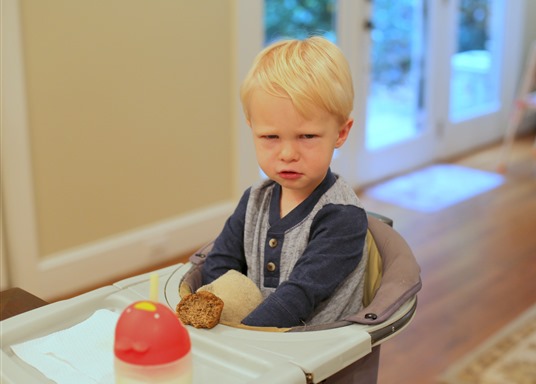 Oh the rollercoaster of toddler emotions!
Ryan's dad had plans to hit the road and head back to Florida in the late morning on Tuesday, so when Chase and I left for boot camp, we said our goodbyes and thanked Granddad for such a fun visit! Chase had the best time blowing feathers, racing cars, drawing pictures and going for walks with his grandpa and it was really wonderful for us to see their relationship continue to grow. Thank you so much for visiting, Greg!
Workout + Play Date
The weekly workout protocol at Burn Boot Camp called for a core conditioning circuit on Tuesday which is basically code for core and cardio city.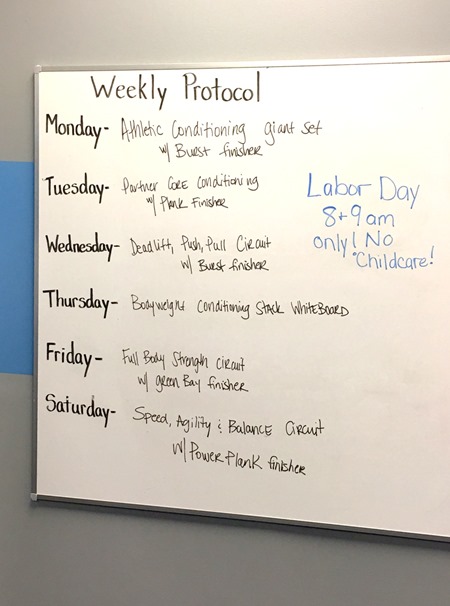 We got into groups of five and cycled through the following exercises:
Medicine ball around-the-world slams
Weighted toe touches
BOSU slider mountain climbers (75)
Ab wheel
Donkey kicks
Everyone rotated to the next exercise when the person completing the BOSU slider mountain climbers completed 75 reps. (Ugh those were the WORST. Picture these mountain climbers but with your forearms balancing on a BOSU ball.) Despite the fact that I hated some of the exercises while I was doing them, it was a good workout! 
After boot camp, I scooped Chase up from childcare and we headed off to my friend Danielle's house for a play date with friends.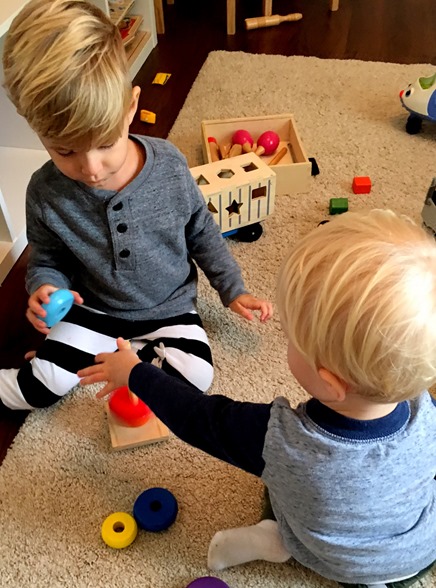 We had a great time and I loved chatting with my girlfriends while the kids played away! (Sometimes I think the moms like the play dates just as much – if not more than – the kids!)
Lunch + Afternoon
We made it home a little before 1 p.m. and I fed Chase a quick lunch before we read a book (this LONG one – 6 short books in one – that he currently loves) and he went down for his nap. Once he was settled, I grabbed a quick shower, threw a load of laundry in the washing machine and reheated leftovers from last night's dinner (with a side of yogurt) for lunch.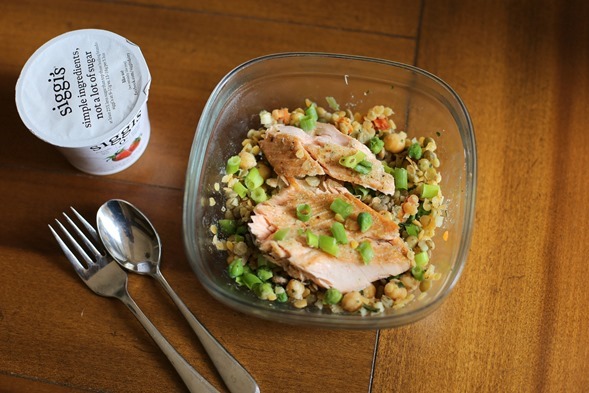 While I ate, I worked on the computer, responded to a couple of time-sensitive emails about upcoming partnerships, scanned two contracts and began working on this blog post. About an hour into working, I snacked on a Pure Organics cocoa brownie bar.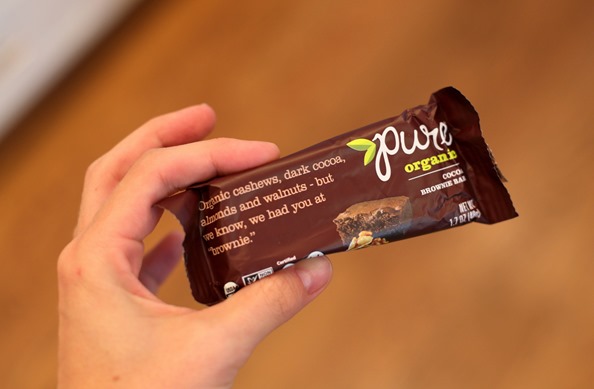 Once Chase was up from his nap, I gave him a snack and then we read some more books and drew pictures on his easel before making a quick trip to the store to grab some of the required items on Chase's preschool list to bring to his Meet the Teacher event today.
We made it home with enough time to quickly throw together the chopped veggies and chicken I had on the menu for dinner. Of course Chase loved assisting from his little helper stand and his favorite jobs of the moment include stirring (a risky gamble from a kitchen cleanliness standpoint) and sprinkling food with seasonings.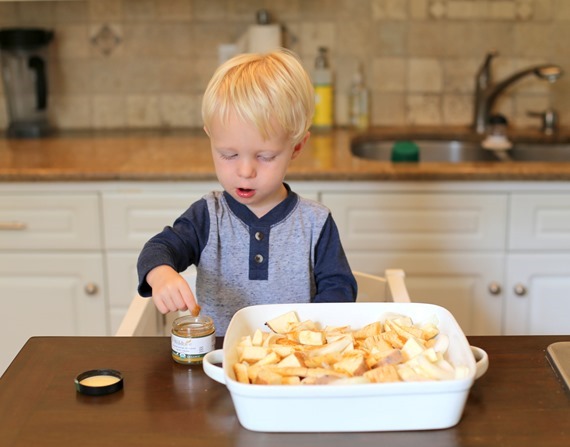 While the chicken and veggies roasted, we played at home (indoor golf is a current fav) and had even more fun together once Ryan arrived and joined in on the action! Everything took a little longer to cook than I anticipated but eventually dinner was ready and we all sat down at the table and dug in.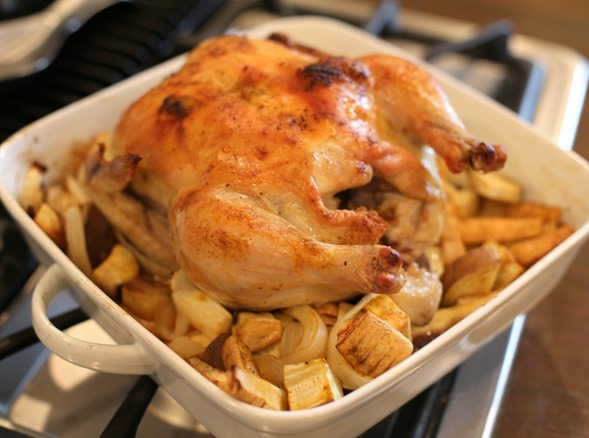 I can definitely dive into this a little bit more in a future blog post if it's of interest, but I recently read Child of Mine: Feeding with Love and Good Sense and there were so many great takeaways from the book, especially as a parent of a small child with what, at times, can feel like a non-existent appetite and preference for a small selection of the same foods.
One key takeaway from the book was to sit down as a family at mealtimes and give your child the same foods you give yourselves. I know this seems very obvious to many but Ryan and I were in the habit of feeding Chase and then eating ourselves so this is a relatively new change for us and one we're loving, even if dinner feels a little more crazed and less relaxed. (Oh! And it was not an instant success. We're still working with Chase on sitting still and waiting until everyone is done eating before dinner is over. Easier said than done since he would always rather play than eat.)
With dinner done, it was time for Chase's bedtime routine and once he was settled, Ryan and I hung out on the couch for a bit before climbing into bed early. I am still making my way through Yes Please and read for about an hour before flipping off the light and calling it a night.
I hope you all have a good Wednesday! I'm already on my second cup of coffee this morning so I'm ready to tackle the day ahead! (This also may explain the rambling nature of this blog post. Haha!) 
***
I've been thinking of everyone impacted by Hurricane Harvey and following the devastation from Hurricane Harvey is so heartbreaking. Here's an article from the New York Times about where you can donate to help victims. You may also text HARVEY to 90999 to donate $10 to the American Red Cross to help with relief efforts. And just FYI, it make take a while for the Red Cross to confirm your donation. I received a message yesterday about 24 hours after I texted to donate saying that processing is delayed due to the volume of donations.