Made with a base of ripe bananas and almond flour, these Paleo Blender Muffins are a gluten-free and dairy-free treat, perfect for an on-the-go snack or breakfast. Paleo Blender Muffins taste fantastic topped with a smear of almond butter and come together quickly thanks to the use of a high-powered blender.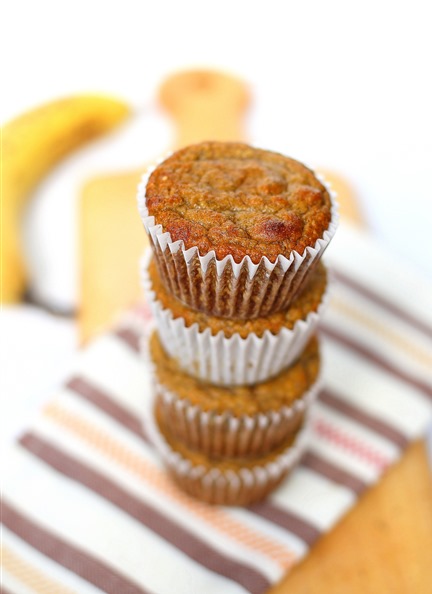 Hey guys! How are you? How was your Valentine's Day? Our Valentine's Day was low key and lovely… Just the way I like it!
Ryan surprised me with a dinner date and it was wonderful. We ate at The Cheesecake Factory which was extra special to us because The Cheesecake Factory at the Mall at Millenia in Orlando was where we dined for our very first date back in 2004!
We usually celebrate our dating anniversary on February 1 but we both completely forgot about it this year with everything that was going on at the beginning of the month. I loved our Valentine's Day dinner at a nostalgic place that always reminds me of the earlier days of our relationship. We ended up popping into a nearby Godiva Chocolatier before heading home (apparently there is no limit on the amount of sugar we will consume on Valentine's Day) and ate truffles in the car to round out our date night. Heck yes!
When we got back home, we immediately changed into our pajamas and I gave Ryan his Valentine's Day surprise.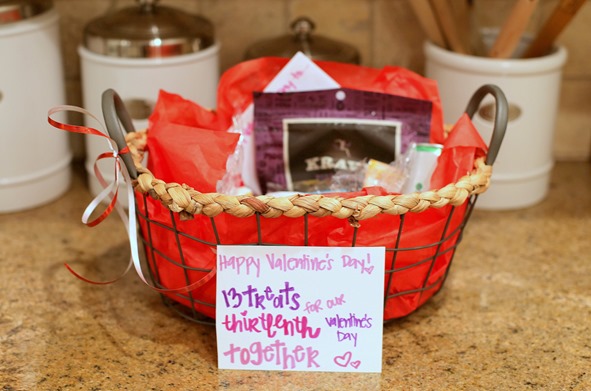 I made a small gift basket filled with 13 different treats Ryan loves – one for each Valentine's Day we've spent together so far! He seemed to like it a lot and Chase and I had fun assembling it. (Chase colored all over the card – and his body – as his contribution.)
Now that we're slowly coming out of the sugar coma we inevitably slip into every Valentine's Day, how about a healthy recipe for you guys today?
Today's recipe is inspired by the Paleo blender muffins my friend Danielle made for the adults and kids to enjoy during a play date at her house on Monday. I'm not sure who ate the muffins faster – my girlfriends or our toddlers – but everyone left asking her for the recipe because the muffins were so darn good.
Since Danielle and her family follow a gluten-free and dairy-free diet, I'm continually impressed by her kitchen creations and just how well they always seem to turn out. These Paleo blender muffins are made with a base of ripe bananas, almond flour and coconut flour and come together quickly without much work.
An added bonus: The dishes you'll have to do after making these muffins are minimal since you simply throw everything into a blender to make your batter. Less mess = Win!
Paleo Blender Muffins
Makes 8 muffins
Ingredients
2 very ripe bananas
3/4 cup almond flour
1/4 cup coconut flour
3 eggs
2 tablespoons melted coconut oil
1 tablespoon honey
1 teaspoon baking soda
1 tablespoon unsweetened coconut flakes
1/2 teaspoon cinnamon
1 teaspoon chia seeds
pinch of salt
Directions
Preheat oven to 350 degrees.
Combine all ingredients in a high-powered blender and blend until a smooth batter forms.
Pour the batter into a silicone muffin pan sprayed with cooking spray (preferred) or into a muffin pan lined with muffin liners.
Bake for approximately 20 minutes and enjoy!
Nutritional Information
Per muffin: Calories: 163 / Fat: 12g / Carbs: 16g / Fiber: 4g / Protein: 6g / Sugar: 7g
Quick question: Do you guys like it when I include nutritional information for my recipes? I'm happy to do so but wasn't sure if it is something you guys would like to see when you're browsing recipes on this blog. Please let me know if it's of interest!
Recipe Notes
I added chia seeds, unsweetened coconut flakes, cinnamon and a pinch of salt to Danielle's Paleo blender muffin recipe, but feel free to omit any or all of those ingredients if you want to keep the recipe as simple as possible. The muffins will still be delicious.
I also recommend baking the muffins in a silicone muffin pan if possible, as they tend to stick to muffin liners. (This is not a big deal and we didn't mind the muffins sticking at all, but it's still worth mentioning in case you have a silicone muffin pan on hand!)
Additionally, the muffins freeze really well, so feel free to double the recipe and pop some of the cooled muffins into the freezer. Simply microwave the muffins for 20 seconds to bring them back to life!