My morning yesterday began at 4 a.m. with a frantic "MOM! MOM!" call coming from Chase's room. Chase hasn't woken up in the middle of the night screaming for me in a month or so and I'm not sure what was up but he was in tears and asked for a "little rock" (translation: a cuddle and a story) which seemed to settle him back down. (I also immediately checked for a fever and he seemed 100% healthy.)
After a rather eventful 4 a.m. hour, I decided to sleep in and began my day around 6:30 a.m. with a bowl of triple chocolate protein oatmeal and a little meal planning. I am still catching up from a week of travel and slowly chipping away at my post-travel to-do list which includes all of the usual unpacking, laundry, grocery shopping, etc.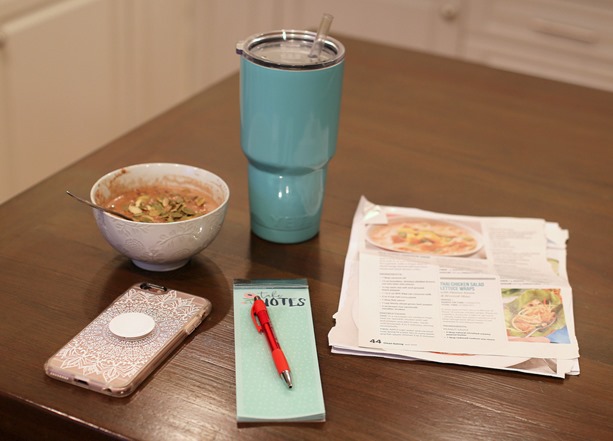 After sticking mostly to freezer foods over the past two days, I figured I should venture out to the grocery store yesterday and didn't want to go shopping without some kind of a rough idea for dinners for the week. I flipped through some magazine clippings and scanned a few saved blog posts from favorite food bloggers to come up with this plan:
Chase woke up for the day around 7:15 a.m. and we eased into the morning with some books and train table play time. I initially had plans to head off to a mom's mentoring group in the morning which would've involved two hours of childcare but Chase seemed a little sensitive and I didn't want to push too much and unload him on kind childcare people we didn't know. I decided to stick with something more familiar to Chase and we headed off to boot camp a little after 9 a.m. where he played with his BFF Claire and worked on an adorable St. Patrick's Day art project.
Yesterday's Burn Boot Camp workout included a lot of crunches and work with the ab wheel so I modified quite a bit of the workout and ended up completing a more pregnancy-friendly workout that looked like this: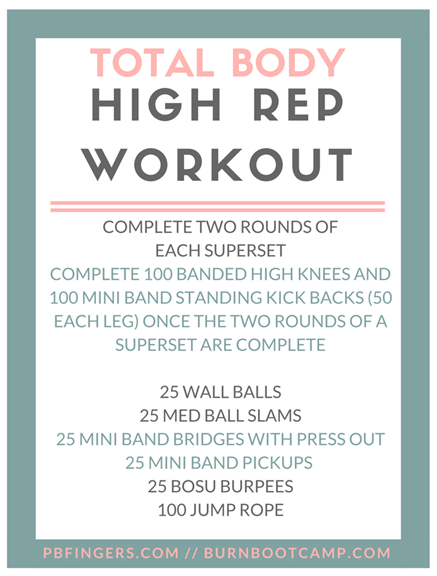 (A lot of the mini band exercises I incorporated into yesterday's workout are detailed in my Mini Band Booty Workout, just in case you are interested!)
I scooped Chase up from childcare after 45 minutes and he was back to acting like his energetic self! I think he may have just needed the familiarity of our usual routine after a week away.
Next up on our morning agenda was a pit-stop at the post office to mail a gift to one of my best friends who gave birth to a baby girl on Thursday and also send off a thredUP clean out bag full of some of my old clothes and baby clothes that never really worked well for Chase. (Thank you to Chase for decorating baby Annie's package on Monday.)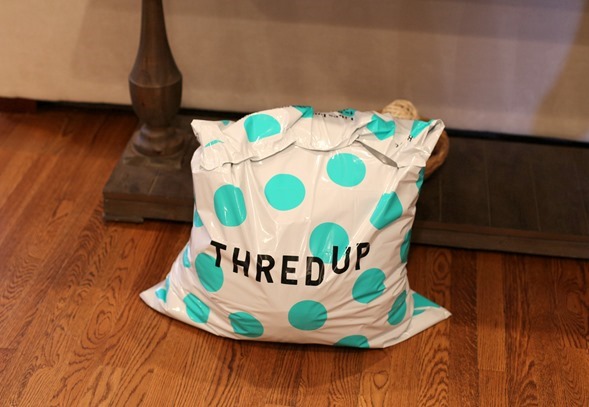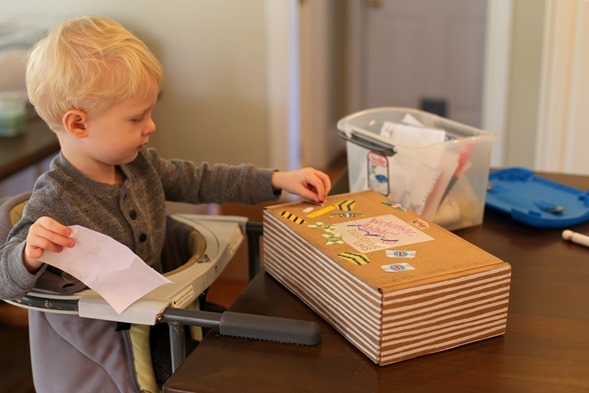 A trip to the grocery store for lots of fresh produce, pantry staples and snacks rounded out our morning and we made it back home around noon.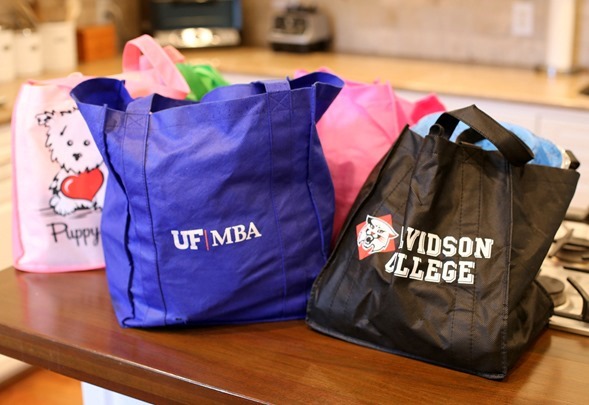 As I unloaded the groceries, Chase hopped up on his kitchen helper cooking stand and I took advantage of his interest in food and, with his "help," managed to make two breakfast casseroles – one for our family for dinner and a second to bring to a friend whose husband recently underwent a rather serious surgery.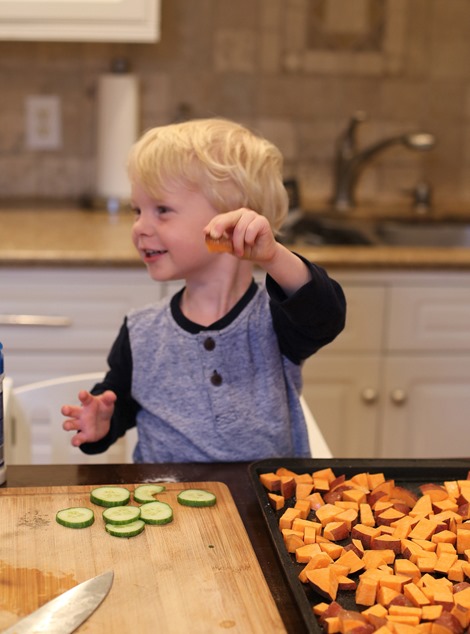 Chase lost interest about 10 minutes into our cooking activity but seemed content to ride around on his Plasma Car and play with his trains for a bit, so I finished up the casseroles and then threw together a quick lunch for Chase to eat before his nap.
Though I saw some improvement in Chase's attitude after boot camp, the fussiness from the beginning of the day surfaced again before his nap and I felt like I was facing battle after battle to simply get him upstairs and into his crib to take the nap he very clearly needed. He cried for a waffle instead of his lunch. He cried because he wanted to take an early bath. He cried because I cracked the eggs myself for the breakfast casserole and he wanted to do it by himself. I felt like the hour before Chase's nap lasted 10,000 hours but some days are like that, right!?
Once Chase was settled into his crib, he was fast sleep within minutes and I finally exhaled and took a much-needed shower. There's something about a shower that always makes me feel better and once I was nice and clean, I headed back downstairs to work while I ate leftovers for lunch.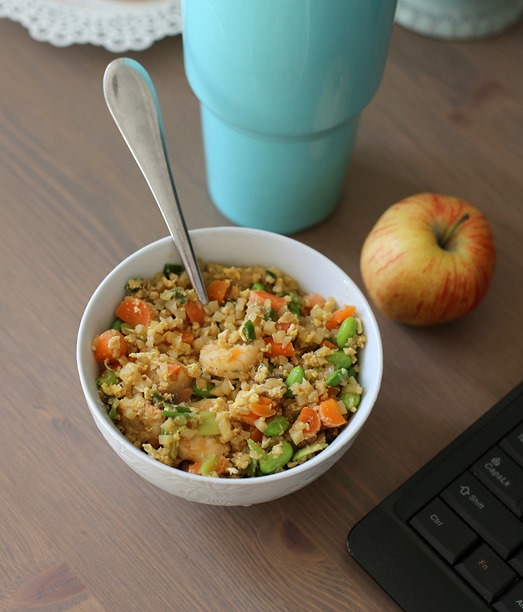 I reheated some cauliflower fried rice with shrimp and ate it along with an apple. About 30 minutes later, I was still a little hungry and broke into a container of siggi's banana cinnamon no sugar added yogurt (LOVE that the only sweetness in this yogurt comes from the bananas) and that seemed to quiet my stomach.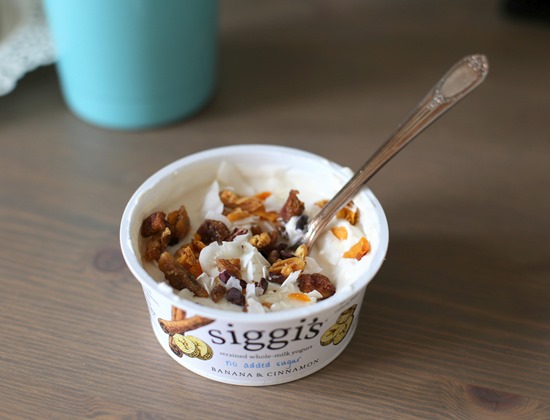 Chase slept for two hours and once he was up, I shut down my computer and the two of us played in his room for a bit before he seemed content to entertain himself with a puzzle and his pop-up playhouse. This gave me a little bit of time to clean out the hall closet which was a much-needed task. We had some old, ratty towels in there from back when I was in college that clearly needed to go!
It rained all day yesterday which put a damper on any plans to play outdoors. Thankfully Chase seemed down for a more low key afternoon but the highlight of his day came when we left to drop off the breakfast casserole at my girlfriend's house and she encouraged us to hang out for a bit.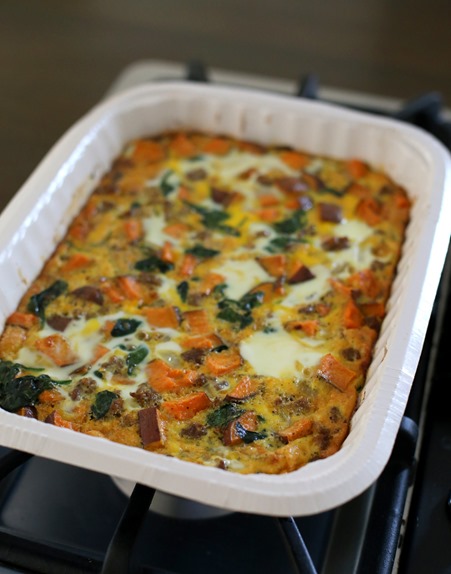 This gave Chase a solid hour to run around and play with one of his best buddies which was great but averting a meltdown when we had to leave was a fun little task…
We made it home a little after 6 p.m. and Ryan arrived home from work about an hour later. After some crazy play with Ryan (Chase almost always greets Ryan at the door with two of his ride-on toys… one for him and one for Dad so they can do laps around our kitchen), we dug into the second breakfast casserole I made for our family for dinner along with a simple fruit salad. Eventually it was time to make our way upstairs to do the whole bedtime routine with Chase and once he was snoozing away, Ryan and I chatted for a bit before opening our respective books.
We've been really trying to utilize the time after Chase is in bed for completely distraction-free conversation and it has been amazing! I know this sounds like something we probably should've been doing for ages, but we recently got into the habit of catching up about our days and life as we cleaned the kitchen, washed our faces, folded laundry or absent-mindedly checked our email. We've been much better about designating the time right after Chase goes to sleep to actually sit down (or, in most cases lie down in bed because we LOVE an early bed time!) and just talk for however long we want or need. I find myself sharing a LOT more – funny stories about Chase, how I'm feeling, etc. – rather than just a basic rundown of the facts about what we did that day. We both said it's been a really great and VERY easy small change to implement that makes us feel more connected, especially at the end of a long day. It's nothing crazy or mind-blowing but becoming a parents has quickly taught me that the seemingly unending uninterrupted time Ryan and I used to have together is something we have to actively seek out these days!
After we talked for a bit and caught up on everything, we read our books and I ended up finishing The Woman in the Window. I'll share more about my thoughts on the book on Friday, but it was a good read and a FAST one. The second half of the book was particularly intense and flew by!
I hope you all have a great Wednesday! Thanks for stopping by the blog today!
Questions of the Day
Is there anything small or simple you like to do in your relationships on a regular basis that seems to make a big difference in your overall happiness or how connected you feel?
What is one of your go-to meals to bring to a friend when you offer to bring them a meal?