Is there an easier breakfast out there than overnight oats?
Well, maybe grabbing a granola bar or something, but a batch of overnight oats is definitely more filling and delicious!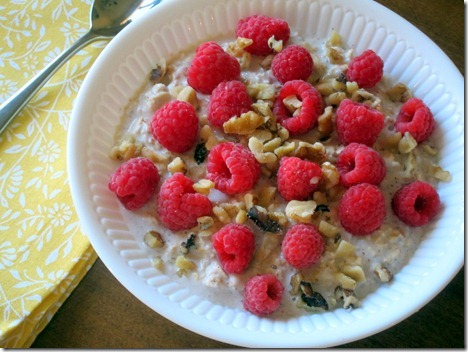 I love experimenting with various flavors and textures in my overnight oats. Adding different spices, fresh fruits and nuts can make a boring batch of overnight oats ten times more delicious.
Sometimes playing around with different flavor combinations in the kitchen pays off and results in a pretty fabulous creation.
That was the case with this batch of vanilla walnut overnight oats. The nutty flavor of Silk Pure Almond Unsweetened Vanilla paired perfectly with cinnamon and walnuts to make a comforting bowl of overnight oats with 15 grams of protein to help keep me full for hours.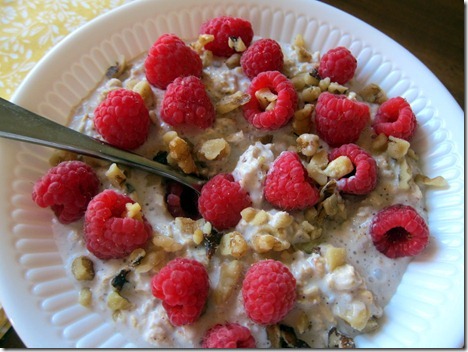 I didn't add any additional sugar outside of the vanilla Greek yogurt and since the unsweetened vanilla almond milk is lower in sugar than skim milk, this bowl of overnight oats has only 8 grams of sugar. Feel free to top the oats with a bit of honey or brown sugar if you like your overnight oats a little sweeter!
Vanilla Walnut Overnight Oats
Makes 2 servings (or one very large serving)
Ingredients:
1 cup old fashioned oats
1 6-ounce container vanilla Greek yogurt
1/2 tablespoon chia seeds
1/2 cup + 2 tablespoons Silk Pure Almond Unsweetened Vanilla
1/4 teaspoon cinnamon
2 tablespoons chopped walnuts
Directions:
Combine oats, Greek yogurt, chia seeds, 1/2 cup of almond milk and cinnamon. Stir together, cover and allow oats to sit in the refrigerator overnight.
In the morning, add two tablespoons almond milk to oats and stir.
Top with chopped walnuts and additional toppings (if desired) and enjoy.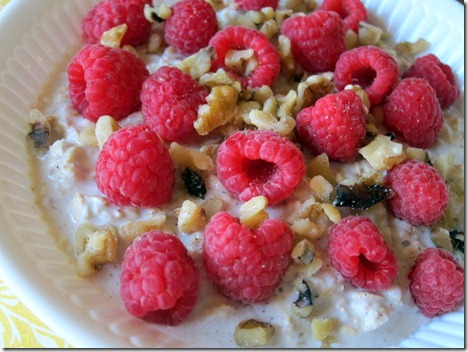 Enjoy!
Nutritional Information (per serving): Calories – 287, Fat – 10g, Saturated Fat – 1g, Cholesterol – 0g, Sodium – 96mg, Carbohydrates – 36g, Fiber – 7g, Sugars – 8g, Protein – 15g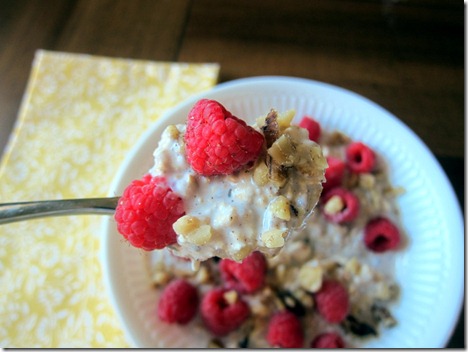 This post is part of a sponsored campaign with Silk and Fitfluential, LLC. All opinions expressed are my own. Learn more about Silk Pure Almond Unsweetened on Facebook and Twitter.