Hooray for returning to our house in Ocala!
Call me crazy, but even after only three days away from home, it feels incredibly good to be back.
I'm ready to get back into a normal routine and back into my groove. Plus, it feels good to have our little threesome reunited again.
I worked through the morning at my parents' house before eating lunch and hitting the road back for Ocala around 2:30 p.m.
My lunch was quite random and completely lacking in veggies.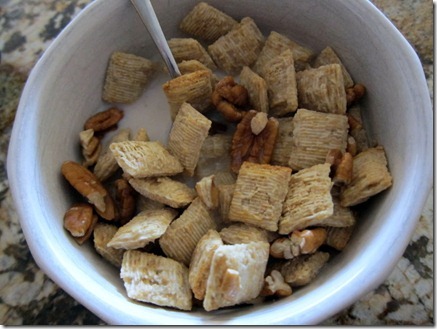 Shredded wheat cereal + pecans + milk
Cinnamon raisin toast + butter
Kiwi + an unpictured apple with a spoonful of peanut butter 30 minutes later
Vegetables, where are you!?
Vegetable Pact
I've made myself a veggie pact to incorporate more vegetables into my diet this week. I naturally gravitate toward fruit when I open the fridge to grab fresh produce and I'd like to make more of an effort to reach for leafy greens and nutritious vegetables more often. I like them, so I don't know why I've been opting for fruit or other snacky foods over veggies 90 percent of the time for what seems like the past month.
For me, once I get into the habit of eating something, it often becomes my go-to food. When I'm eating vegetables regularly, I eat them constantly and don't think much about it. When they start to fall to the wayside, I just try to remind myself that I really do love vegetables (especially when they're roasted) and eating them truly does make me feel better physically. That should be motivation enough, right?
I've been pretty good about eating vegetables at dinnertime, but feel like I could amp up my lunchtime vegetable portions. I guess this post is serving as a little gut-check with myself to  bump up vegetable servings in my meals.
Question of the Afternoon
Do you ever struggle with incorporating lots of vegetables into your diet?
How do you make sure to eat lots of veggies every day?