Yesterday's veggie pact is off to a great start already!
Guess whose breakfast included green peppers and onions?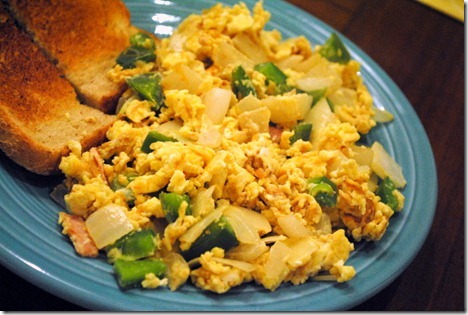 Oh yes!
(And yes, I realize green peppers are technically a fruit, but whatever. They taste like a vegetable to me.)
For breakfast this morning I made myself a plate of scrambled eggs, using three eggs, shredded cheese, peppers, Canadian bacon and onions. I also ate a slice of slightly-burnt honey wheat toast.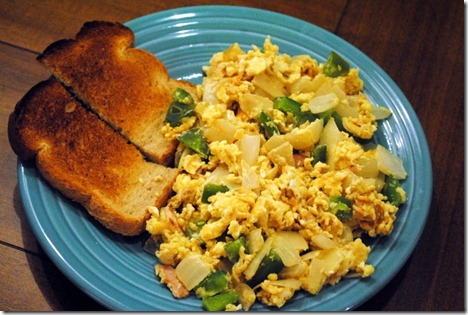 One thing that a few of you mentioned in the comments section of yesterday's post about why it can seem difficult to incorporate vegetables into your diet is the prep work involved with eating vegetables.
It's easy to grab an apple or a stick of string cheese on the run, but taking the time to slice a pepper or roast broccoli can be a deterrent.
It's kind of crazy because slicing a pepper takes all of a minute! Last night I took some time to slice up a bunch of fresh vegetables to make them easier to grab. This morning, I didn't have to do any chopping and easily threw chopped peppers and onions into my scrambled eggs when I would usually leave them out because chopping veggies at 7 a.m. doesn't sound like fun.
Perhaps taking some time to chop vegetables before I actually need them is the key for me?
Workout
Before breakfast Ryan and I hit the gym for a sweaty workout. After 20 minutes of cardio on the elliptical, I completed the following leg workout: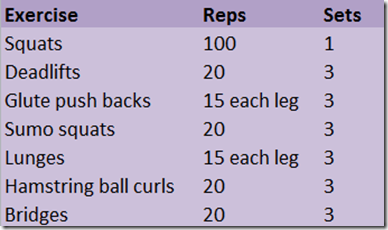 Though I don't particularly love lunges or squats, today I decided that lunges are my least favorite leg exercise. Squats are hard but I feel powerful when I do them, whereas lunges make me feel all wobbly and weak. I guess I just need to do them more often and gain some pow-ah!
Time to cram in a couple of hours of writing before heading off to a lunchtime meeting with a local organization – my first attempt at volunteering in our new community! I'm doing my best to get a jump start on my 2012 personal goals!