Good morning! I hope you are all doing well and are feeling relaxed after the weekend!
I actually spent most of yesterday outside, which was glorious! It was unseasonably cool in in Ocala, so Ryan and I took advantage of the gorgeous weather and took Sadie on a hike in the late afternoon once I got off of work.
While we hiked, I told Ryan about some of the first aid tips pertaining to spider and snake bites that I learned earlier that day in a first aid training class. I don't advise talking about spider and snake bites while hiking because we became quite the paranoid pair. A branch that lightly scraped against my leg made me jump a mile into the air!
Once we made it home, we got to work in the kitchen and made some of the most delicious enchiladas for dinner!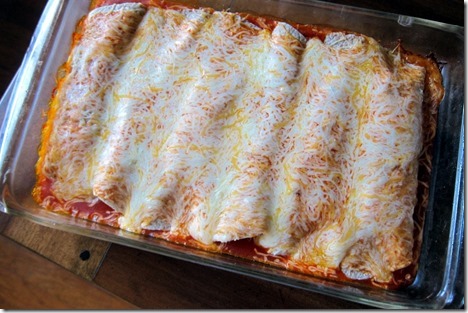 We followed the Publix Apron's enchilada recipe, but used whole wheat tortillas in place of the regular tortillas and doubled the amount of (fat-free) refried beans.  They were delicious and I cannot wait to dig into the leftovers!
Workout
This morning Ryan and I headed to the gym to take a cross training class together. Though we go to the gym together most mornings, we rarely do the same workout, so I was really looking forward to taking a class with him.
One of the trainers at our gym is really into functional workouts and recently got his CrossFit Level 1 certification. The cross training class he teaches is CrossFit-inspired, and reminded me a lot of the two CrossFit workouts I did at the Reebok headquarters last year.
The workout lasted only 12 minutes, but introduced a new butt-kicking exercise to me.
Wall balls. (<—Click the link for a video demonstration.)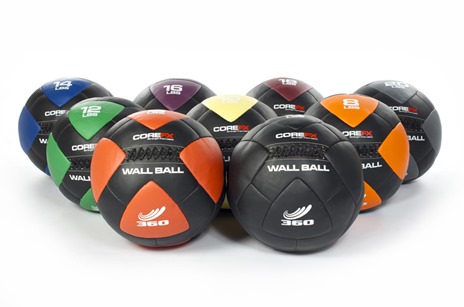 (Source)
Oh my gosh. Wall balls are tough. They're a staple in many CrossFit workouts, but since I don't do CrossFit, they were totally new to me.
The circuit we completed included three rounds of four different exercises that we did continuously for one minute a piece. The entire workout took 12 minutes, but it kicked my butt!
I finished my time at the gym with some stretching and light cardio before calling it a day.
Breakfast
When I arrived home from the gym, I opened the fridge and grabbed the bowl of overnight oats that I prepared last night for breakfast this morning!
Since I did most of the prep work after dinner yesterday, all I had to do was add a little almond milk to get things moving and top the oats with pecans.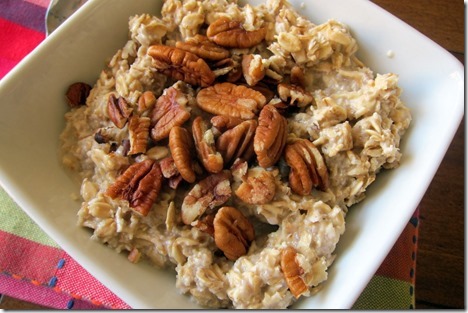 A good workout + Overnight oats = A great way to start the day!
See ya after lunch! I hope you have a wonderful Monday!
Question of the Morning
What is the most challenging new-to-you exercise that you've recently completed?