Yesterday, as I looked through my calendar on my phone to plan a conference call later this week, I realized my April is quite full! Every weekend there's something fun on the agenda. I have a feeling it's going to be a good month!
Weekend plans in April (in chronological order):
"Spring Break" Weekend with my girlfriends (We haven't seen each other since Michaela and Kyle's wedding!)
Jersey Boys in Orlando with my mom and sister
Easter
My birthday
Yes, it's also my birthday month (I turn 29 on the 27th) and as Ryan and I crawled into bed last night, he asked me if I had anything special on my birthday wish list. It was then and there that I came up with one heck of an awesome birthday gift idea.
A 10-minute massage every day for the whole year.
Wouldn't that be amazing!?
I thought Ryan would immediately shut down my idea, but he didn't! (He did laugh though… I wonder if that's a bad sign?) I managed to talk him into a 10 minute massage last night, so we'll start there. Oh glorious massages!
Breakfast
I slept really well last night but awoke this morning with a pounding headache. I don't usually get serious headaches, so I'm hoping it goes away really soon.
Breakfast this morning began with coffee!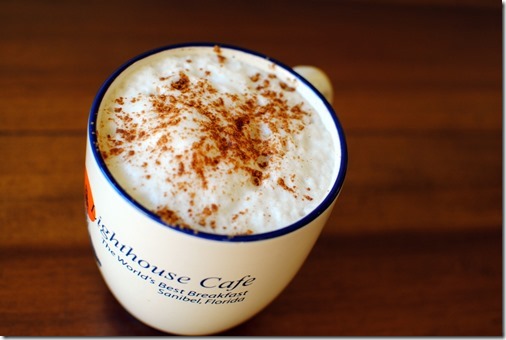 Lots of foam and cinnamon, please!
It also included a freaky deaky green protein pancake.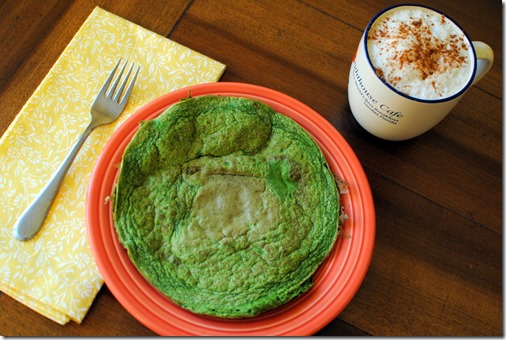 Time to change and drive to work. Hoping to take my favorite boot camp class today, too!
Question of the Morning
If you could convince someone to agree to do something simple for you at home every day for an entire year, what would you want them to do?
I think a 10-minute massage before bed every night for a year would be amazing, but I could also totally get behind someone doing the dishes for me every day for a year. Our dishwasher broke more than a year ago, so that would be one heck of a fabulous treat.