Check out the beautiful trees!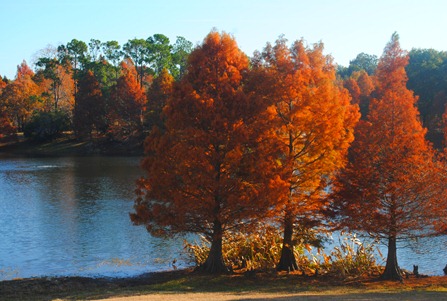 Ryan and I stumbled upon this lake surrounded by vibrant trees on a quest to find a new dog park this morning.
Apparently we had bad directions, because we never found the park, but we did enjoy a nice walk among the colorful trees.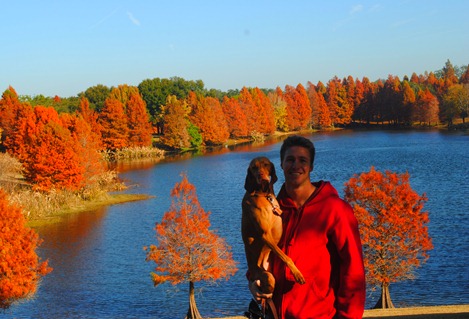 Ryan and I both commented that it felt like we were in North Carolina! 
If it weren't for our families and our jobs (two pretty important factors), Ryan and I would probably move to North Carolina. We've been there a few times (my aunt lives in Raleigh) and every time we leave, we talk about how much we love the area.
The mountains, wildlife and kind people in North Carolina really appeal to us. Maybe one day!
Workout
We took Sadie on the chilly walk after a good workout at the gym this morning. I did a random cardio workout that looked like this:
After our workout and our walk, we we both starving!
Breakfast
Breakfast had to be a fast one to quell our hunger.
Dippy eggs!!!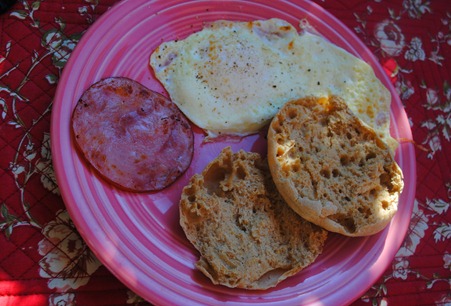 My plate included two dippy eggs, a slice of Canadian bacon and a toasted whole wheat English muffin.
Naturally I used the English muffin to dip-a-dip!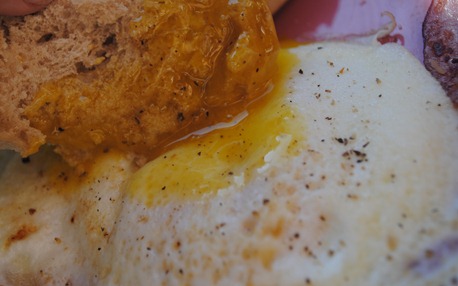 I think both of our plates were licked clean in 2.5 seconds. 
Now it's showah time before hittin' up the store for some last minute gifts. We also have my company's holiday party tonight at the Magic Game!!! Woo!
Question of the Afternoon
If all of the circumstances worked out in your favor (family, jobs, etc.), where would you want to live?