Good morning, my friends! I hope your day is off to a good start!
My alarm went off nice and early today since I wanted to make it to the 6 a.m. Pure Barre class. I had a post-class coffee date on the agenda, so my motivation to wake up early increased a bit!
Today's class was a good one and incorporated pulsing lunges off the barre. Oooh baby, they were intense!
Breakfast
Following my workout, I headed to a local Starbucks for a morning coffee date with Allison, a blog reader who has been reading PBF since before Ryan and I were engaged! We've been emailing back and forth since then and it was great to finally meet her in person since she's in town for a few days for work.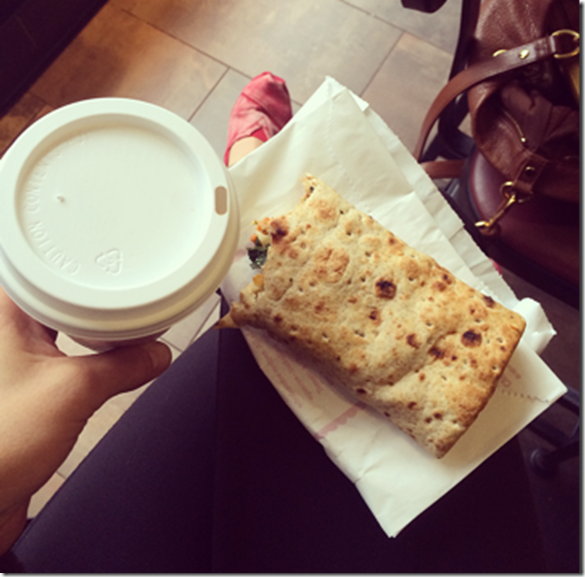 I talked Allison into ordering my favorite cinnamon dolce cappuccino and we sipped our drinks while chatting away. After Allison took off a little before 8 a.m., I got a coffee refill and ordered myself a spinach feta wrap to eat for breakfast while I took advantage of the free wifi and busted out some work on my computer. 
Moving right along…
Build Up Your Blog with The Fitnessista
One of my best blogging buddies, Gina from The Fitnessista, published her very first eBook yesterday! Build Up Your Blog is all about creating a successful blog and turning it into a business.
I had the chance to read it yesterday and am so impressed! The 70-page eBook is full of tips and tricks Gina has used to make her blog a successful business. Since questions about blogging and turning my blog into my job are among the most common questions I receive from readers, I figured this resource would likely interest a bunch of you! It's only $9 right now (it will increase to $12 soon), so it's incredibly affordable.
To check it out and purchase a copy, click the link below and then click the PayPal link:   
According to Gina, this eBook is for…
Those who have been blogging consistently for a while, but find themselves at a crossroads for the "next step" with their blog.
Those who want to figure out how to share their unique voice, story and knowledge (in any field!) to help others.
Those who are interested in monetizing their blog, networking, and creating partnerships.
And this eBook is NOT for…
Those who don't have a blog and have no interest in starting one.
Those who enjoy blogging occasionally for fun, and want to keep the professional aspect out of blogging (which is totally cool).
Sending big high fives your way, Gina!
More Blogging Tips
Since we're chatting about blogging tips, for those interested, below you will find a series of blog posts I previously published with my personal blogging tips and tricks:
Questions of the Morning
Blogging friends: When did you start blogging and what is the primary focus of your blog? What made you want to start blogging?
Non-bloggers: If you were to ever write a blog, what would you want to write about?
I started blogging in September 2009 (I definitely missed blogging about my four and five year blogging anniversaries…) and started blogging as an outlet to write about things I wanted to write about since my full-time job at the time had me writing about pharmaceuticals and medication side effects. Five years later, here we are!
If I were to start another blog, I'd love to write a travel blog.