Good morning!
I hope you are all feeling rested after a long holiday weekend! The rest of our weekend passed by a little too quickly, but we were able to squeeze in some quality time with my father-in-law and had a great dinner with our friends Kylee and Hadi who were in town from New York.
On Sunday, the highlight of my day came when I opened up all of our mail from the weekend and saw that the festive adult onesie that I ordered a couple of weeks ago finally arrived!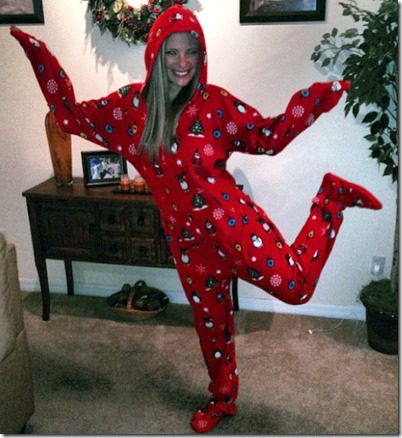 My girlfriends and I bought ridiculous onesies to wear for SantaCon in two weeks and I am pumped! We got our onesies from FootedPajamas.com, but if you're in the market for an adult onesie and are willing to spend more money than we were, this Rudolph onesie is waaay too amazing.
Workout
This morning it was back to our usual routine. I'm not sure about you guys, but Thanksgiving seemed to last a full four days for me, so it felt good to sweat a bit this morning and get my heart pumping again.
Today's workout looked like this: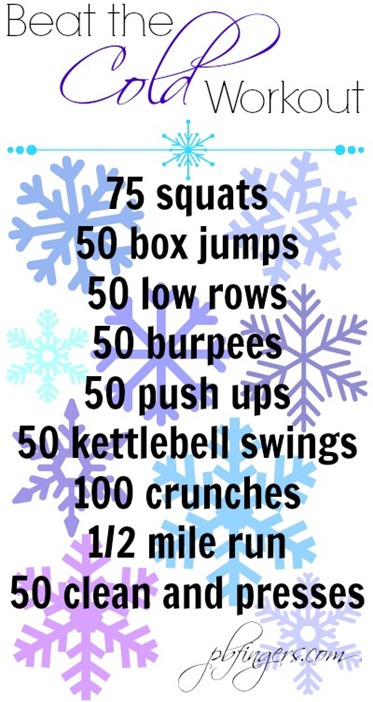 I made sure to take as long as I needed to complete some of the strength exercises to ensure that I didn't sacrifice form as I got tired. (I broke a few of them up into three sets.) It was a great workout and left me feeling sweaty and accomplished.
Breakfast
Breakfast this morning incorporated some leftovers.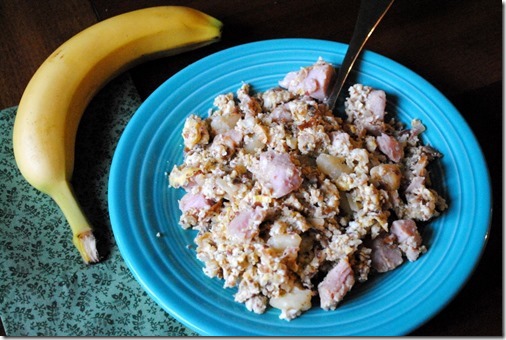 I made a batch of scrambled eggs and added leftover ham, corned beef hash and breakfast potatoes from Saturday's brunch with my in-laws. They're not big on leftovers and since I am a leftover lover, I happily accept whenever they offer to send some delicious food home with us. It was a great morning meal!
Cyber Monday Deals
I must admit I am a bigger fan of Cyber Monday than Black Friday since I seem to do more and more of my holiday shopping online with every year that passes. Here are a few discounts I've seen pop up today:
30 percent off everything at Reebok.com with coupon code CYBER30
30 percent off at Old Navy with coupon code CYBER
30 percent off at Kate Spade with coupon code CYBER30
15 percent off + free shipping on orders over $75 at Macy's
40 percent off + free shipping at Express
40 percent off at Gap and Banana Republic with coupon code CYBER
30 percent off at J.Crew with coupon code MONDAY
40 percent off + free shipping at Guess with coupon code OURGIFT
40 percent off select designers at Saks Fifth Avenue
40 percent off PRO Compression holiday compression socks with coupon code SNOW
Free bargain BICBand + free shipping on orders over $40 at BICBands.com with coupon code BigSale
$9.99 SoliBeat DVD with coupon code shakeit
And now something to make you smile…
Here's a video I saw this morning that serves as a great little reminder that the simple things in life are the best things…
Have a great Monday!