Good morning and Happy Friday!
I hope you all have fun activities or some serious relaxation planned for the weekend. Staying true to my goals for 2012, Ryan and I are resurrecting our date night tradition on Saturday! I took the month of January and have something fun planned for the two of us. Should be a fun weekend!
Last Night
Last night was filled with the usual activities – walking Sadie, eating dinner, watching Jeopardy (Ryan is killin' it on the Daily Doubles this week) and reading The Scorch Trials.
Dinner was particularly notable.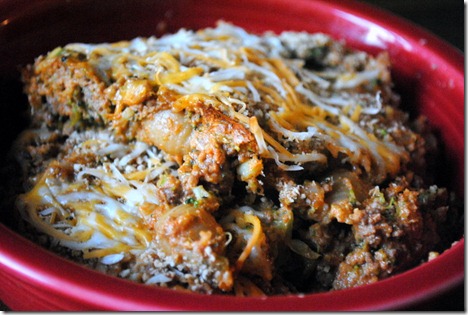 I was feeling experimental in the kitchen and made what I'll call an Italian meat and pasta casserole by combining the following in a casserole dish:
1 3/4 cups cooked whole wheat shells
3/4 pound cooked lean ground beef
3 cups steamed broccoli and cauliflower florets, very finely chopped
1 1/2 cup pasta sauce
1/2 cup goat cheese
1/2 cup shredded cheese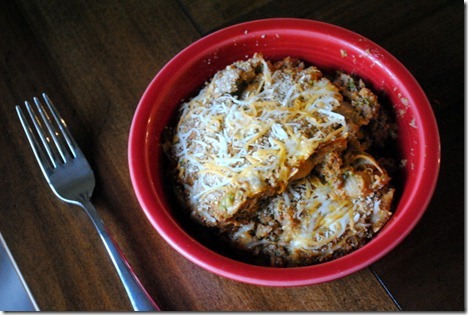 After mixing everything together and topping it with Italian breadcrumbs and more shredded cheese, I baked it for approximately 25 minutes at 350 degrees.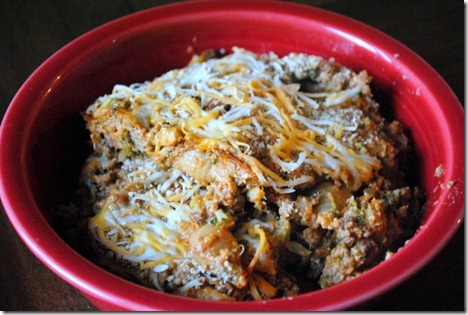 Dinner success!
Workout
Today's workout was an express leg workout – express because Ryan and I got to the gym about 15 minutes later than usual and had to make up for lost time.

I didn't rest more than 30 seconds between sets of each exercise. It was fast and effective!
Breakfast
Breakfast was pulled right out of the fridge. Simplicity at its finest!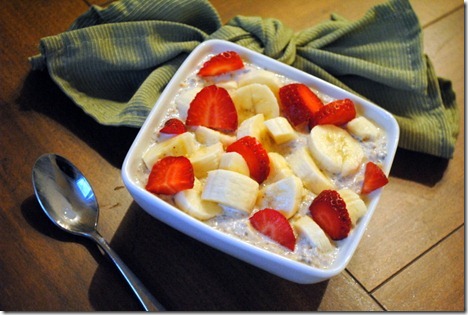 I ate a bowl of strawberry banana overnight oats made with oatmeal, strawberry banana Greek yogurt, chia seeds and milk. This morning I added fresh strawberry and banana slices to really give the oats a fruity flavor.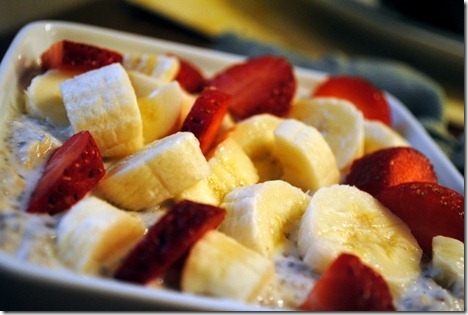 I love it when strawberry seasons rolls around in Florida because strawberries are finally cheap again. Ryan and I are hoping to make it to the Florida Strawberry Festival again this year!
Now it's time to get some work done.
My parents will be stopping by at some point today on their way back to St. Pete from Jacksonville where they were for my dad's work, so I hope to get most of my to-dos done before they arrive.
Blogroll Updated
I finally updated my blogroll this morning with blogs I've been reading for ages. I typically update my blogroll a few times a year, so I figured the new year was a great time to add some new favorites that I love reading and think you might enjoy, too!
One blog I think deserves a little extra attention is my friend (and former coworker) Jen's blog, The Pursuit of Sassiness. (Her blog isn't a healthy living blog though she did run her first half marathon last year!) Jen is getting her master's degree in mental health and marriage and family counseling and often blogs about very interesting topics that come up as she pursues her degree, in addition to life musings. Worth a read!