It's Friday!
Do the Friday dance!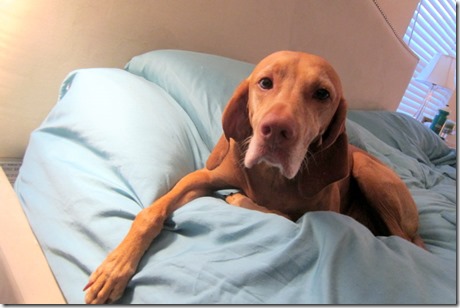 No? No? Apparently Sadie isn't feeling quite as enthusiastic about the upcoming weekend as most of us out there. She knows I'm about to leave for work and is being dramatic and sulking in bed.
Sadie can always tell when we're about to leave the house. First, whenever I start putting on my shoes, she starts sulking. She gives me her sad puppy eyes.
Then, when I grab my car keys, she starts freaking out and runs around the house in circles. As I head for the door, she meets me there, her eyes hopeful and tail wagging. There's a glimmer of hope remaining inside her that she clings to, believing that maybe she gets to come along.
And then I say my usual goodbyes and reality sets in. She retreats back to the bedroom to sulk again. She's such a (ridiculously adorable) little stinker.
Breakfast
I wasn't in the mood to go grocery shopping when I went to Publix this week and as a result I left the grocery store without a ton of food. There wasn't much to choose from for breakfast this morning, so I went with an egg, cheese, sausage and spinach scramble.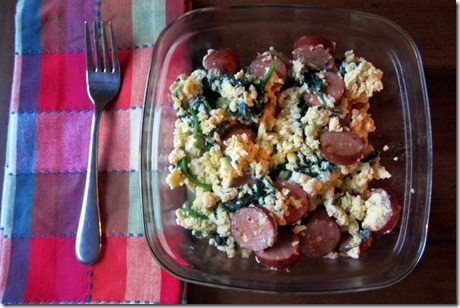 It was good, but I was really in the mood for a big yogurt bowl with fruit and peanut butter granola. Tomorrow, perhaps?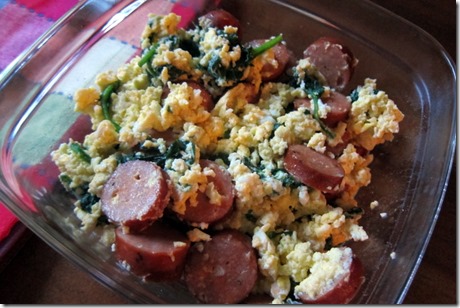 I also had a hot cup of frothy coffee on the side that I sipped on while typing up this blog post.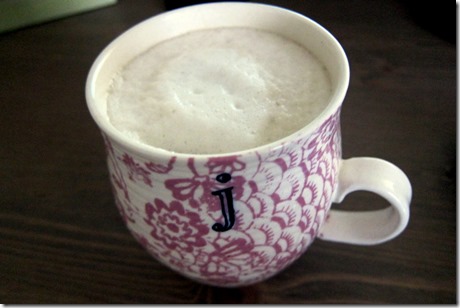 Yum!
Of Possible Interest
Question of the Morning
Can your pet tell when you are leaving? Do they do anything unusual?