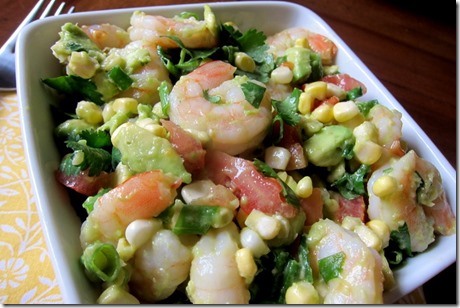 Recipe coming your way in a second! First, let's recap today's workout.
After working through the morning at Starbucks, I took a mid-day breather and headed to the gym for a cardio workout. My 50 minute workout looked like this:
20 minutes stair master
10 minutes elliptical
10 minutes elliptical
Hopping around made the workout fly by!
After my time at the gym, I headed home and immediately threw together a fantastic lunch.
Lunch
There's something about the flavor of cilantro that simply screams fresh. I adore the herb and the punch of flavor it provides to salsa and other dishes like my garam masala chicken. I know it tastes like soap to some people, but I am a cilantro lover through and through!
This afternoon, I made a delicious lunch that centered around cilantro, avocado and shrimp.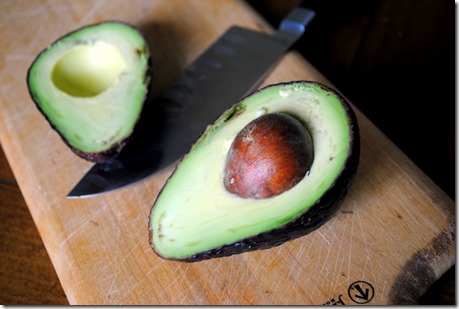 Avocados are on sale at my local grocery store and I bought a bunch earlier this week. So far all of the avocados I've used have been perfectly ripe. The avocado I used in this salad added the perfect amount of creaminess to the dish.
Cilantro Shrimp and Avocado Salad
Ingredients
1 avocado, sliced
1/2 tomato, chopped
1 ear of corn, kernels removed from cob (raw)
1/4 cup chopped scallions
1/2 tablespoon lime juice
1/2 teaspoon olive oil
1/8 teaspoon salt
1/4 cup chopped cilantro
1 cup (6 ounces) shrimp, chilled, peeled and deveined
Directions
Combine avocado through cilantro
Add shrimp to avocado mixture and stir until shrimp is lightly coated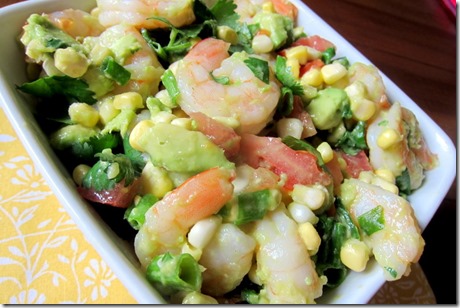 This salad was simple to make and totally hit the spot. I loved all of the different textures and flavors. I will be making this again soon!
Question of the Afternoon
Cilantro: Love it or loathe it?
Check out this delicious lunch!