Hey party people! I hope your day is going well.
Even though I've been back in Ocala for a few days now I feel I've been MIA since I've been playing catch-up on the blog and filling you guys in on my NYC trip. Things have carried on as usual behind the scenes!
Workout
My Wednesday began at the gym with a Best Body Boot Camp workout. (Speaking of BBBC, I've only heard from one of the three winners of Sunday's BBBC giveaway. Please email me if you were one of them!)
Monday kicked off the final week of Best Body Boot Camp and I made sure to give today's workout my best effort. Gotta go out with a bang!
I began my time at the gym with a 20 minute elliptical hill workout before following the lower body tabata workout on the agenda for the day. As always, the jumping lunges killed me. Yeesh.
Breakfast
Breakfast this morning included a bowl of scrambled eggs prepared with a splash of milk and shredded mozzarella cheese.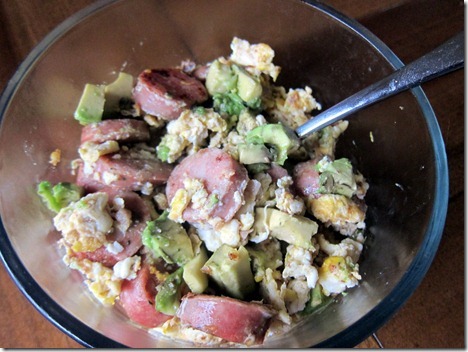 I also added some apple chicken sausage and sliced avocado which amped up the flavor.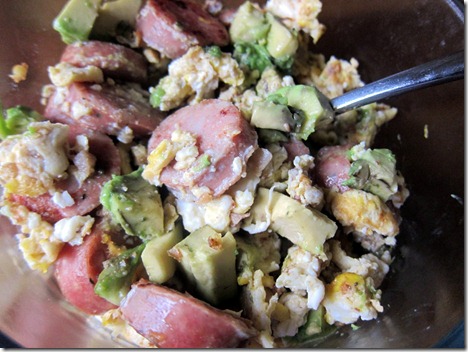 After breakfast, I worked through the morning before heading out to the College of Central Florida for a lunchtime planning meeting for the Taste of Ocala. Though the event doesn't take place until April, planning is already in progress. Lots to do!
Least Favorite Holiday Song
Everyone has one. A holiday song that makes you cringe.
Even if you are the world's biggest fan of holiday music, I bet there's still one holiday song that you simply cannot stand.
For me it's Christmas Shoes.
The first five notes of that song send my hand flying to the radio dial to change the station as I spiral into a downward spiral of despair.It's probably the most depressing Christmas song in all the land. I just can't take it.
Another song that depresses me? "Same Old Lang Syne." But here's the kicker with that song… I actually like it. I think it's such a pretty song, but it makes me so freakin' sad.
There are a handful of songs that make me cry, but cry emotional tears of happiness, gratitude and faith rather than tears of extreme depression a la Christmas Shoes.
When I lived in Illinois, our church used to conclude Christmas Eve services with "Silent Night" and everyone would cry. That song still makes me cry to this day because I can picture my family standing in a row at church and my dad's eyes watering as he reached out to squeeze my arm.
O Holy Night also makes me emotional. It's my all-time favorite Christmas song.
If you don't feel like harping on depressing and overly emotional music at the moment, you might prefer this slightly more uplifting post: Best Christmas CDs.
Questions of the Afternoon
What is your least favorite holiday song?
What is holiday songs make you feel emotional?