Before 9 a.m. on a Saturday, our gym is peaceful in the workout areas, but there's an energy to the place because of the families that arrive to support their kids as they play basketball in the gymnasium or swim with the swim team in the pool. 
Ryan and I arrived at the gym a little after 8 a.m. and I began my workout for the day with 20 minutes on the elliptical.
After my time on the elliptical, my muscles were nice and warm and a circuit workout sounded like a good idea. Today's workout focused on legs and cardio and took me a little less than 15 minutes to complete.
I know it looks like it would be a super-short workout, but I took my time with the squats and lunges (I didn't use any weight) and left the gym feeling accomplished! Always a good way to start the weekend, right!?
Breakfast
Breakfast this morning was a Publix special.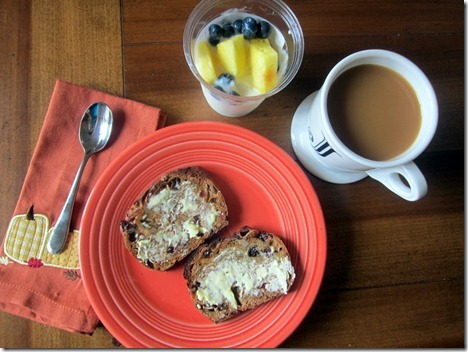 Two pieces of Publix breakfast bread topped with a bit of Earth Balance, a Publix fruit and yogurt parfait and a cup of coffee.
For those of you who do not have access to Publix, the grocery chain's breakfast bread is essentially a very dense bread, packed with dried fruit and nuts. It's chewy, crunchy and filling!

Off to walk Sadie!

Saturday mornings at the gym are my favorite. I get to sleep in a bit, but since Ryan and I cannot seem to sleep past 7:30 a.m., we still manage to make it to the gym at a decent hour and beat the crowds.