Hello!
I hope things are going well for you this afternoon. My Monday started off ridiculously early thanks to my 4:10 a.m. alarm. I had to get up extra early to take my friend Ashley to the airport for her 6 a.m. flight back to Chicago. Even though waking up in the 4 a.m. hour is brutal, the time change made it a little easier. Plus, it was great having Ashley stay with us for an extra day after our fun wedding weekend in Savannah.
After I dropped Ashley off, I drove back to my Pure Barre studio to take the 6 a.m. class I registered for last night. I almost skipped it today, but I'm so glad I didn't because when I walked in, I was greeted by a big smile from Michelle, one of my favorite instructors, who told me that today officially marked my 100th Pure Barre class!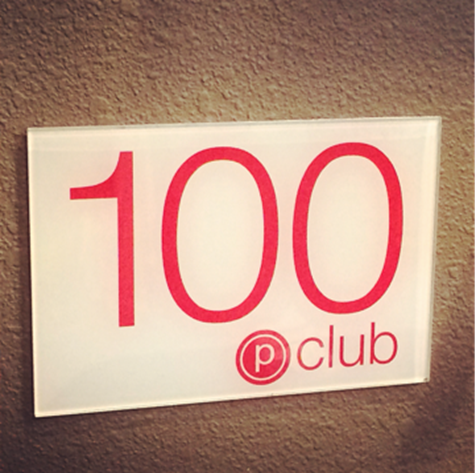 I had no idea I was anywhere close to 100 classes, so this was quite a surprise and I was excited to sign the barre and officially enter our studio's 100 Club!
(I'm not sure where the star on the "i" of Julie came from. Apparently my inner 11-year-old wanted to come out to play this morning.)
My 100th class went well and I was thinking it might be time to dedicate a post to answering some of your questions about the workout. I am not an instructor, but I am a big-time fan and receive questions from you guys regularly about Pure Barre. I try to answer them as they pop up in the comments section and via email, but I know others likely have the same questions but don't read the comments section, so I'd love to compile them all into one big post. Let me know what you want to know about it! (If I do not know the answer or do not feel comfortable answering certain questions, I'll reach out to some of my instructor friends.)
More Pure Barre posts:
Breakfast
Once I made it home, I had about an hour to quickly eat breakfast and blog before it was time to head out the door to work. After throwing some food into the crockpot for tonight's dinner, I fixed myself a bowl of banana egg white oatmeal to enjoy for breakfast with a hot mug of peppermint crème coffee.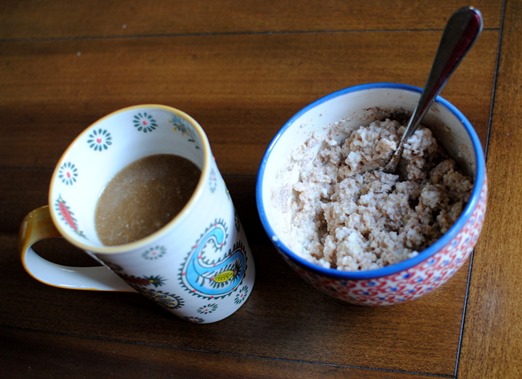 I added canned coconut milk to my coffee and it didn't exactly mix well (hence the weird appearance) but it still tasted fabulous.
After breakfast, I drove to the gym to work. On the agenda for today was shadowing my boss and observing a barbell strength class I will be taking over next Monday. I also familiarized myself with all of the electronic equipment I'll be using to teach my classes before heading out.
Lunch
On my way home, I ate a granola bar and swung by the grocery store to pick up food for the week. The minute I arrived home, I assembled a fast salad for lunch that included barbeque salmon, sweet potato, brown rice, edamame and ranch dressing.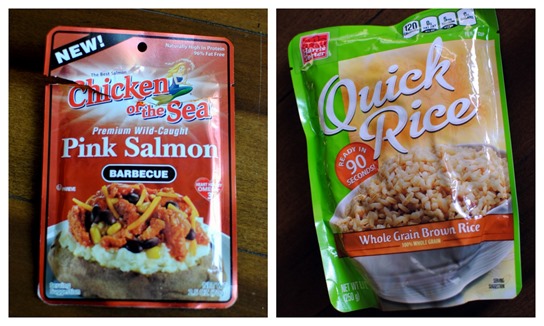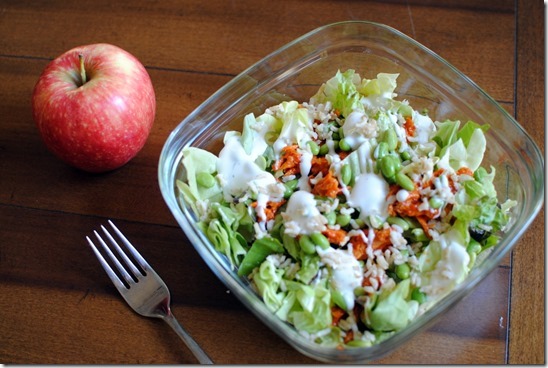 Plus an apple on the side!
Once this blog post goes up, I'm planning to spend some time planning out my very first spin class! I'll be teaching spin for the first time on Thursday morning and I want to make sure my class is a good one.
For all of my friends out there who teach spinning/indoor cycling, I'd love to hear about any resources you may utilize to help you plan a great class. I've taken a ton of indoor cycling classes throughout the years and subbed for spinning teachers on occasion at my old job at the gym in Ocala, but this is the first time I'll be teaching regular spin classes on my own and I'm obviously hoping to do a good job. I'd love your advice! 
Hope you have a great Monday evening!