Chili is one of those meals that simply screams cozy night in. If only we had a fireplace to add a little ambiance!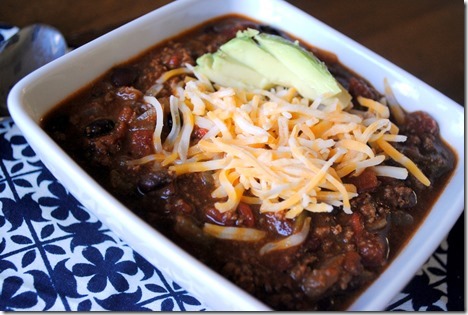 Early last week, I made a big pot of chili for dinner and leftovers were enjoyed almost nightly in our house throughout the remainder of the week. We never got sick of the rich flavors and delicious combination of spices, beans and vegetables and I'm already planning to prepare another batch when I'm back in Ocala next week.
This chili was easy to make but felt a little special since it incorporated an entire jar of roasted red peppers. The chopped peppers almost disintegrate into the chili, but their flavor shines through!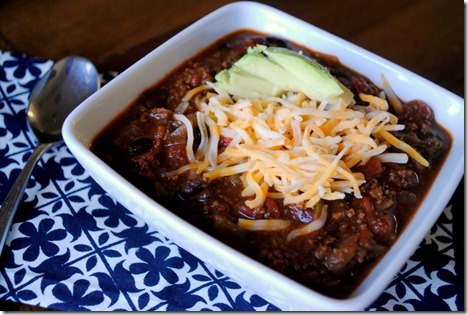 Roasted Red Pepper Chili
Serves 8
Ingredients:
1 (24-ounce) jar of roasted red peppers
1 green pepper, diced
1 onion, diced
2 tablespoons chili powder
1/2 tablespoon cumin
1 teaspoon garlic powder
1 pound lean ground beef (or slightly less)
1 can reduced-sodium black beans, drained
1 can reduced-sodium kidney beans, drained
1 (10-ounce) can diced tomatoes with green chiles (undrained)
2 (8-ounce) cans no-salt-added tomato sauce
salt (to taste)
pepper (to taste)
Optional toppers: Avocado, cheese, sour cream, plain Greek yogurt
Directions:
Heat a large pot over medium heat. Spray with cooking spray (or drizzle with olive oil) and place red peppers through garlic power in the pot. Cook for 3 – 4 minutes, until the onions are tender.
Add lean ground beef, cooking for an additional 6 minutes, allowing the meat to crumble and turn brown.
Stir in remaining ingredients, reduce heat to low and allow to simmer for 15 minute to two hours. (The longer it simmers, the more the flavors develop!)
Spoon into bowls, top with desired toppings and enjoy.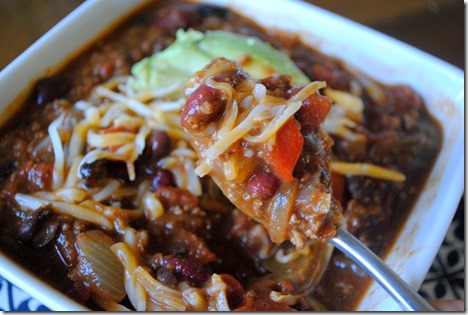 Enjoy!

Once sweaters, jackets and boots start to come out of storage, I start craving one-pot meals that are both comforting and delicious.