butternut squash wheat berry mock risotto
. The night before that was a homemade chicken noodle soup kind of night. Tonight the one-pot meal theme continued as I set out to recreate the
trout oatmeal hash
dish that I liked so much from last year except using salmon. This savory salmon oatmeal hash turned out amazing.
Before trying that recipe, I was incredibly skeptical about savory oatmeal, but I ended up loving it! When you think about it, steel cut oats aren't that far off from barley, wheat berries or quinoa and, like these healthy favorites, also picks up other flavors very well. I wanted to be sure to use the vegetables I had on hand and while I broiled a large salmon filet, I got to work on the stove top, cooking the base of the hash.
The end result was fantastic! It was packed with flavor and I gobbled up my bowl in no time at all.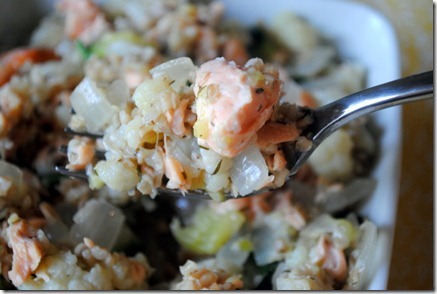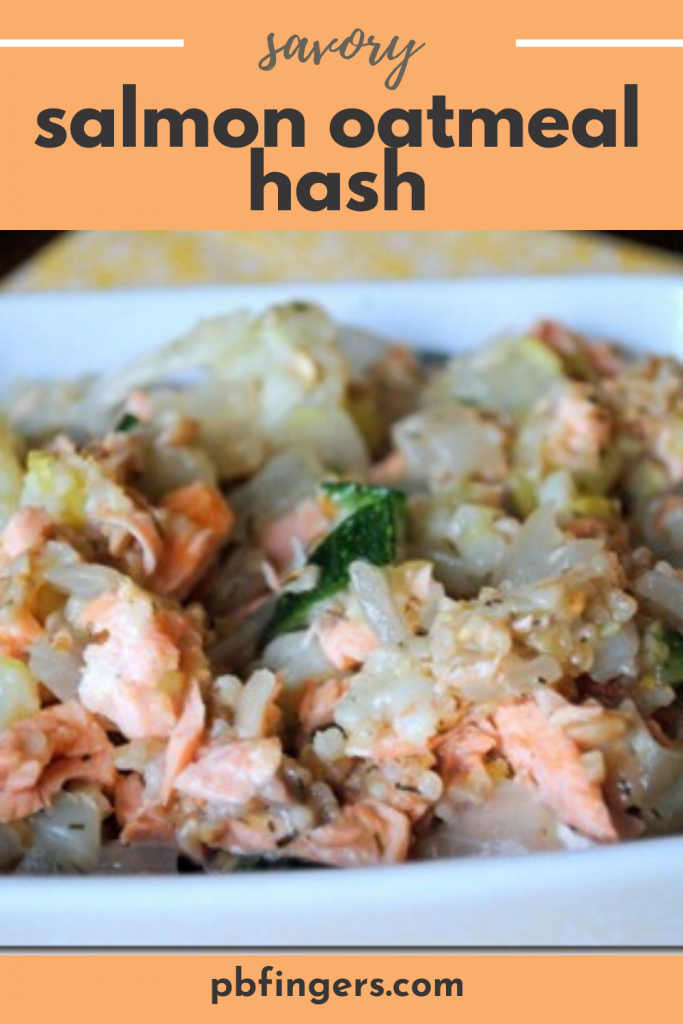 Savory Salmon Oatmeal Hash
Print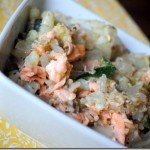 Savory Salmon Oatmeal Hash
Author:

Prep Time:

2 minutes

Cook Time:

15 minutes

Total Time:

17 minutes

Yield:

2 servings

Category:

dinner, recipes

Cuisine:

dinner
---
Description
A one-pot meal that is both easy, and satisfying!
---
Ingredients
8 ounces cooked salmon
1/4 cup uncooked steel cut oats
1/2 yellow onion, chopped
1 cup boiling water
1 large zucchini, chopped
1 cup finely chopped cauliflower florets
Dried dill, to taste
Salt, to taste
---
Instructions
Spray large saucepan with cooking spray and cook onion and oats for approximately two minutes on medium heat, stirring repeatedly.
Pour boiling water into the oat and onion mix, add zucchini and cauliflower, and simmer for approximately 15 minutes, until mixture has thickened a bit and the oats are chewy and no longer hard.
Remove oats from heat and let stand for about two minutes to thicken.
Stir in salmon, dill and salt and divide into two servings. Enjoy!
---
Keywords: cauliflower, dinner, onion, recipes, salmon, steel cut oats, zucchini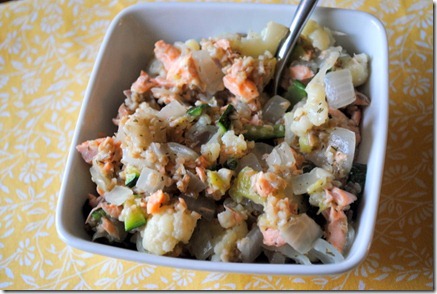 As Ryan and I were eating this at the dinner table, we agreed that it would also be a great dish to serve at a brunch if you wanted to triple the recipe to serve to a large group. People might be a little uneasy about savory oatmeal, but just tell them it's salmon hash and leave out the fact that there's oatmeal in it to keep their skepticism at bay. (Or you could always bribe them with homemade doughnut munchkins if they are troopers and try it!)

If you like salmon and vegetables, I think you'll enjoy this dish! The servings are pretty substantial and packed with healthy fats from the salmon, whole grains and nutrient-rich vegetables. A winner in my book!

Ryan and I have been all about one-pot dinners this week. Last night we dug into my favorite