southwest shrimp soup
, am I right?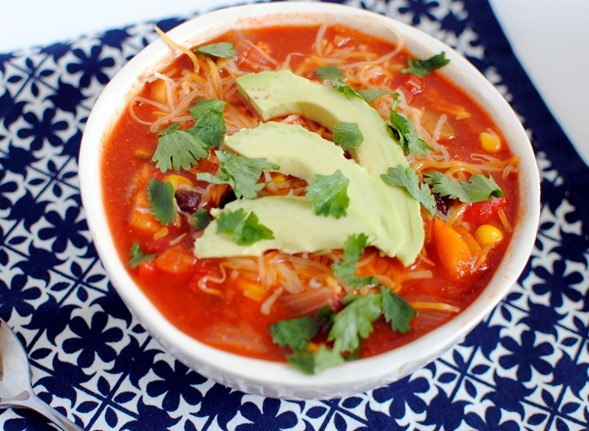 No? No?
Okay, this chunky, flavorful bowl of soup doesn't exactly scream Christmas cheer, but it is a great soup to whip up on a cold winter night when you're looking for something warm and comforting that's also packed with vegetables and nutrients.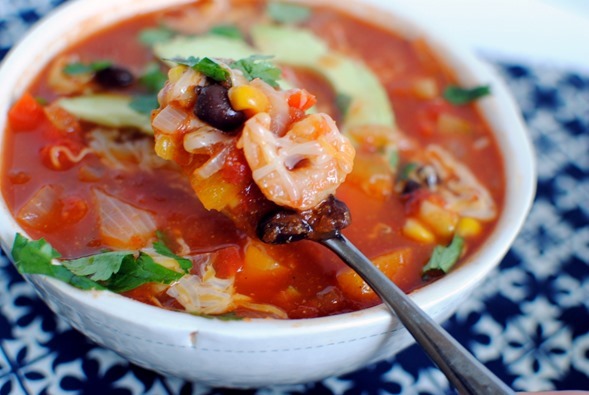 It's easy to prepare and is practically overflowing with colorful vegetables and tasty shrimp, making it not only healthy but incredibly filling, too! If you're looking for a simple one-pot meal that will easily feed the whole family, this is the soup for you!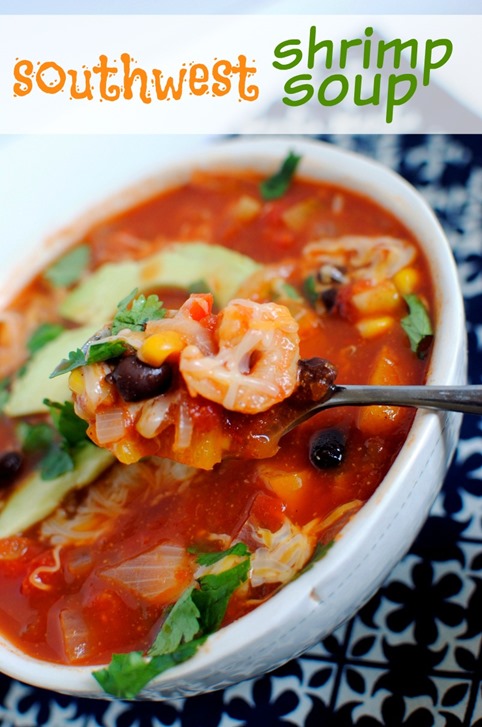 Southwest Shrimp Soup
Ingredients
1 teaspoon olive oil
1 large sweet onion, diced
3 garlic cloves, diced
2 bell peppers, diced
1/2 large zucchini, diced
1 cup sweet corn (I used frozen)
2 1/2 cups low sodium vegetable broth
1 28-ounce can crushed tomatoes
1 teaspoon chili powder
3 tablespoons cumin
1 1/2 teaspoon garlic salt
dash cayenne pepper
1 cup reduced sodium black beans, rinsed and drained
2 cups shrimp, deveined with tails removed
1 avocado
Shredded cheese
Fresh cilantro
Directions
Heat olive oil in a large pot and add onion, garlic and bell peppers. Cook over medium heat until soft, about 5 minutes. Add zucchini and corn and cook for another 5 minutes.
Add broth, crushed tomatoes, chili powder, cumin, garlic salt and cayenne. Stir and let simmer over medium-low heat for 20 minutes as flavors develop. (Taste periodically, adding more spices to taste if necessary.)
Add black beans and shrimp and cook for another five minutes, until shrimp are cooked through and warm.
Pour into bowls and top with avocado sliced, shredded cheese and fresh cilantro.
Enjoy!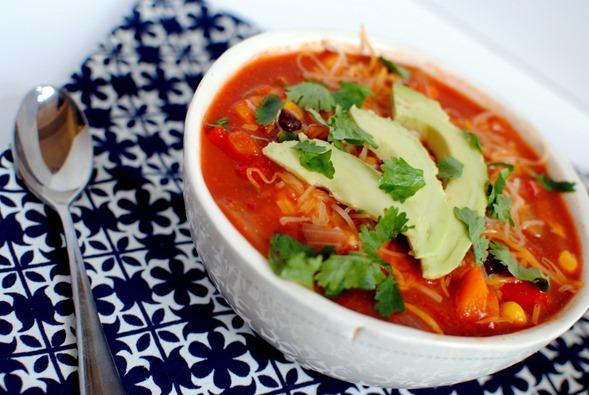 If you decide to give this a try, please don't skip out on the toppings. Everything is better with a little cheese and avocado!

Enjoy!

Nothing screams Happy Holidays like a hearty bowl of