What happens when lean ground beef and sweet potatoes mate?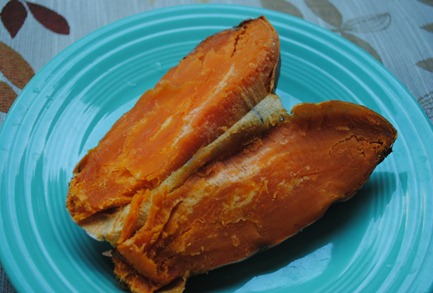 Sweet potato meatloaf!
As I scanned the kitchen for inspiration for tonight's dinner, a sweet potato caught my eye. Ryan had to work late this evening, and I figured he would be thrilled to come home to meatloaf, since it's one of his favorite meals.
An idea was born!
Combine the tater and the meat and hope for the best!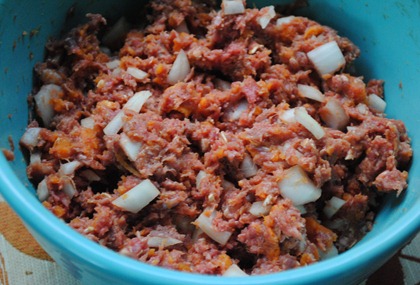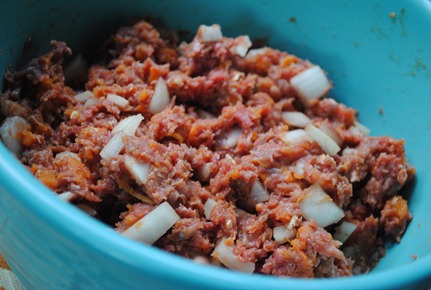 I added several other ingredients to the mix before cooking the meatloaf for an hour.
While waiting for the loaf to cook and for Ryan to arrive home, I entertained Sadie outside with several rounds of fetch.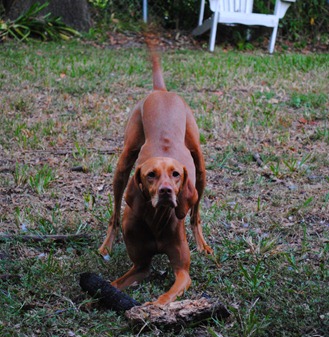 The apartment smelled fantastic by time time Ryan walked in the door. His eyes lit up when I told him what we were having for dinner.
My little sweet potato meatloaf experiment was a success!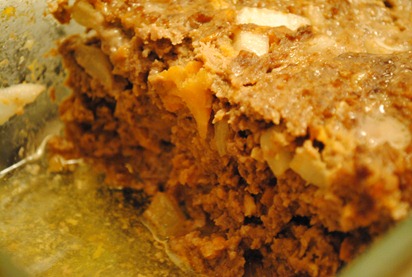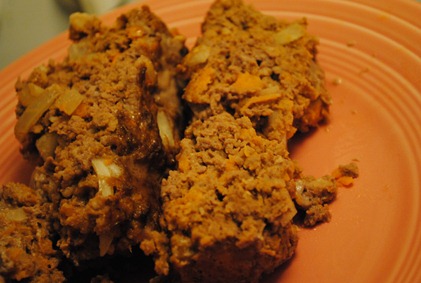 Sweet Potato Meatloaf
Ingredients
1 lb. lean ground beef
1 large sweet potato
1 egg
1/2 c. oatmeal
1/2 onion, chopped
2 tbsp. honey mustard
Slightly less than 1/4 c. ketchup
Slightly less than 1/4 c. barbeque sauce
1/2 tbsp. garlic salt
Directions
Preheat oven to 350 degrees.
Cook sweet potato. (I do this by wrapping a sweet potato in saran wrap and microwaving it for 5 minutes on high.)
Remove sweet potato peel before or after cooking, depending on cooking method. (I just scooped out the sweet potato flesh when it was done cooking.)
Combine all ingredients in a bowl.
Spray loaf pan with cooking spray and place meat mixture in pan.
Cook for approximately one hour or until meat is no longer pink in the middle.