Friday is here and I'm tempted to dub today Furniture Assembly Friday because that's the main thing I hope to accomplish later this evening. A bunch of our nursery purchases arrived on our doorstep yesterday so we've got some work cut out for us this weekend! I hope that by Sunday evening, our new baby's room looks a little more like a nursery versus the storage area it currently resembles. I'm oddly excited about putting everything together and hope the feeling lasts and isn't trumped by the frustration that often follows putting together drawer after drawer of a dresser. I'll be sure to share pics of everything soon!
Now let's get crackin' on the usual Things I'm Loving Friday fun around here. Below you will find a list of things that are making me smile this week and, as always, I'd love to hear a little bit about what all of you are loving right now. I hope you are able to spend the extra long Memorial Day Weekend with family and friends and take time to honor and remember the incredibly brave men and women who gave the ultimate sacrifice for our country.
Things I'm Loving Friday
Chase's Last Day of Preschool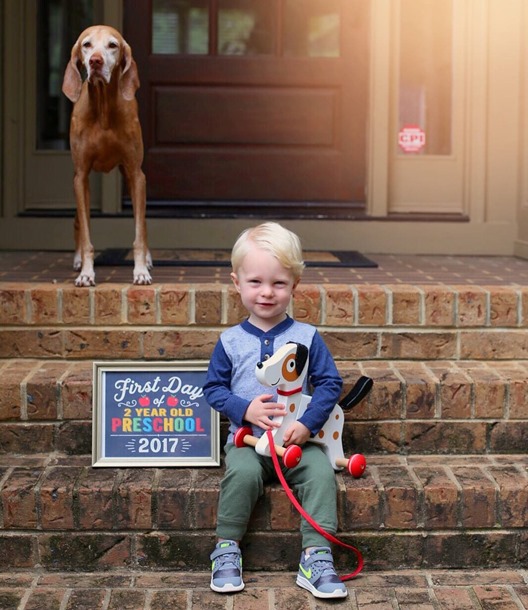 Flashback pic to Chase's first day of school… Cue all the tears over here!!
Chase's last day of preschool was Wednesday this week. He had a half-day and then the parents joined the kids at one of his classmates' houses for a pool party and lots of playtime. We ended up staying out for the better part of the afternoon and Chase had an absolute BLAST. (He had his first experience in a puddle jumper in the pool and I immediately Amazon Primed one the minute we got home.) His two preschool teachers attended the party and I looooved chatting with them and the other parents while our children had the best time together. It was so fun to see Chase interact with the kids I hear so much about day in and day out and I'm so happy that the majority of Chase's classmates are continuing at his same school next year. I feel incredibly lucky to have found a preschool we adore so much and am trying not to feel too sad about my baby officially completing his first year of preschool. Time is flying!
Baby Sprinkle at Ryan's Work
Early yesterday afternoon, Chase and I headed off to Ryan's work for the sweetest baby sprinkle hosted by his coworkers for our family. It was so kind of everyone to think of us and our baby-on-the-way and include Chase in the party. (Chase LOVED going to Dad's work! When Ryan met us in the lobby he didn't miss a beat and said, "Hey Dad! Where are your friends? You have a computer?")
When Ryan told me about his coworkers' plans, we requested no gifts (the evite actually said "in lieu of gifts, bring treats" – haha!) but everyone was so generous and surprised us with a few things for our baby which was very thoughtful. I also really enjoyed the opportunity to meet some of the people on Ryan's team. We laughed a lot about our desire to not know the sex of our baby (apparently this is a very uncommon thing among Ryan's coworkers) and the general consensus among his colleagues is that we'll be having a girl which was mostly attributed to how high I am carrying our baby. Surprise, surprise! I swear Chase and I are the only two thinking BOY these days.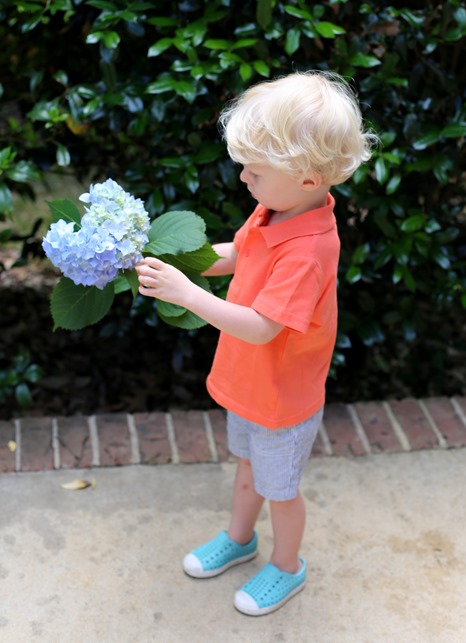 (Apparently Chase's hair reacts to humidity the same way as his mamas: A wavy fluffball! Haha!)
Shout out to the previous owners of our home for enjoying gardening and planting some lovely flowers all over our yard because it's the gift that keeps on giving to our family! We have two gorgeous hydrangea bushes that are absolutely thriving right now and just looking out at the beautiful baby blue flowers makes me so happy. Chase and I have been snipping a few hydrangeas here and there to put in small vases around our house and I love the springy look of flowers from our yard in our home. I keep telling myself that I'll get into gardening… eventually.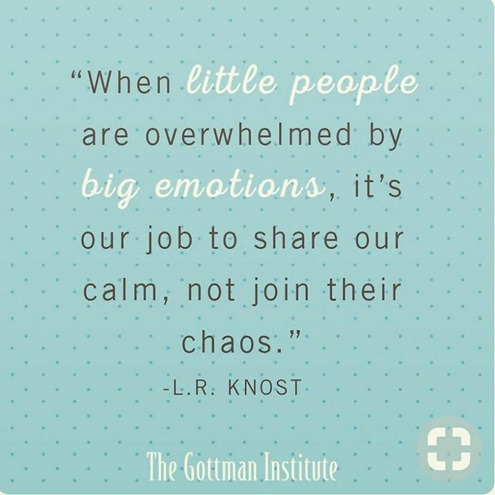 The last half of this week was a bit bananas, mainly because Chase didn't nap at all and was clingier, fussier and all around needier than usual. Without his naps to count on, it was hard for me to find time to hit a few work-related deadlines with companies for future blog posts that took me away from my usual in-the-moment blogging. I feel incredibly lucky to be able to work from home but inevitably life gets in the way of work for me and I just have to roll with it even if it can make me feel a little more on edge. (And I currently have NO idea how all of this is going to look when I have two kiddos in the mix but I figured things out with one child so I'll do it again. Bring on the wonderful chaos!)
Anyway, I share all of that because I found myself feeling more frustrated and impatient than usual this week and kept thinking about the above graphic a friend of mine shared on Facebook a month or so ago. It's something I've found myself thinking about over and over again, especially when I'm in the thick of a toddler meltdown. Though I've never been a "yeller" by nature, I notice that Chase responds to me so much better when I take a deep breath and address him in a calm way versus when I allow myself to get frustrated and my voice admittedly gets tense and irritable. At almost three years old, his emotions are BIG and powerful and while it's not always easy, responding to them calmly makes a huge difference and can help prevent the meltdown from escalating into a full-blown tantrum. Just remembering this simple quote has helped me a lot when I've found myself feeling snappy so I had to share it here just in case it is something that resonates with any of you out there, too!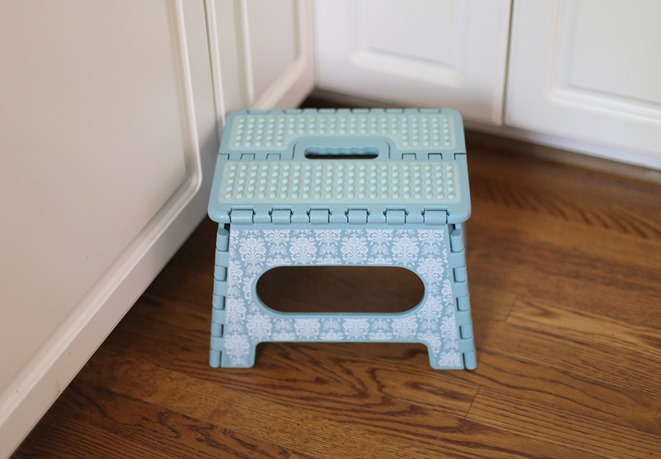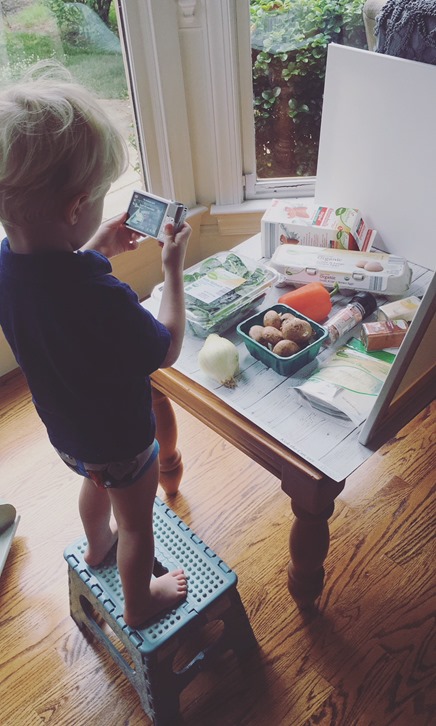 This handy stool probably should've made my list of my Most Used Kitchen Items when I shared that post back in February but it completely slipped my mind. Technically it isn't something I exclusively use in the kitchen since I cart this bad boy around our house all the time to help me grab things from hard-to-reach high places. It was one of those random purchases I made at HomeGoods that I ended up using a million times more than I ever thought I would! I was the queen of hopping up on counters and unstable stools to grab items off top shelves and this little solution makes it waaay safer for me to reach top shelves. It's collapsible so I just tuck it into a kitchen cabinet when I'm done. It also comes in handy as a little stepping stool for Chase, especially when he wants to help Mom with blog photos!
Memorial Day Weekend Sales
Below you will find a roundup of a few Memorial Day Weekend sales that caught my eye!
Old Navy: 50% off all tanks, tees, dresses, shorts and swimwear (I ordered these comfy linen-blend shorts for $11 in olive after reading so many good reviews and am crossing my fingers this wide-leg jumpsuit won't be a complete fail purchase because it's so cute online. Hoping they'll both work well postpartum!)
Nordstrom: Up to 40% off for their Half Yearly Sale
Nordstrom Rack: Extra 25% off clearance
Ulta: 20% off any one item with code 650805 (FYI, this is my hair dryer that is the BEST EVER. It is super powerful and reduces frizz/makes my hair look shinier/sleeker than any other blow dryer I've tried.)
Athleta: 20% off swim
Nike: Up to 40% off (These shoes are calling to me! Love the pumice/mint color.)
LOFT: 40% off everything with code LONGWKND
Anthropologie: Extra 40% Off Sale Plus 20% Off Furniture + Décor
RueLaLa: YumiKim sale (LOVE their feminine dresses and rompers!)
Here's a short collection of a few of my favorite recipes to try this Memorial Day weekend in case you have a fun cookout on the agenda:
Gluten-Free No Bake Double Chocolate Icebox Cake
Greek Yogurt Rotisserie Chicken Salad
Black Bean and Brown Rice Salad
Question of the Day
What is one thing that is making you smile today?