I am glad the weekend is here and am looking forward to some fun with my family as well as some kid-free time on Saturday night. Ryan and I have plans with some of our friends for dinner in the city and this is actually the first time we've had a babysitter since Ryder was born so I think it's safe to say some adult time is much needed! We are really looking forward to it!
As far as the rest of the weekend is concerned, our plans are up in the air and wide open. Thankfully it looks like the weather is going to warm up considerably this weekend so I have a feeling we'll be enjoying some time at the park if the sunshine on the forecast sticks around.
But for now, let's stick to the usual business around here and dive into my weekly Things I'm Loving Friday roundup of favorites! Below you will find a short list of some things that are making me smile this week and, as always, I'd love to hear a little bit about something that is making you smile this week as well.
Things I'm Loving Friday
Work Your Way Up Run/Walk Workout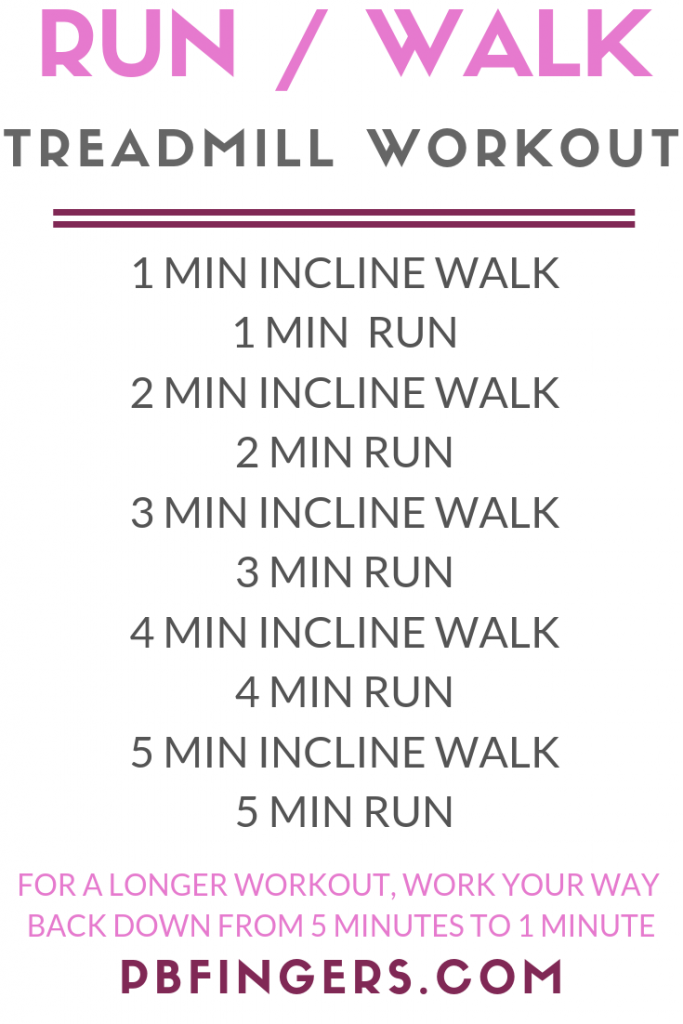 After streaming The Bachelor during my workout last week, I did the same thing this week and I kind of forgot how much watching a favorite show can make the time fly by! It's been a while since I've felt into The Bachelor but for some reason I am all about this season. I broke up this week's episode between a couple of workouts (and skipped over some of it because I am not into the Demi drama) and time flew by!
I also wanted to highlight another treadmill run/walk workout here because this one was a great one. I basically matched one minute of incline walking with one minute of running and then added a minute to both each time so my workout looked like one minute walk, one minute run, two minute walk, two minute run, etc. It was a great way to fight treadmill boredom along with The Bachelor so I just had to share it here!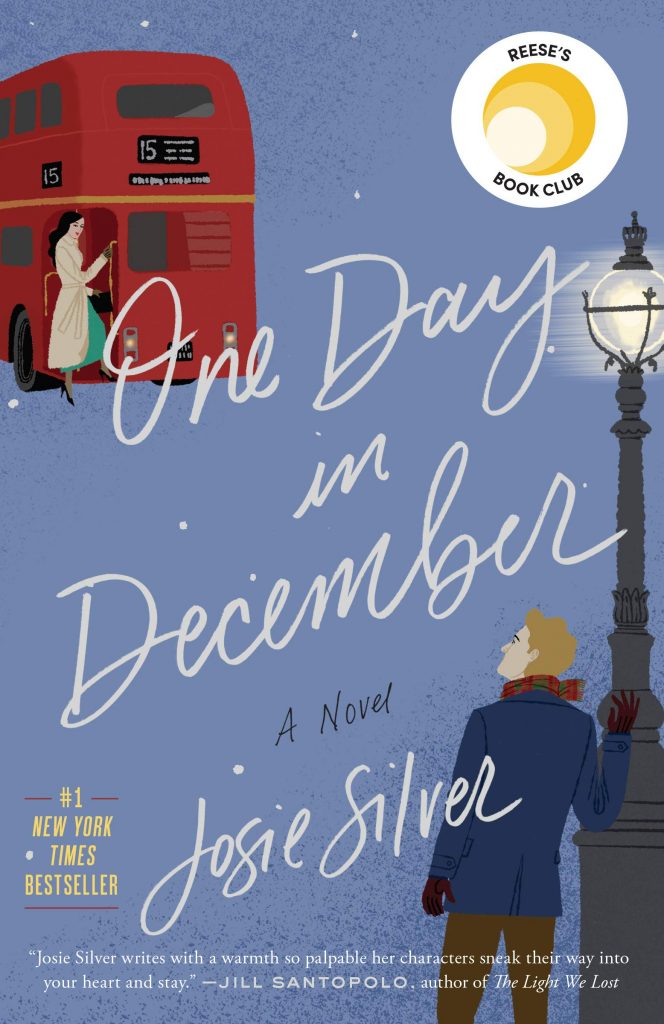 After a few back-to-back more serious reads, I was on the lookout for a an easy, breezy read and this one fit the bill. One Day in December is the wintery version of a beach read and I enjoyed curling up with this book at the end of a long day.
The book begins with Laurie feeling the most intense jolt of love when she sees a man from her seat on a bus window in the middle of winter. She feels frozen but also battles the intense urge to get off the bus when the man locks eyes with her… and then it's too late and the bus rolls on. A year passes with Laurie looking for her beloved bus guy until one day her best friend Sarah introduces Laurie to her new boyfriend, Jack. Laurie cannot believe it when the new boyfriend Laurie's heard Sarah rave about also happens to be the very man Laurie fell in love with at first sight from her bus seat one year earlier. One Day in December follows the next 10 years of Laurie and Jack's lives through fierce friendship, heartbreak, missed opportunities, growth and change as they strive to find happiness.
Hearts on Kid's Doors for Valentine's Day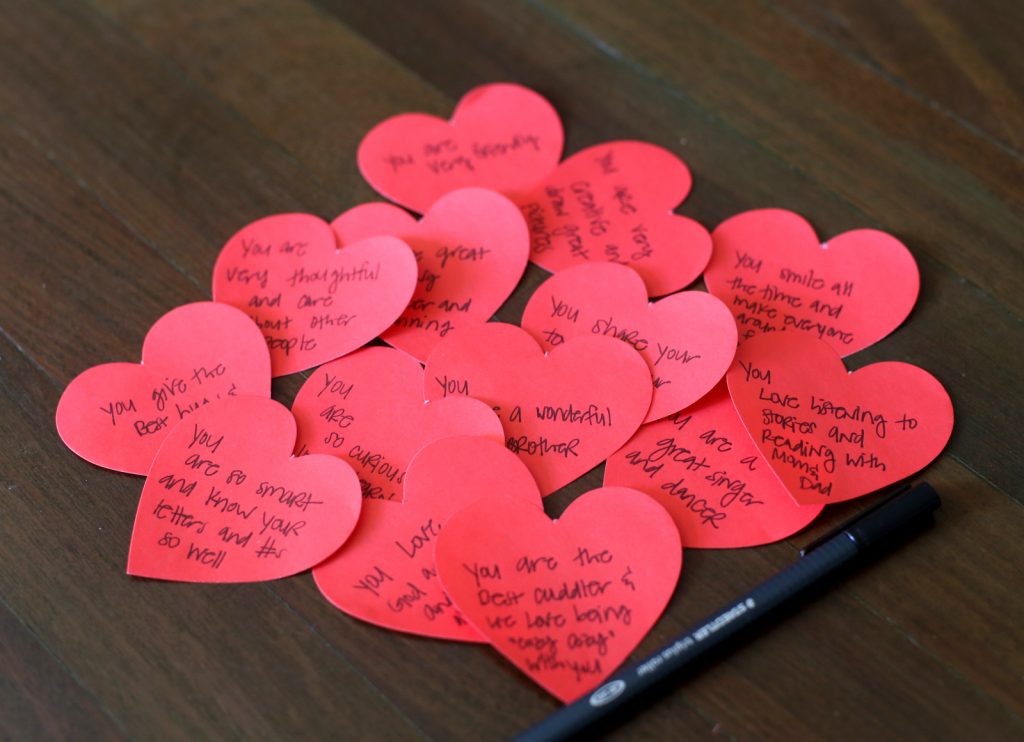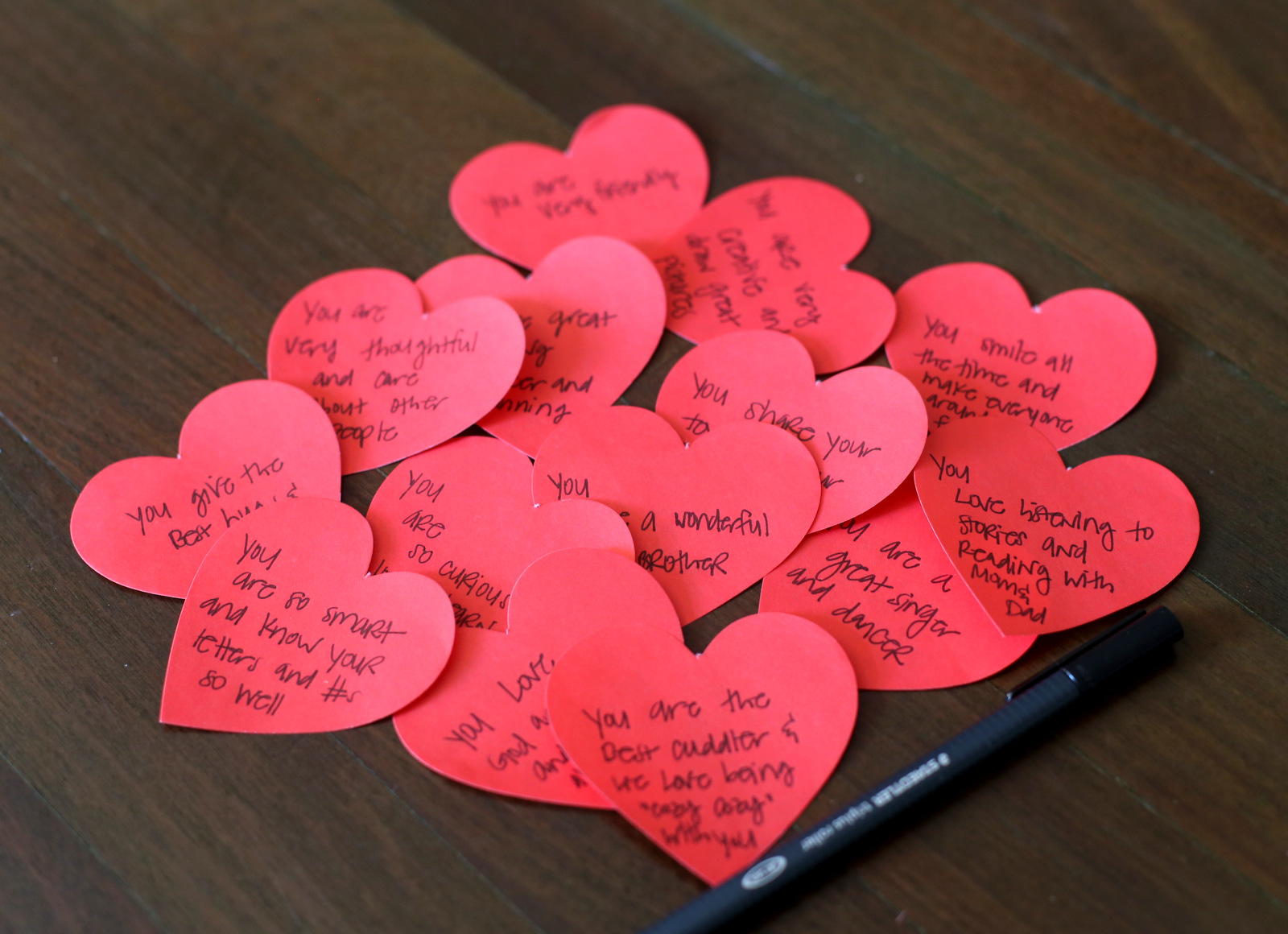 I saw this idea on Instagram and thought it was just the cutest thing! Beginning today, February 1, up until Valentine's Day, tape one heart a day on your child's door featuring one reason why you love them. Easy and so darn sweet! I cannot wait for Chase to wake up this morning to find his heart and explain to him one of the many reasons why Mom and Dad love him so much. And for sweet little Ryder, I'll be sure to brew up some extra loving breast milk up for him in lieu of the hearts since breast milk is his current love language.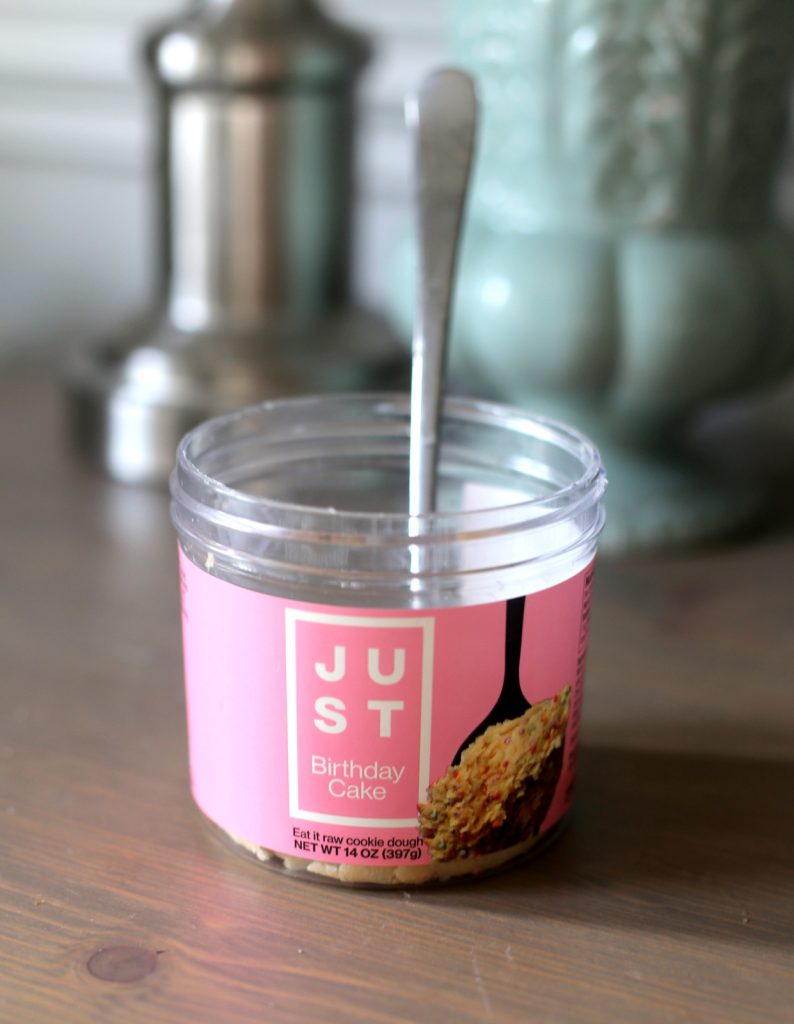 One week I will learn how to tame the sugar monster that lives inside of me but this week was clearly not that week. Ryan bought a jar of JUST edible cookie dough last weekend and we went to town on that thing! It was so, so good and the birthday cake flavor was fantastic. I was half expecting the dough to taste highly processed and a little strange but it tasted like homemade dough through and through. Apparently you can also bake the dough but that never happened in our house because we couldn't resist the dough. I'm sure this goes without saying, but it's incredibly addicting so don't open up a jar of that stuff and think you'll have "just one scoop" because I'm convinced that's physically impossible.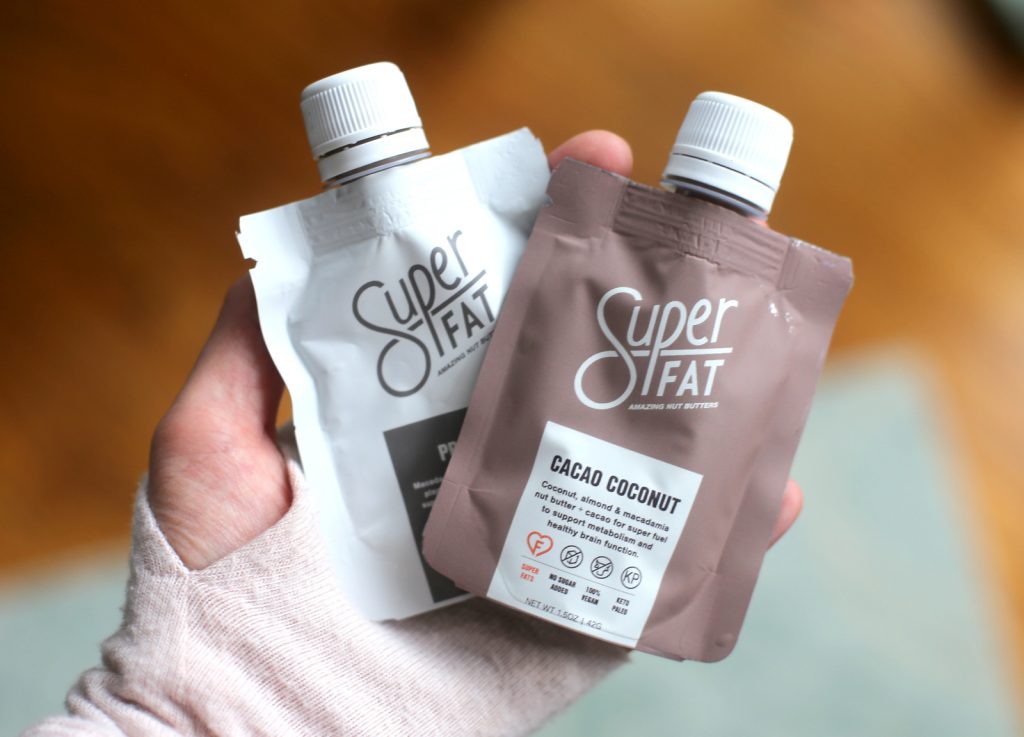 The team behind SuperFat nut butters sent me a few of their new blended nut butter packets to try this week and I think I went to heaven when I opened up the cacao coconut pouch. It was perfectly creamy, lightly sweet and so delicious right out of the pouch, though I am now having visions of swirling it into a hot bowl of oatmeal! The company is brand new so the nut butters are not available for purchase yet — they're launching a KickStarter on February 4 — but their blended base of macadamia nuts and almonds was irresistible for this nut butter lover!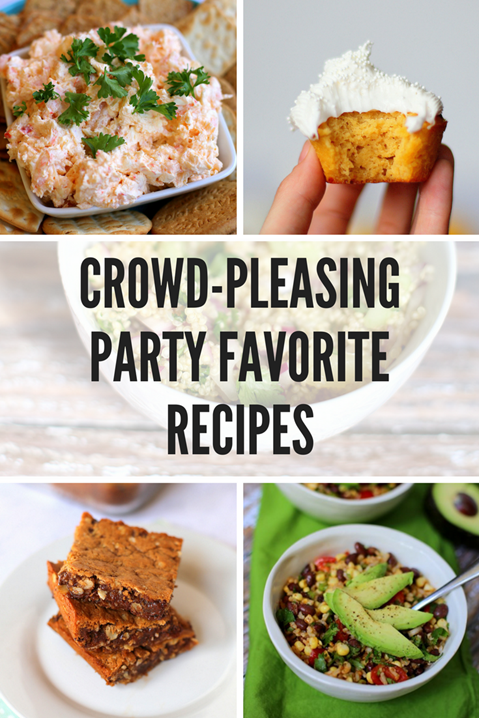 Sharing a few of my favorite easy party food recipes just in case you're looking for something delicious to make for a Super Bowl party this weekend!
Black Bean and Brown Rice Salad: A cold and tasty dish bursting with color, texture, flavor, healthy veggies and whole grains.
Paleo Coconut Crisps (You only need 10 minutes and five simple ingredients to make this deliciously crunchy treat!)
Chocolate Chip Almond Butter Bars: Made with coconut oil, oats and honey, these bars come together quickly and disappear even faster once you take them out of the oven.
Simple Shrimp Dip: A crowd-pleaser that's easy to make and one of my most popular blog recipes ever!
Cold Quinoa Salad: Light, refreshing and easy to prep ahead.
Paleo Lemon Cupcakes: A citrusy sweet treat that's Paleo-friendly.
Easy Cilantro Shrimp Appetizer: A one-dish recipe bursting with flavor thanks to cilantro and a squeeze of fresh lime juice.
Question of the Day

What is one thing you are loving this week?

Friday is here! Woop woop! How are all of you doing!? It was a cold week here in Charlotte but I know temperatures in the 20s and 30s would be very welcomed in other parts of the country right now. I hope all of you are staying warm!