Hello from the Jacksonville airport!
Today is a day of travel for me. It began at 5 a.m. with a quick workout at the gym with Ryan. Once again, I followed the prescribed Summer Shape Up workout from Jess' program and thought it was a good one. I'm loving her fast, efficient workouts. I'm always super sweaty after I'm done, but I never feel like I'm working out for a really long time, which is perfect. With the exception of long runs when I'm training for a half marathon, I like to keep my workouts under an hour, otherwise I start to mentally check out.
Breakfast
Once my workout was done, it was time for breakfast.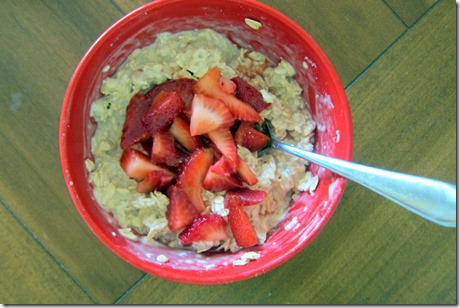 Hello, overnight oats! Last night I prepared a batch of the oats, knowing that my morning would be rather rushed. I ate the oats and then went on a 20-minute walk around the neighborhood with Ryan and Sadie. I'm not going to see them until Monday, so I wanted to soak up as much time with my little family as possible!
Travel
After breakfast, I finished packing and got an hour of work done on the computer before it was time to drive to Jacksonville.
Of course Sadie went into super stressed out mode when I turned my attention to my suitcase this morning.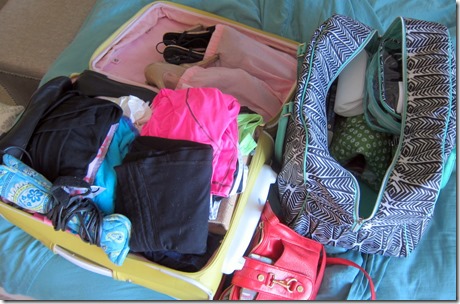 She initially freaked out and then eventually gave up when I didn't stop packing and sulked on the other side of the bed.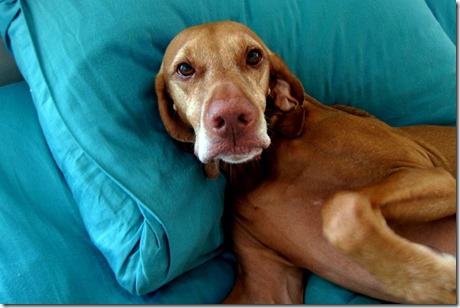 I love my little drama queen.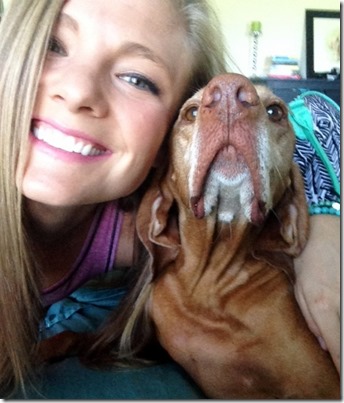 My two-hour drive to Jacksonville passed quickly and before I knew it I was checking in at the airport. It was only then that I got the news: Two hour flight delay. Fortunately my connecting flight is also delayed, so I will make it to my final destination, but it will be much later than anticipated. I think I will be missing the welcome dinner, which is a bit of a bummer.
I'll be sure to fill you guys in on my travels soon. I know it's annoying when bloggers are vague, so I promise to let you know what's up as soon as I get the okay to share!
My week of travels continue on Friday when I am flying directly to Chicago for my friend Michaela's bachelorette party weekend! To say I am pumped would be a serious understatement. I'll be spending the weekend with my best friends whom I'm known since elementary school. Lots of fun stuff on the horizon!
Lunch
Once I made it through airport security, I had a bit of a headache. My appetite wasn't really kicking in thanks to a surprisingly filling protein bar that I ate around 10 a.m., but I knew I needed food, so I grabbed a Naked Mighty Mango smoothie, figuring all the fruits in the drink would be good for me.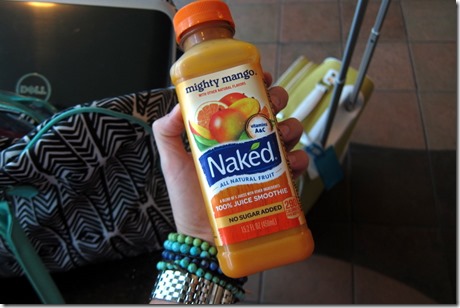 I also chugged a bottle of water and started to feel a little better. To kill some time, I browsed around the airport bookstore and cursed the wait list at my local library when I saw Dan Brown's latest book for sale.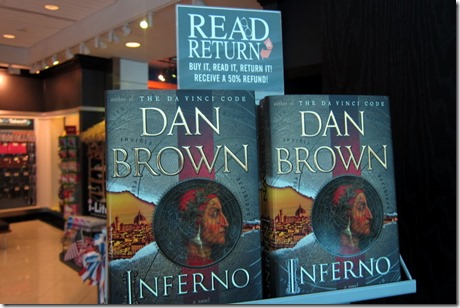 I've read and loved all of his previous books and I am currently number one billion on my library's wait list for Inferno. I think I may have to buy it and speed read it so I can take advantage of the  airport's read and return program. I used the program when I read The Immortal Life of Henrietta Lacks and it worked quite well!
On my way out of the bookstore, a glorious sight caught my eye.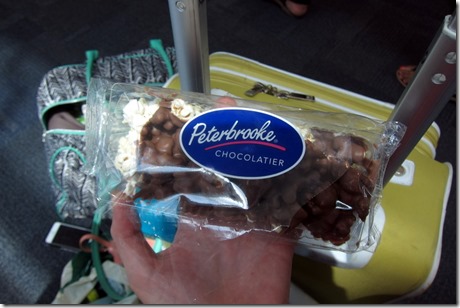 Peterbrooke chocolate covered popcorn. This stuff is the jam!!! There was a Peterbooke Chocolatier about 15 minutes from our old apartment and it was my favorite sweet and salty treat when we lived in Orlando. Of course I had to buy it and now I'm trying not to inhale all of it in one sitting.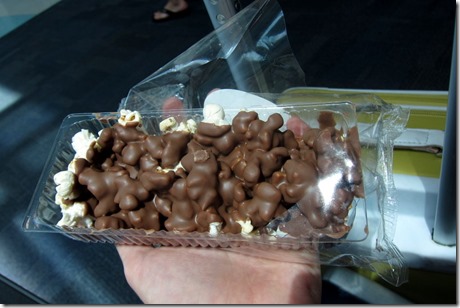 It's almost time to board! Catch ya later!