This recipe for curried sweet potato salad is delicious and easy to make! Throw it together quickly for a fantastic side dish that's flavorful, slightly sweet, full of texture and fresh ingredients!
***
On Saturday evening, Ryan, my father-in-law and I sat down to a fresh and flavorful meal at the Artisinal Dish in Ocala. It's easily one of my favorite local restaurants and I know that anytime I order something off the ever-changing menu, I'm in for a treat.
The sides prepared at the Artisinal Dish are often the highlight of the meal and this was the case on Saturday evening. After one bite of the curried sweet potato salad, I said, "I must recreate this at home!"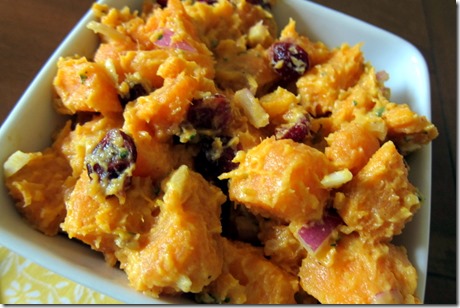 Normally I find potato salad kind of blah. It really does nothing for me. Cold potatoes? No thanks. But the curried sweet potato salad was another story.
It was flavorful, slightly sweet, full of texture and fresh ingredients.
I asked the owner of the restaurant for a list of the ingredients and she kindly shared them with me, explaining that the chef often plays around in the kitchen and likely added other things to the salad as well.
When I set out to recreate the dish, I started with her list but made a few alterations and additions. The result? An absolutely delicious side dish that Ryan and I agreed will be one we make to bring to summer barbeques this year!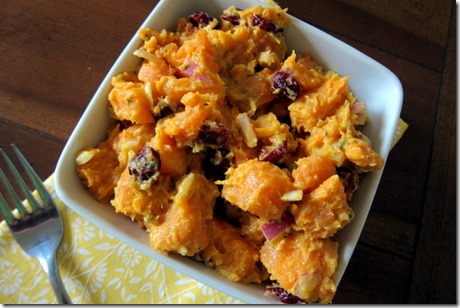 Curried Sweet Potato Salad
Serves 6
Ingredients
2 pounds sweet potatoes, peeled and cut into cubes
1/4 large red onion, diced
3/4 teaspoon curry (You may want to start with 1/2 teaspoon and increase to taste. We love a strong curry flavor!)
1/2 cup + 2 tablespoons light mayonnaise (For a healthier dish, you can try using plain Greek yogurt.)
1 tablespoon brown sugar
2 tablespoons fresh cilantro, chopped (or 2 teaspoons dried cilantro)
3 tablespoons chopped walnuts
3 tablespoons dried cranberries
Directions
Place sweet potatoes in a large pot and cover with cold water. Cover with a lid, bring to a boil and cook until tender, about 12 – 15 minutes
Drain sweet potatoes and place in the refrigerator for approximately 30 minutes, until slightly cool
Stir together remaining ingredients until evenly mixed
Pour curry mayonnaise mixture on top of sweet potatoes and toss to completely coat the sweet potatoes
Refrigerate until curried sweet potatoes are cold and enjoy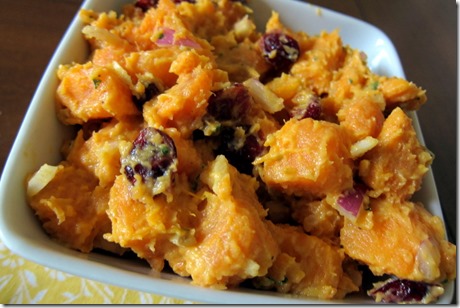 I hope you love this dish as much as we do in our house!
Question of the Morning
What is your favorite side dish to bring to a summer barbeque?