Today is day three of Tina's
Best Body Boot Camp
! I am skipping the cardio workouts prescribed for Tuesdays and Thursdays in favor of running on my own because I have a half marathon on the horizon next Saturday, but my Monday, Wednesday and Friday workouts are all about boot camp!
Today's boot camp workout began with an interval workout on the elliptical.
After 20 minutes, I was nice and warm and ready to head into the weight room to complete the core circuit workout that was on the agenda for today. It was a good one and the scorpion exercise absolutely kicked my butt!
Check it out:
Holy burning abs!
Breakfast
Breakfast this morning was rather basic.
Scrambled eggs + Chicken sausage + Banana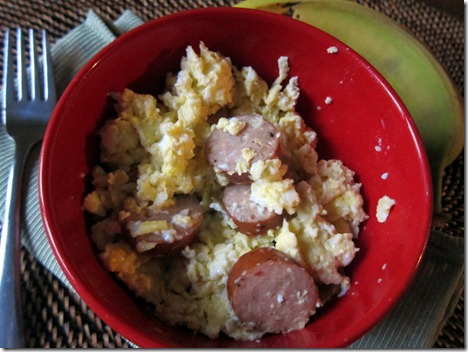 It did the trick!
Time to work on a freelance proposal before heading out to a Taste of Ocala committee meeting at lunchtime! See ya later!
P.S. The Fashion page was updated yesterday.