I hope to fill you guys in as soon as I know more, but it looks like I will be putting my NASM personal training certification to use very soon! (For those of you who are interested in possibly obtaining your personal training certification in the future, I created an All About NASM page based on your FAQs that you can permanently locate under the "About" tab at the top of the blog.)
Workout
I got things started a little later than usual today (rainy weather makes sleeping in ten times more appealing) and headed to the gym at 7 a.m. Today's Best Body Boot Camp workout focused on cardio, but I wasn't in the mood to cardio it up for the whole time and ended up incorporating a short cardio and abs circuit workout at the end.
10 minutes or less! Not too shabby!
After my workout, I headed immediately to Starbucks to work and blog because I had a serious craving for a cappuccino.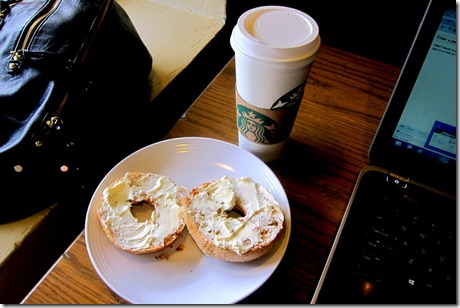 Cappuccino + Multigrain bagel with cream cheese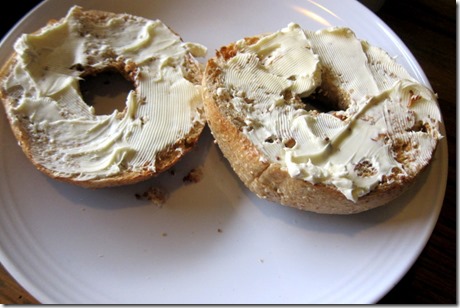 Today is going to be another busy day thanks to a mid-day Taste of Ocala meeting (we have the final walk through!) and a PowerPoint presentation that is demanding my attention for an event that I am speaking at tomorrow afternoon.
See ya after lunch!
Question of the Morning
What is your favorite abdominal exercise?
My favorite abdominal exercise is the spiderman plank (0:45 in this video). It's killer!

Hello! I meant to pop back in and blog yesterday, but the day slipped away from me thanks to some behind-the-scenes developments that have been in the works for a little while now.