My sister and I wrapped up the day yesterday with more cooking and baking.
Sadie wrapped up the day with lots of sampling.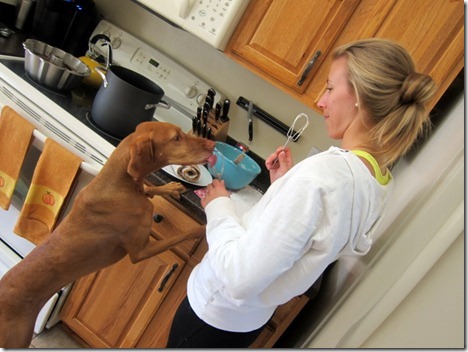 Okay, so we did a lot of sampling, too.

If you know the secret to preparing delicious food without eating a million bites along the way, please share this information with me.
At around 7 p.m., our friend Ross and his adorable dog Kona arrived in town and we all headed out for dinner at a sushi restaurant in downtown Ocala.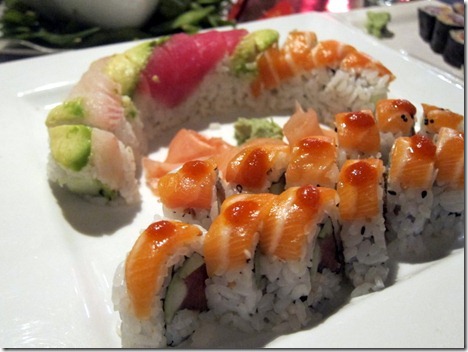 Rainbow roll + Cobra roll… I definitely wiped off the dot of hot fire on top of the cobra roll. Too spicy!
Workout
This morning the four of us awoke for an early morning workout.
We headed to the gym and Ryan and Ross did their thing while Leslie and I completed 30 minutes on the elliptical before doing an awesome cardio circuit.
We did the "100 Workout," a fast-paced circuit workout I copied down from Pinterest a while ago.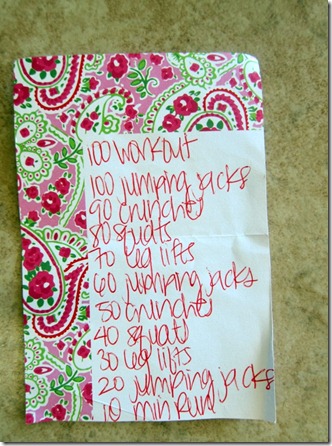 We skipped the 10 minute run at the end of the workout and replaced it with a round of one of my favorite intense cardio circuits.
Breakfast
After the gym, we swung by the grocery store to replace some of our depleted food supplies before my sister and I made a yummy breakfast back at the house while the guys entertained the dogs outside.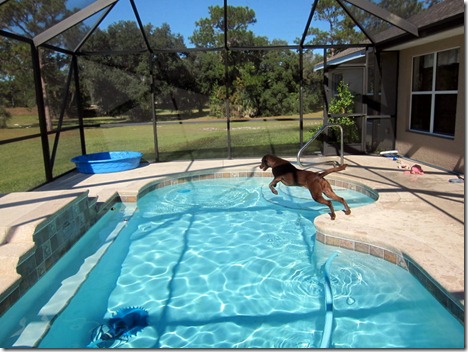 While Sadie acted like a feeble little princess when she saw Bob Barker bobbing around in the pool, Kona dove in like a champ! It's a chilly day today but there's no stopping Kona from pool time.
Breakfast included more egg sandwiches and cereal.
This time I made my egg sandwich on a cinnamon bagel which was a great decision. Savory + sweet is the best!
Gotta get back to the fun before returning to the kitchen to finish up the food prep for our Friendsgiving party tonight.
Ryan and Ross are on turkey duty!