This recipe for Apple Pie Spice Chex Mix is a sweet and salty treat packed with traditional apple pie spices, pecans and crumbly oatmeal cookie pieces that will quickly become an autumn snacktime favorite. Thank you to General Mills Big G Cereals for teaming up with me for this post in honor of National Whole Grain Month!
Now that it is September and fall is nearly here, we're all bracing ourselves for pumpkin spice everything! But what about apple pie spice? A comforting blend of cinnamon, cardamom, nutmeg… It's enough to make your mouth start watering on the spot!
If you share my love for apple pie spice, I have a recipe to share with you today that I think will quickly become a go-to snacktime favorite this autumn.
Crunchy pecans, chewy oatmeal cookie pieces, fragrant spices and crispy cereal with whole grain come together in this oh-so-addicting Chex Mix that will have you reaching for handful after handful of this crunchy sweet and salty treat!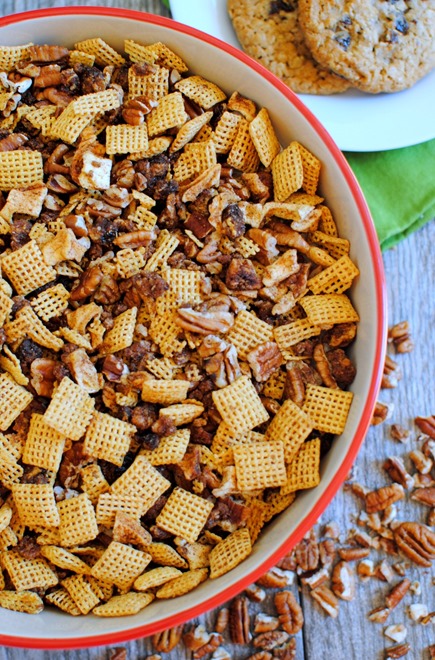 Like any tasty Chex Mix recipe, the base of this recipe is Chex cereal and while I used Corn Chex because it is a personal favorite (and whole grain is the first ingredient), you can easily swap in your favorite flavor or use a combination of Chex cereals. I think Rice Chex, Cinnamon Chex and Corn Chex would make a fantastic trio!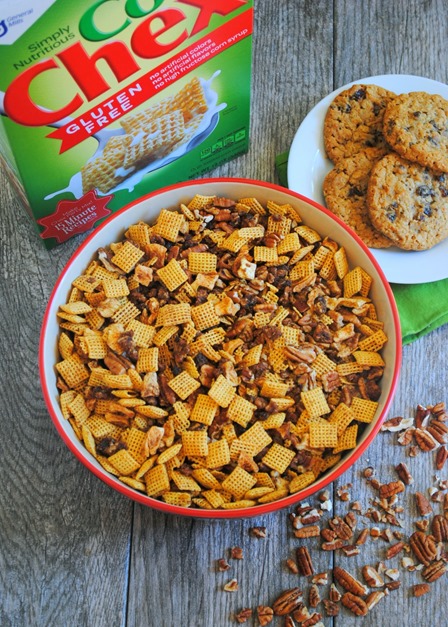 All General Mills Big G Cereals contain whole grain as their first ingredient and since approximately 95 percent of Americans do not get enough whole grain in their diet, consider this Chex Mix a tasty way to eat whole grain and celebrate National Whole Grain Month this September!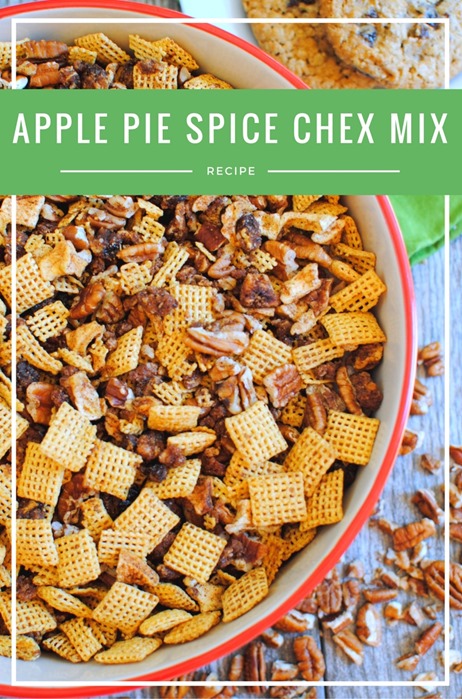 Apple Pie Spice Chex Mix
Makes 16 servings
Ingredients
5 cups Corn Chex cereal
¼ cup butter
¼ cup brown sugar
3 tsp. cinnamon
1 ½ tsp. nutmeg
½ teaspoon ground cardamom
1 tsp. vanilla extract
1 ½ cup chopped pecans
1 ¼ cup dried apples, chopped
4 medium oatmeal cookies, chopped
Directions
In small bowl, mix brown sugar, cinnamon, nutmeg and cardamom. Set aside.
In a small microwave-safe dish, microwave butter on high for approximately 30 seconds until melted. Stir in vanilla extract.
In a large microwavable bowl, Corn Chex and pecans. Pour butter mixture over cereal mixture, stirring until evenly distributed. Add sugar and spice mixture and stir until coated.
Microwave uncovered on high 5 minutes or until mixture begins to brown, stirring every minute. Add chopped dried apples and chopped oatmeal cookies and toss to coat in sugary spice mix.
Spread Chex Mix on a cookie sheet and cool. Store in an airtight container.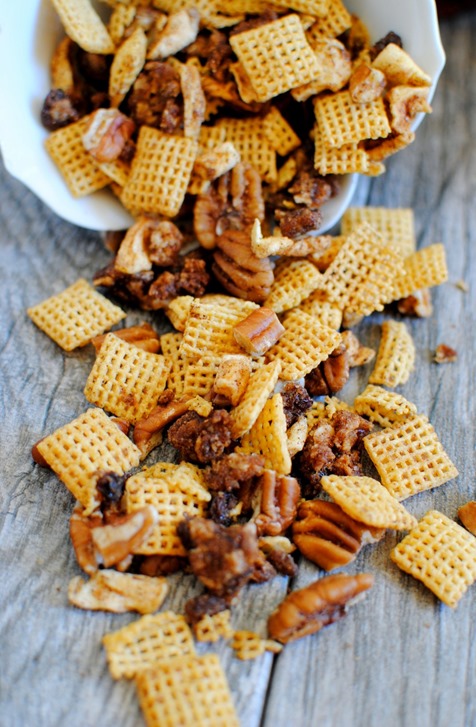 And since apple pie spice is involved in this recipe, I won't judge you if you decide to sprinkle this Chex Mix on top of a scoop or two of vanilla ice cream. Apple pie is best enjoyed a la mode, of course!
Enjoy!