Avocado pesto is a creamy, savory sauce that is perfect tossed with your favorite pasta, spread on fresh bread for a delicious sandwich or used as a dip for cold and crunchy vegetables. This recipe is a hit with both toddlers and adults! Thank you to the Hass Avocado Board for teaming up with me for this blog post.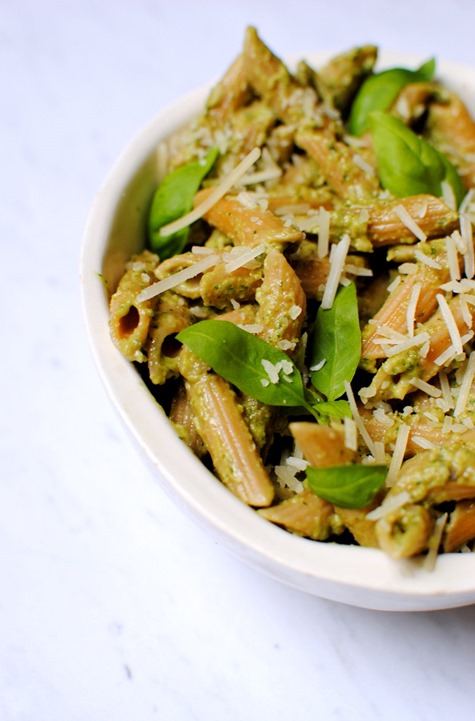 There is something about incorporating fresh pesto into a dish that always seems to elevate a recipe and make it taste that much better. And homemade pesto!? Sign me up!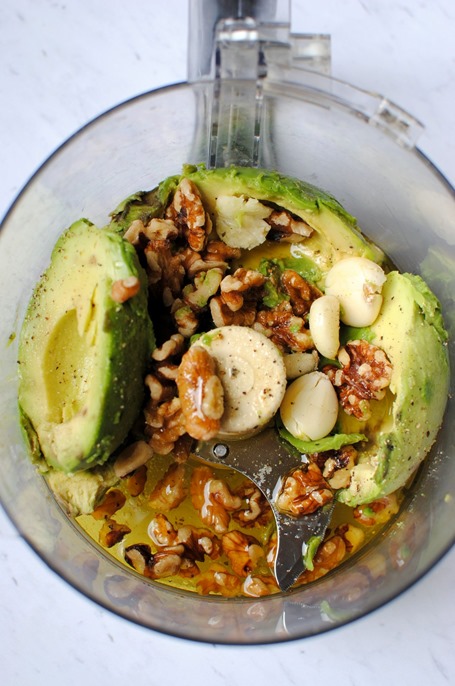 Pesto is such an easy sauce to make and it's one I've been playing around with a lot lately because it's almost always a hit with every member of the Fagan family. Yes, that includes our ever-so-fickle almost 14-month-old! If a recipe gets Chase's seal of approval, it becomes part of my regular recipe rotation and this recipe for avocado pesto earned a gold star from my toughest tiny critic.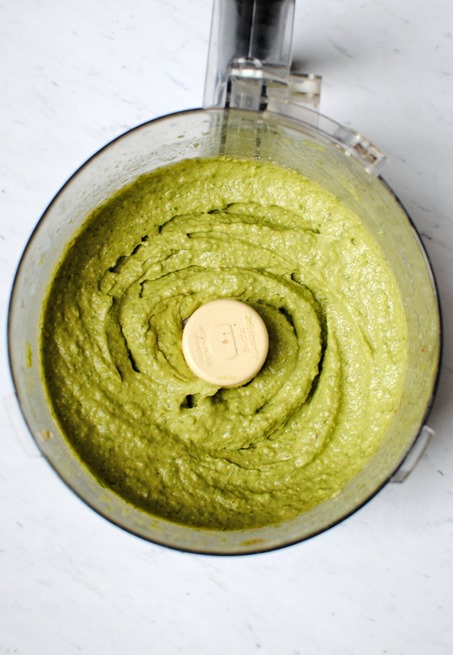 I initially incorporated avocado into the pesto a couple months ago because I was low on nuts but still wanted to make pesto and since I'm always looking for ways to add more healthy fats to Chase's diet, I figured I'd give it a shot! My initial haphazard avocado pesto recipe has evolved a bit since my first attempt and I love it tossed with whole wheat pasta or roasted veggies or on top of over-easy eggs for an elevated breakfast that tastes a little more special than basic eggs and toast.
Chase is all about avocado pesto pasta!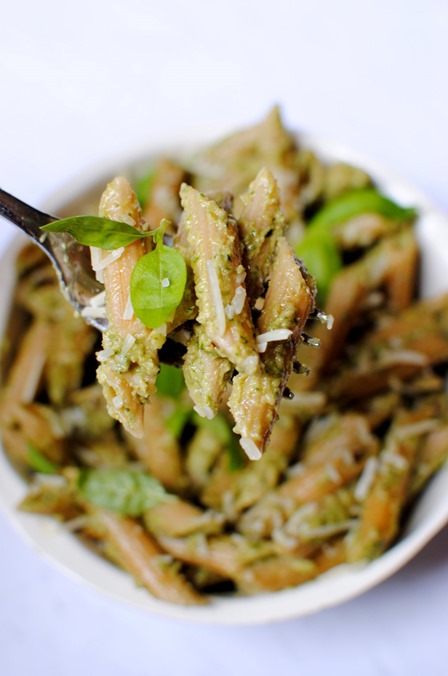 Avocados have almost always been a hit with Chase and were actually one of the very first foods we gave to him when I began dabbling in baby led weaning. They're nutrient-dense (low in sugar and a good source of fiber, folate, potassium and vitamins E and C) and contain many of the nutrients that are vital for fetal and infant health and development. Plus, the soft, smooth texture worked well for Chase has he learned to "chew" (aka "gum") his first real foods!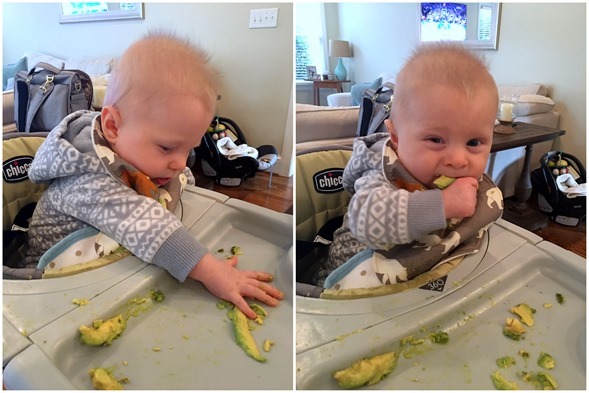 (Tip: If avocados are too slippery for your little one, you can crush up Cheerios and coat the avocado in the whole grain cereal for easier gripping!)
Avocados are a staple in Chase's diet and I've incorporated them into everything from smoothies and egg scrambles to healthy baked goods, pasta dishes and small bites of avocado toast. (You may also find a bunch of kid-friendly avocado recipes here!)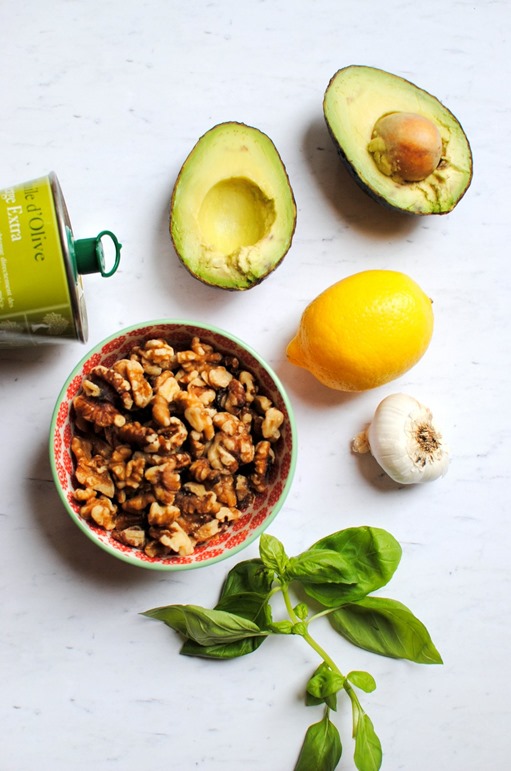 This avocado pesto is a creamy, savory sauce that comes together in less than 10 minutes. It tastes best fresh, so I'd recommend making it right before you're ready to dig in!
Avocado Pesto
Ingredients
2 Hass avocados
Juice of 1/2 lemon
1/2 cup walnuts or pine nuts
4 garlic cloves
1/2 cup olive oil
2 cups fresh basil
1/3 cup freshly grated parmesan cheese
salt and pepper to taste
Directions
Slice avocados in half and remove the pits. Scoop the flesh of the avocados into a food processor. Add walnuts, olive oil, garlic, salt, pepper and lemon juice.
Blend until walnuts are crushed and no longer lumpy. Add basil, parmesan cheese and additional salt and pepper to taste and blend until pesto is thick, smooth and creamy.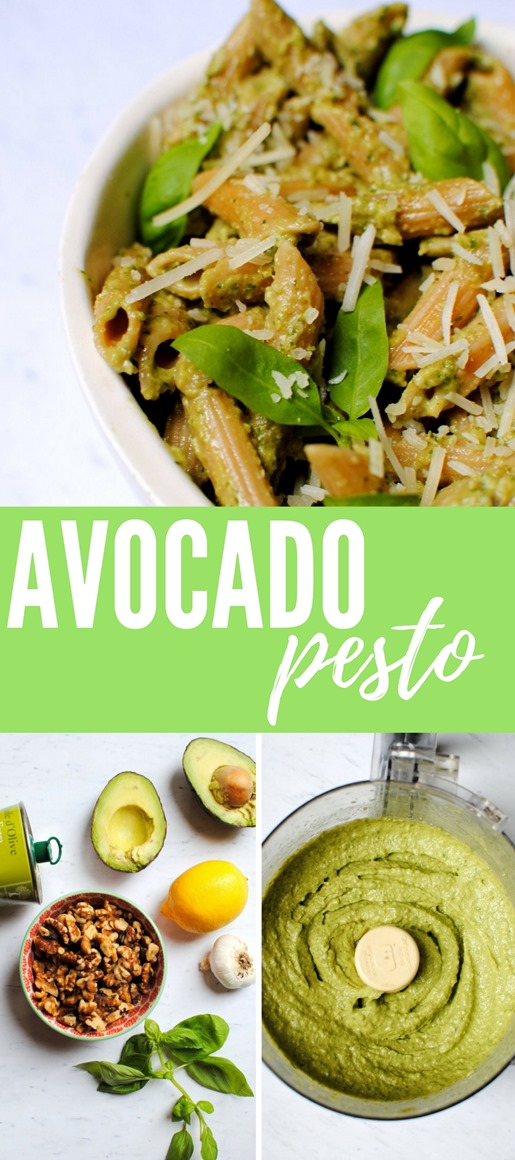 Enjoy!