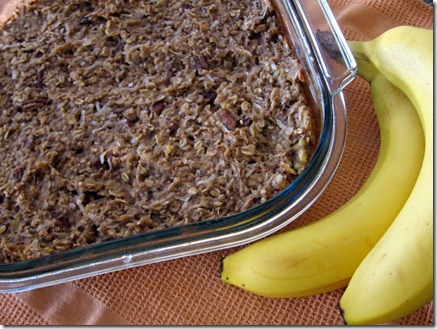 How about banana pecan coconut baked oatmeal… with no added sugars or oils… and with 100 percent fantastic flavor?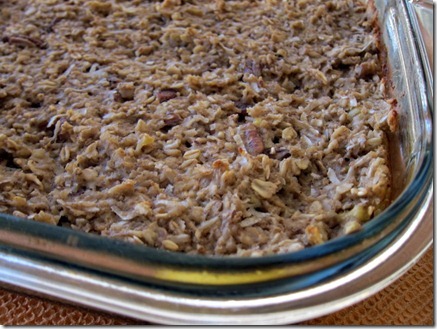 Ryan and I spent the night at my parents' house in St. Pete last night and this morning I took care of breakfast for the gang.
I figured a one-dish meal packed with whole grains, fruit and nuts would satisfy everyone and make breakfast a breeze.
I set out to create a baked oatmeal dish, inspired by the berry baked oatmeal my mom made a year and a half ago that we all loved.
Since that recipe calls for a lot of brown sugar, honey and oil, I tried my hand at omitting some of the unnecessary added sugar and fat and replaced those ingredients with more nutritious ones to make a healthier version.
The oatmeal came out perfect! The crunch from the pecans added the perfect contrast the the sweet, doughy oats.
Banana Pecan Coconut Baked Oatmeal
Serves six
Bake time: 40 minutes 
Ingredients
2 1/2 cups regular rolled oats
1/2 cups steel cut oats
2 teaspoons baking powder
1/2 teaspoon salt
1/2 teaspoon pumpkin pie spice (or cinnamon)
2 cups vanilla almond milk (or regular milk)
1 egg, beaten
1/2 cup applesauce
1/3 cup plain yogurt
2 ripe bananas, mashed
1/2 cup chopped pecans
1 cup shredded coconut
Directions
Preheat oven to 400 degrees.
Stir together rolled oats, steel cut oats, baking powder, salt and pumpkin pie spice in a large bowl and set aside.
In a medium bowl, combine almond milk, egg, applesauce and yogurt. Add milk mixture to oat mixture and stir until combined.
Stir in banana, pecans and coconut.
Pour into a 2-quart soufflé or casserole dish and bake uncovered for 20 minutes. Remove from oven, stir mixture and bake uncovered for an additional 20 minutes, until lightly browned.
Spoon into bowls and enjoy. Also delicious when topped with milk, yogurt, maple syrup or fresh berries!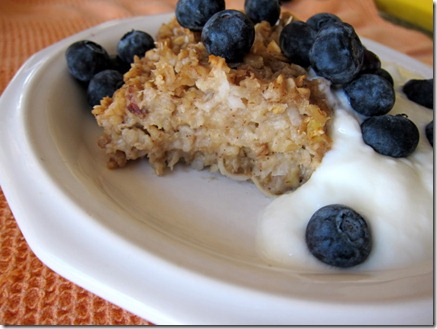 If you're worried that the oats won't be sweet enough for you, simply adding 1/4 cup of honey should add the perfect amount of sweetness, though my family and I found it to  be sweet enough from the natural sweetness of the bananas and applesauce.
Everyone ate their serving a bit differently, topping it with yogurt and fresh berries or syrup, milk and slivered almonds.
This baked oatmeal can also be made on a Sunday and enjoyed throughout the week for a fast on-the-go breakfast.
But, it's definitely not lasting more than a day in this house!
Enjoy!

Not sure what to make for breakfast on this lazy Sunday morning?