Cold quinoa salad will quickly become a spring and summertime staple in your house thanks to the bright, refreshing flavors of cucumber, pineapple and cilantro. This recipe for cold quinoa salad makes a perfect side dish for a cookout with friends or a simple meal at home. Top it with grilled chicken or shrimp for a delicious and nutritious lunch or dinner!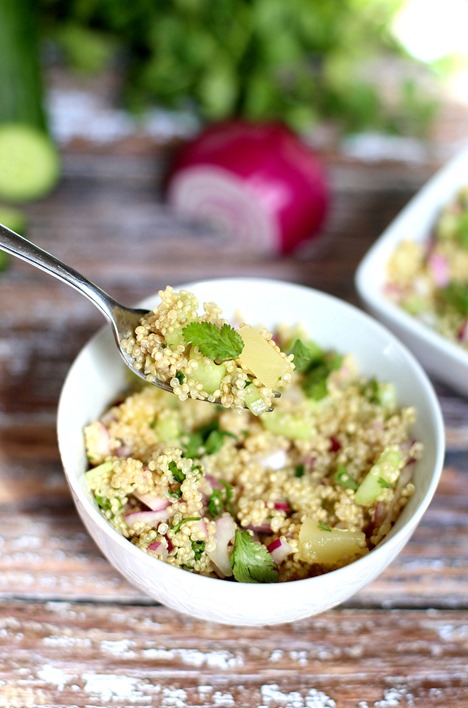 Ryan and I are not picky eaters and generally like similar foods with a few exceptions. For a long time, I thought quinoa was one such exception. Ryan would always eat quinoa if I made it but never raved about the protein and fiber-rich grain and simply said it "wasn't his favorite." We went on a bit of a quinoa hiatus after that and I began making it a couple of times a month rather than every week like I had been doing for quite a while.
Well, two weekends ago, when we had some friends over for a casual cookout, our friend Laura brought a cold quinoa salad to share. I didn't even realize Ryan loaded up his plate with her salad until I heard him ask her what was in it. When I saw his plate filled with quinoa, I was shocked and immediately added some of the salad to my plate, too. After one bite, I instantly understood why Ryan loved it so much. It was packed with some of his favorite foods and flavors: Pineapple and cilantro.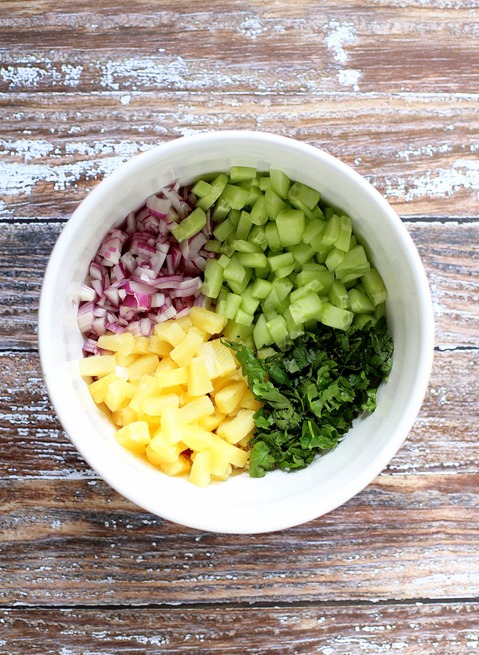 Quick side note: I know cilantro is a polarizing herb and if you are on Team I Hate Cilantro, you can easily substitute mint for cilantro in this recipe!
The next day, Laura texted me loose instructions for how she made her quinoa salad and I gave it a shot in our kitchen. We loved it just as much as we did the first time, so I decided to measure everything out when I made another batch yesterday afternoon so I could share the cold quinoa salad recipe on the blog with you guys just in time for spring!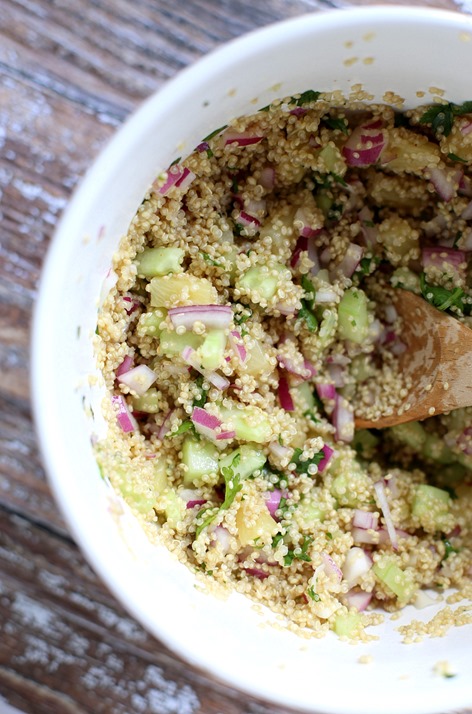 The recipe makes a great side dish but can easily be transformed into a more satiating main course by adding grilled chicken, steak or shrimp or even black beans on top!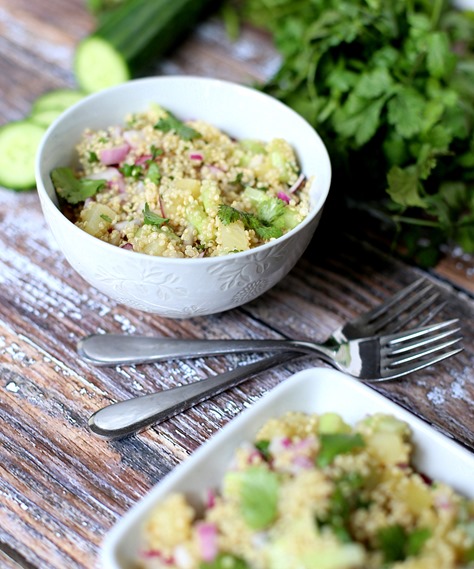 Cold Quinoa Salad
Makes approximately seven 1/2-cup servings
Ingredients
3 cups chilled cooked quinoa
1 English (seedless) cucumber, peeled and diced
1 8-ounce can pineapple tidbits + 2 tablespoons pineapple juice
1/2 red onion, diced
1 small bunch cilantro
juice and zest of one lime
2 teaspoons red wine vinegar
2 teaspoons olive oil
1/4 teaspoon salt
Pinch cayenne pepper
Directions
Place diced onion in a small bowl of ice water for approximately 10 minutes. (This will remove the bite from the raw onion. Do not skip this step!)
Remove leaves from cilantro bunch, discard the stems and chop remaining leaves.
Combine all remaining ingredients in a large bowl. Drain the water from the onion and add the onion to the mix. Add chopped cilantro. Toss everything to combine.
Serve chilled and refrigerate remaining leftovers in an airtight container.

Nutritional Information
Per 1/2 cup serving: Calories: 133 / Fat: 3g / Sodium: 221mg / Carbs: 23g / Sugars: 5g / Fiber: 3g / Protein: 4g
Ingredient Notes
Approximately one cup of uncooked quinoa yields three cups of cooked quinoa. This recipe calls for chilled cooked quinoa but before cooking your quinoa, try toasting the quinoa lightly in a dry skillet to give it a more roasted flavor before boiling it.
Regular cucumbers may be used in this recipe but I prefer English/seedless cucumbers to avoid any cucumber seeds in this dish.
For an incredibly fast shortcut, simply combining the cold quinoa with Whole Foods' pre-made pineapple salsa (the kind without tomatoes) and adding peeled, chopped cucumbers and a sprinkle of feta cheese works well in a pinch!
Our local grocery store sells cans of pineapple tidbits but if you have trouble finding them, finely diced pineapple (fresh or canned) will also work.
For an added dose of healthy fats, try dicing up an avocado and tossing it in the salad immediately before serving.