This recipe for easy marinated pork chops is a family favorite in our house and is the perfect combination of sweet and savory. With only six simple ingredients, it's an easy dish you can prep ahead of time and cook in a flash for a delicious weeknight dinner!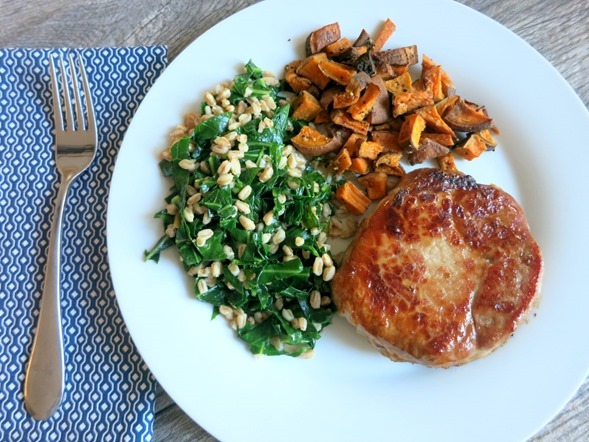 I've been meaning to share this recipe for marinated pork chops with you guys forever. It's one of my absolute favorites and it finds its way onto my weekly meal plan on a regular basis.
I have my mom to thank for introducing me to this delicious dish. She's been making it for our family to enjoy for dinner for years, but it wasn't until she stayed with us for a few weeks after Chase was born that I watched her make it and realized that it was quite a simple dish! Simple + Delicious = Instantly intrigued!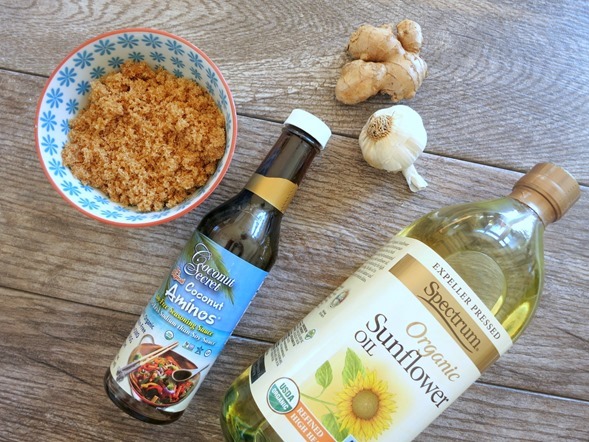 The last time my mom made this dish, I watched her prep everything and we measured the ingredients as she chopped and cooked so I could easily make the pork chops myself and eventually share the recipe with you guys on the blog. My mom assured me it's a hard one to mess up and measuring everything out isn't really necessary once you have a basic idea of the proper ratios, but when I'm going to make something for the first time, I like a general idea of just how much of each ingredient I need. Now I can easily eyeball everything and once you make this recipe one time, I have a feeling you will be able to do the same, making this dish all the more simple!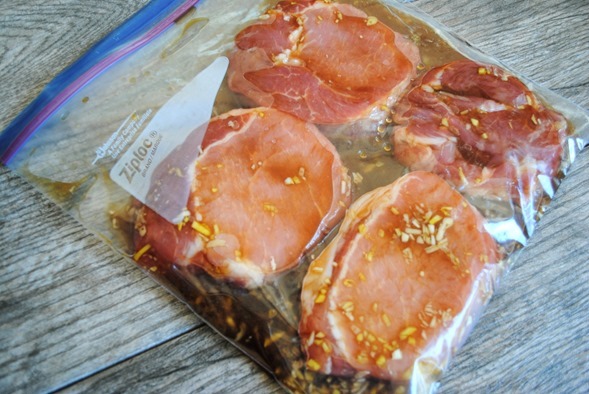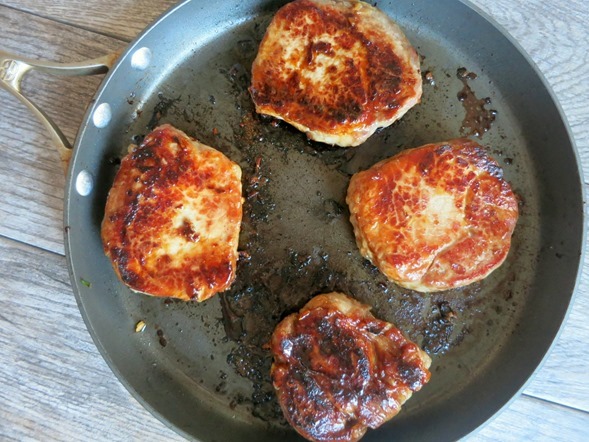 We typically enjoy these pork chops with roasted sweet potatoes and sautéed spinach or kale, but it pairs well with so many vegetables and sides.
On the night I made this recipe to photograph for the blog, we served it with roasted sweet potatoes and a collard green and farro side dish my mom recommended from a past Blue Apron meal she loved. (We used farro in place of the freekeh with no issues.)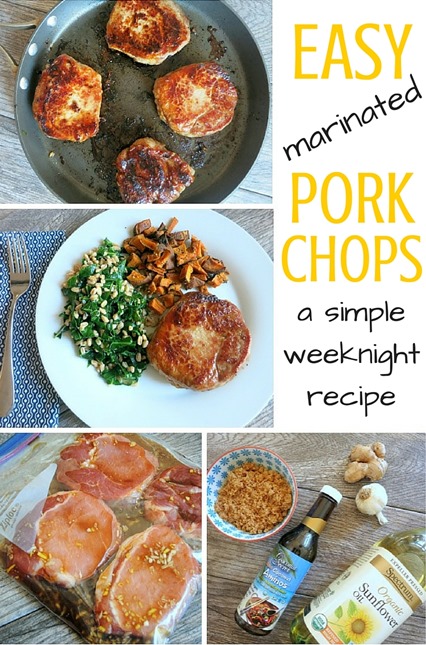 Easy Marinated Pork Chops
Serves four
Ingredients
4 pork chops (bone-in or boneless)
1 tablespoon fresh ginger, minced
1 tablespoon fresh garlic, minced
1/4 cup coconut aminos or soy sauce
1/4 cup sunflower oil
1/4 cup brown sugar
Directions
Combine ginger through brown sugar in a large freezer-size Ziploc bag. Squish everything around to create the marinade.
Place pork chops in the bag and toss to coat. Lay flat in the fridge for 4-8 hours, flipping the pork chops halfway through. (If you aren't home and able to flip the pork chops, don't worry about missing this step!)
Remove pork chops from marinade, discarding marinade and heating a large skillet to medium-high heat. Place pork chops in skillet and cook for approximately 5-6 minutes on each side, or until center is no longer pink and the pork chops are lightly browned.
Remove from heat and let rest for a couple of minutes before plating and serving. Season with salt and pepper as desired.
Enjoy!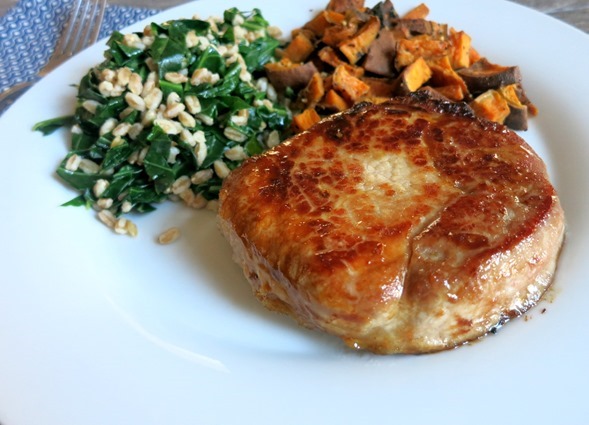 Even though this easy marinated pork chops recipe is already quite simple, you can easily implement a few shortcuts to make it even easier. Jarred minced garlic and ginger paste will work if you don't have fresh garlic and ginger on hand. Chicken breasts or a full pork tenderloin will also work well in this marinade if that's more your style! And if sunflower oil isn't in your pantry, a mild oil like canola oil will also work.
If you decide to give this recipe a try, I hope you love it as much as we do in our house. Enjoy!